India's best known contemporary artist gets his due with an upcoming retrospective finds Gargi Gupta.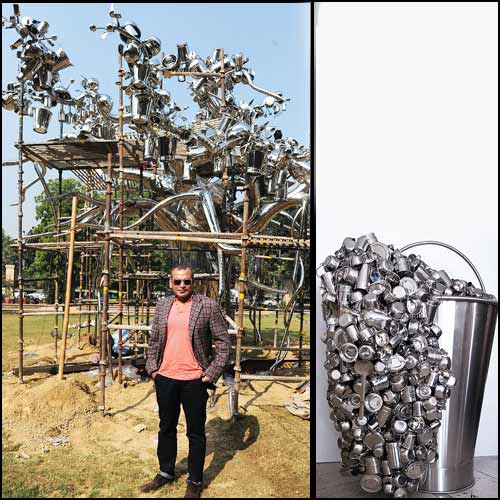 There's a Banyan tree taking shape on the front lawns of the stately Jaipur House, the former palace of the maharajah of Jaipur which now houses the National Gallery of Modern Art (NGMA).
Covered in scaffolding for now, its trunks and branches are moulded in stainless steel, and its "leaves" are a jumble of steel pots, pans, buckets, jars and spoons in various shapes and sizes. It makes for a strange sight — almost as if an alien, extraterrestrial tree has come to take its place among the towering greens that line this part of Lutyens' Delhi.
It's — you guessed right — a sculpture by Subodh Gupta, part of a large solo exhibition that will open at the NGMA next month. Gupta says that it will be his "most comprehensive show" yet, tracing "my journey in art" over the last 15 years. Subodh Gupta is the biggest, perhaps the only true-blue Indian "star" in the international contemporary art scene — The Guardian famously called him the "Damien Hirst of India". He's showed in galleries in several major cities of the world, and also been a part of prestigious international biennales at Venice, Moscow, Havana, Taipei, etc, and the triennales at Fukuoaka Museum and Tate Britain. His Saat Samundar Paar is one of the most expensive paintings (it sold for Rs 5.7 crore in a 2008 Saffronart auction) by a contemporary Indian artist.
Gupta has just returned from Performa 13, the leading performance arts biennale festival held in New York in the first half of November, where he had been one of the artists commissioned — a particular honour — to "cook up" an art performance. Literally, for Gupta's performance was to cook a typical Indian meal. "I like to cook what I like to eat," Gupta says. So for 8 days with a contingent of volunteers to help him, Gupta dished out "home food" like daal puri, baingan bhaaji, parwal, dahi and lentils to 50-60 people who'd bought the $35 ticket to be a part of the experience.
It's the idea of the langar that inspired him, Gupta says. "Everyone feeds people at weddings, at funerals, at parties…India is the only country where we do langar and feed people we don't know. I like that concept very much and that's why I called the piece Celebration."
Gupta's career, until now, has been closely associated with steel bartans (vessels). He started by painting them in free fall large canvases, and moved on to make huge sculptural installations by fusing them together in different shapes — a colossal mushroom cloud (Line of Control, 2008), a skull (Very Hungry God, 2006), three heads (Gandhi's Three Monkeys, 2008), helmets for a contemporary ballet, And Then One Thousand Years of Peace (2012), a co-production of the acclaimed Bolshoi Theatre. Banyan Tree, the installation coming up at NGMA, is, thus, in Gupta's usual idiom.
But now Gupta's art seems to be moving into related areas. Food is a growing preoccupation as can be seen from his ongoing show at GallerySKE in Bangalore which consists of small paintings of empty, half-eaten plates showing remnants of just-finished meals. Called Notes to Self, the series, Gupta has said, is a "sort of diary", a visual archive of all his travels through food and the meals he has shared. "The entire world runs on food, doesn't it?" Gupta says about this new direction in his art. "You either eat to live or live to eat."
The NGMA show, Gupta confesses, "means a lot" to him, is the "most important" of his career, and that he's a little "anxious" about it. Besides the entire range of works he's done over the years — paintings, large and small, in acrylic and oil; sculptures, including one or two other large ones besides Banyan Tree; and the early video, Pure, which shows Gupta washing gobar off himself — there will also be a range of "new works", he promises.
Gupta is irritated at arts institutions in the country — "They don't have a budget, they don't spend money, they don't take art seriously at all", he says. Gupta is concerned about the lack of contemporary art museums in Indian cities. "In Shanghai, there are 15 contemporary art museums. There are so many rich people here, where are they?" he asks.
Ironically, he doesn't think very highly of the nouveau riche collector class, whose favourite artist he's been for the way his works have appreciated in leaps and bounds over the years. "When someone buys a work, five years later he says, arre the work has appreciated three times. But what will be they do with the money? That is the attitude," he says dismissively. "It's an attitude that bothers me, but it should bother you and everybody connected with art. It's very sad."