The world of superheroes in comics has made way for ordinary folk intent on making a difference, with or without special powers, reports Joanna Lobo.
Last October, there was considerable excitement at the publishing house, The Content Company (TCC), because a team brainstorming for new ideas believed it had hit pay dirt — a new female character who teams up with an ex-spy (a James Bond meets Dexter character) to fight crime in Gurgaon.
Later that year, the public anger against the Delhi gang rape gave the publishers the feeling that they had captured an idea whose time had come. "It was then that we realised we were on the right track. This is what we wanted to address with our comic. We aren't preaching a social message and aren't taking a stand. We are telling people how to feel empowered," says Aruna Balkrishna Singh, TCC's MD and CEO.
The comic, called Parallax, will be released at the end of June. Singh explains the genesis of the idea. "The world we live in needs superheroes every day. And they are not going to come from Krypton, but from one of us."
Welcome the rise of the anti-hero in the comic book world! These are ordinary people like you and me, who don't necessarily have super powers, but who want to affect change just like superheroes and manage to pull it off.
Modern vigilantes
Picture someplace in Mumbai. A formidable looking woman draped in a green sari halts an auto. The driver instantly says, "Nahi jayega". The woman turns red, mutters a Marathi expletive, and blows up the auto to smithereens, saying "wrong answer". Angry Maushi has her revenge. The character introduced at last year's Comic Con has already sold 800 copies and there are a steady number of inquiries for Part 2.
"Angry Maushi is no superhero. Go to any housing society. If there's a problem within, you will notice it is the women who come out to fight first...they have guts. Angry Maushi is just an exaggerated version of these women," says Abhijeet Kini, a comic illustrator and Angry Maushi's creator.
As her name suggests, Angry Maushi is fed up with the state of the world. And when she loses it, you better run for cover. In the first comic, she is shown taking on a greedy politician. "We all know what happens when someone's ego takes over... we swear at someone and sometimes want to shoot them. Through my character, I am giving people a chance to indulge in what they've always wanted to do but cannot," says Kini.
It's not new to have vigilantes influenced by events around them in comics, says Sharad Devarajan, co-founder & CEO, Graphic India. "Some of the great superhero stories have for generations reflected larger societal narratives. They have complex and serious stories even when told through the lens of fantasy and action."
In the '60s, for example, superheroes were influenced by the Cold War ethos and the age of 'Man Versus Science'. Thus many of them, like Spider-Man, X-Men, Hulk, Fantastic Four, Daredevil derived their powers from mutations or unknown radiation.
X-Men dealt with social issues such as racism and the themes of separatism versus inclusion that was reflected in the political dialogue of the Civil Rights Movement in the US at the time.
What's changed now, however, says Kini is that the newer breed of Indian superheroes are closer to life. "Comic artists and writers are playing on people's fantasies by giving them a superhero who is a little less 'God-like'."
Singh says it's important for an agent of change to connect with an everyman. "We all have become very cynical and that is reflected in our comics. It's no longer fantasy. We are bringing reality into it... we want the characters to be real somewhere," she says.
Heroes begin young
In keeping with tradition of the anti-superhero, Liquid Comics (of which Graphic India is the digital platform) recently collaborated with comic legend Stan Lee to launch Chakra – The Invincible, the story of young Raju Rai, who wears a hi-tech suit that activates the mystical chakras of his body, giving him super powers.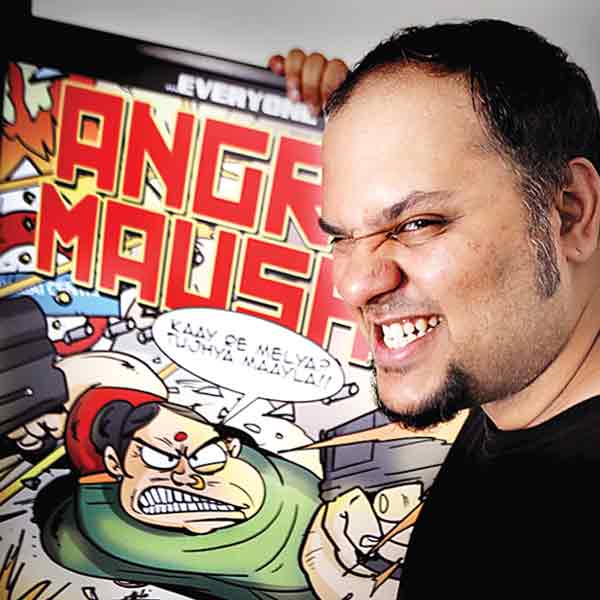 "It's a blend of science and spirituality. As Raju wears the suit, it bonds with him. The story then follows how he learns to master his chakras. It's about self-discipline... if you can control yourself, you can be very powerful," says Devarajan.
Along with Parallax, TCC will launch Chronicles Of Laalseb, another new comic, in June. Its hero, the young Vishnu, accompanied by an apple demon Laalseb, must save his village from evil kings and supernatural creatures. "It's a fantasy story but it tells children that you can affect change yourself," says Singh.
The idea was inspired by meetings with several people who thought they could change the world when they were children but lost that feeling as they grew up, she adds.
The character of Laalseb plays on the fact that children have imaginary friends, who give them ideas, and at times, validate what they are doing, much like Hobbes in 'Calvin and Hobbes', says Kini, Laalseb's creator and writer.
The power of ordinary
Another anti-superhero is Nepal-based Kripa Joshi's Miss Moti, a fat Asian woman with no superpower. "She uses the power of her imagination to achieve extraordinary things. That is her superpower," says Joshi, a comic artist.
The amply-endowed, brown-skinned character fights against norms of body image and beauty, as well as discrimination and pesky neighbours. Miss Moti was born out of Joshi's own struggles with her weight.
Miss Moti is already affecting change. At a comic convention that Joshi attended, a woman who had read the Miss Moti books bought one for herself and two more to distribute to her libraries because she felt it was important for people to read about her positive character.
Later this year, Miss Moti will be part of an alternative superhero comic in America that will focus on Asian characters. The comic, called Secret Identities – An Asian American Superhero Anthology, is trying to challenge the stereotypical images of Asians in superhero comics by making them main characters instead of just side-kicks or villains.
In one story Miss Moti rescues Ultra Girl, the typical sexy superhero actress, from danger, and in another she confronts discrimination. "She is a hero because she is ordinary," says Joshi.