Door-step banking, teaching rural women in a fully equipped bus, or just fighting all the odds of the society, the activist-turned-banker has transformed rural womens' living entirely, discovers Pooja Bhula
When you look at the success of Mann Deshi Mahila Shakti Bank, India's first regulated cooperative bank run by women and for women, you realise that its founder Chetna Gala Sinha has truly followed the old proverb 'Necessity is the mother of all invention'. She not only keeps her eyes and ears open, but also her mind such that she tackles every problem with a simple and innovative solution.
It all started in 1995, when Kantabai an iron-smith went up to Chetna because no bank in her village, Mhaswad, was willing to open a savings account for her. "I wondered why, when she wasn't asking for a loan or subsidy and merely wanted to plan her finances. When I went to the banks with her, I was told they couldn't afford her account because she will only be able to offer Rs.5-10 as deposit," Chetna recalls.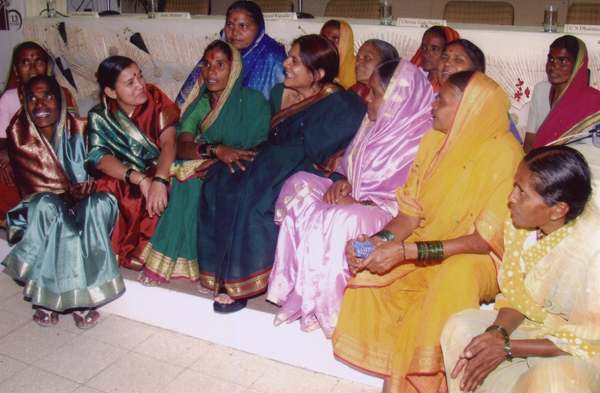 Since her college days in Mumbai, Chetna had been working as an activist initially with Jai Prakash Narayan's organisation against emergency–Sangharsh Vahini and later with Sharad Joshi's Shetkari Sanghatna. She moved to Mhaswad only in 1987 after marriage, a bold decision to marry another Shetkari Sanghatna activist—Vijay, who was a farmer with a completely different lifestyle than she was used to as a city-bred girl. Squatting in the open with pigs to push away, waiting for hours for buses, lack of electricity and non-availability of mainstream newspapers were only a few of the many challenges she faced. She continued working with Shetkari Sanghatna almost upto the point when she decided to start the bank. "We had been activists for long and knew that its job is to influence policies, but policy making takes long, whereas smaller issues of villagers related to water, electricity and other facilities don't require policies, they just need to be resolved. For that you need an institution and Kantabai's case made me think what better way to do it than starting a bank?"
Around same time a committee appointed by RBI suggested inclusion of communities like women, tribes and youth for an inclusive approach to finance and also better reach in rural areas. This helped Chetna's cause; she put together a proposal and mobilised about 1100 women to collect a mandatory amount of share capital–Rs. 600,000. None of this was easy. "My background with public life and knowledge of economics helped, but back then very few women ventured in this sector and even RBI was nervous about the idea because they had never issued a licence for such a bank. So I did a lot of home work before going to officials and asked a lot of questions to ensure that there's no glitch once I start the bank. Despite all this, the proposal was rejected because the 17 village women, who were to be the promoting directors had used thumb impressions on the documents as they couldn't sign. I went crying all the way back to the village, not knowing what to tell them. But they were not bogged down by the news, they said 'teach us how to sign and we'll do this again.' "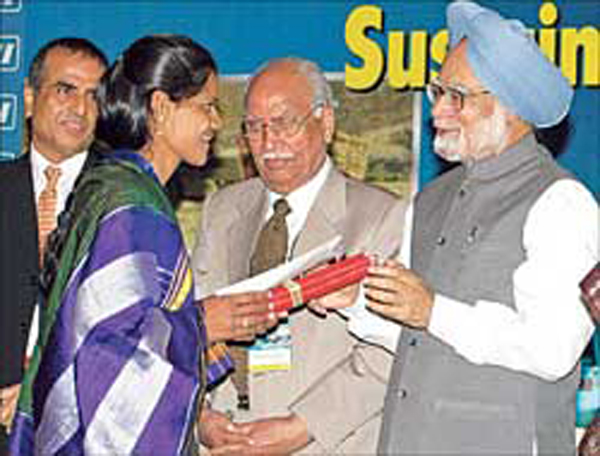 What optimism, what spirit! Thus began their 'functional literacy program(in Marathi)' as Chetna likes to call it. She taught the women how to read and write their name, their village name, names on bus stops, how to sign... things that would help them in their daily lives. And about five months later, they were ready to give it another go. This time Chetna didn't go alone. She took the promoters with her. They were stopped again, this time for their simple, rural attire. "Fortunately RBI keeps its appointments, so the Chief General Manager of the department called us in. I didn't know what these women would say, but I wanted them to come. They told the officials, "you rejected our licence because we can't write, but there were no schools in our village when we were young. Our illiteracy is not our fault. But give us any principal amount and we'll calculate the interest for you. Then ask your staff to do the same without a calculator, see who does it quicker." As you can imagine, this led to quite a debate among RBI officials that day. Finally, six months later they got the licence and on August 9, 1997 Mann Deshi Mahila Sahakari Bank became a reality.
The story is far from ending here. Chetna expected excitement and activity in the bank the next day, but no one turned up. "When I went to speak to them at the vegetable market, they said that going to the bank would mean losing a business day. They couldn't afford it. That's how the idea of starting door-step banking occured. In the initial days our staff would go to them collect money, come to the bank and make necessary entries. But this was tedious and time consuming. So three months later, we invested in wireless devices costing about Rs.8000 each; data could be entered and receipts could be generated and given to our clients."
Not only in the village, but even in the country door-step banking was a new concept. Now these devices are replaced with more advanced ones that also have a GPS tracker to keep a tab on the field staff. Chetna never shies away from using technology, "If you want your services to the last person in the chain, you have to be efficient. Therefore, technology is very important. Everyone gives the best services to the rich, and thinks banks like ours would use obsolete technology. We didn't want such an impression and wanted to give our clients the best too."
Unlike the regular banks, even the products of Mann Deshi Bank are customised to meet the unique needs of their clients, consisting mostly of street vendors, vegetable vendors, nomadic tribes... right from beginning: offering daily, weekly and monthly savings accounts, one-year loans etc. As a result, it captured all kinds of clients those who could walk in as well as those who couldn't, and finally resulted in enough transactions that by 2001 for the bank to break even. Today, Mann Deshi runs a profit of almost 60 lakhs each year. Chetna proudly shares, "98% of the times our clients pay back their loans."
Listening to their demand and understanding the genuine need gaps has taken Chetna's vision further than even she may have expected. "50-year-old Laxmi bai came to our bank requesting a loan to buy a cell phone. Our bank staff assumed that her son was pressurising her to buy it and thought it would only add to her expense. But when asked, she explained that as a shepherdess she spends six months away from family every year and wants the phone to keep in touch with them. Before leaving, she also asked, "Why don't you teach us how to use cell phones?"
This took place in 2005 and compelled us to start a business school a few months later and Mahila Udyog by 2007 to provide non-financial services. Mann Deshi Business School offers vocational skills like tailoring, repair work etc. and also soft skills like financial management, business management, marketing, computers and other financial literacy programmes.
"With the school we faced the same problem as the bank, no one had time to come to us. So we went to them again. We've created a mobile classroom, in a bus. It is fully equipped with five sewing machines, other equipment and seven laptops. We generally cover three villages in 45 days and then move on to the next village to teach."
We advertise this even on a Mann Deshi's community radio, which not only serves as a platform for cultural exchange through folk music and stories, but is also useful for advertising our bank and other facilities. The government uses it to create awareness for health and other issues and we allow our clients and women entrepreneurs to advertise their products as well. It's free space for the clients initially, but depending on the volume of their business they have to pay later. To change the staus quo of women at a social level, the bank also took the initiative of giving rebate on property loans, for land to be owned or co-owned by women. Thereby encouraging property ownership by women.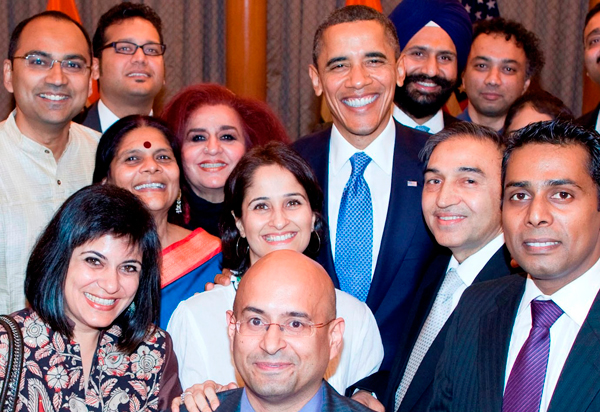 Every bad incident leads to something new and better.
"The local police put Sagarbai behind the bars for using domestic gas to run her chai stall. It happened over the weekend, when the bank is usually shut, so she couldn't get through to us. She wasn't remorseful and decided to buy a commercial bank and continue with the work, but we realised the need for a 24x7 helpline that can not only address issues, but also provide mentoring and guidance." In addition to this, this year Mann Deshi Foundation has also started a Chamber of Commerce that provides legal aid, networking skills, market knowledge and other forms of support to women entrepreneurs.
Mann Deshi Bank has several branches spanning seven districts of Maharashtra. Chetna's vision is to empower one million women through Mann Deshi by 2020 and so, everywhere she opens the bank, she also starts providing other facilities offered by Mann Deshi Foundation. In the near future, you'll see branches of Mann Deshi Bank in Bihar and Jharkand in the north as well as Assam and Mizoram in the north east.