On the 50th anniversary of the release of the Roald Dahl book featuring a young boy and a chocolate factory, Shruti Shenoy revisits her childhood memories of the children's classic.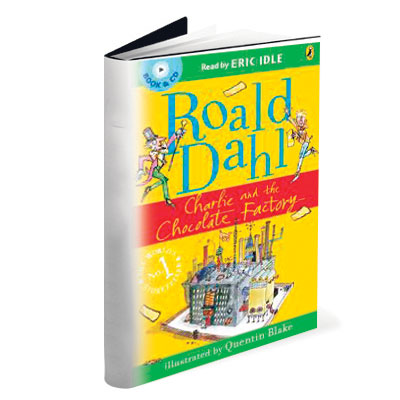 Nostalgia for me is Roald Dahl's Charlie And The Chocolate Factory. I must have been seven when I first read the book, and it has been my favourite since. It was this book that made me fall in love with Roald Dahl, that pushed me into reading and that played an important role in imbibing me with certain values.
Being the child who always took her books very seriously, turning the calendar over to February on the 1st of the month rang a bell. February 1 was the day Charlie Bucket's life changed, forever. It was when Charlie, along with four other children and nine adults, got to enter Mr. Willy Wonka's chocolate factory. And so, like I do every year, this February 1, I picked up my copy of Charlie And The Chocolate Factory and entered into this magical world of Roald Dahl.
When I first read the book, my only attraction was that unbelievably delicious chocolate factory that Dahl made me believe existed. Those chocolate rivers and chocolate waterfalls, the boats made of sugar, the grass and the shrubs made of candy…for the longest time I dreamed of owning a chocolate factory. But there was more to this dream land. The book taught me that bad things happen to people who are greedy and good things happen to those who are patient. At a very young age, I and the millions who grew up with this book by their side, learned the most important lesson of our lives through those of Charlie Bucket, Willy Wonka, Grandpa Joe, Veruca Salt, Augustus Gloop, Mick Teavee, Violet Beauregarde and the Oompa Loompas.
Ishani Chatterji, a 22-year-old journalist and bibliophile says, "For the kids of today magic stops at Harry Potter and the Chronicles Of Narnia, but for us Charlie And The Chocolate Factory will always be magic." One page into the book, and we were starving with the Buckets, relishing Charlie's birthday chocolate, we were curious about what actually happened inside Willy Wonka's chocolate factory, biting our nails to find out how Charlie managed to get his hands on the golden ticket; and once he did, getting excited about the factory tour. "This is a book for keeps. It's one of those I can read at any point of time. It's my happy book!" she says.
Over the years since the book's release, the characters took prominence over the chocolate waterfalls and candy shrubs. Where Dahl is very clear about how bad things happen to 'bad' people, over the years, I came to realise that there was more to all these bad characters. Khushali Fadia, 20, an advertising student says, "Now, I don't dismiss the bad characters as I used to when I was younger. I seem to understand where they come from and even sympathise with them."
As I grew older, it dawned on me that Charlie And The Chocolate Factory was actually about the seven deadly sins, presented Roald Dahl-style. All the characters who got themselves into trouble exhibited one or more of these sins, and Charlie, the essential good boy, exhibited their corresponding virtues.
Reading the book in my 20s and applying a few lessons of cultural studies gave me rather disturbing insights into my favourite book — especially the depiction of the Oompa Loompas. Where these characters and their poems helped me understand the real reason behind every child's punishment, I felt as though Dahl created these workers with a Western imperialistic mindset.
But this is what, I guess, Willy Wonka means when he justifies handing the factory over to a child. He believes that adults are extremely over-analytical and that as humans grow, they stop imagining. And so, pushing these insights out of my mind, I continued to soak in the magic.
2014 marks the 50th year of this iconic book. Tanaya Damle, 7, who when I met her was buried inside a copy of Charlie And The Chocolate Factory, spoke endlessly about the chocolate waterfalls and the lift that went up, down and sideways, her face beaming with excitement. It's been 50 years but this book still has the ability of transporting its young reader into the magical world of Charlie Bucket and Willy Wonka.
Thank you for this one, Roald Dahl. Thank you for all the memories, all the lessons and all the madness.
Shruti Shenoy is a copy editor with iamin.in