Arunachal Pradesh's first filmmaker Sange Dorjee Thongdok speaks to Yogesh Pawar about his debut feature and the movies he wants to make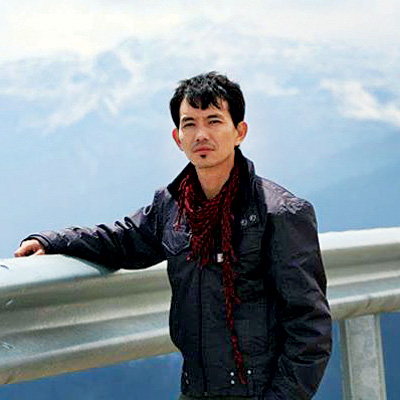 When he runs in from the pouring rain threatening to drown Mumbai's Oshiwara neighbourhood, the first thing that strikes you is his boyish 32-going-on-22 toothy smile and the lama-like sincerity in his eyes. "Not that anything's wrong with Mumbai," Arunachali filmmaker Sange Dorjee Thongdok says over coffee, "But every time I look out, I miss the mountains of my home."
The filmmaker was in town to release his National Award-winning film Crossing Bridges (CB) as a part of PVR Director's Rare. "It's an honour to get such a platform," Thongdok told dna about what is only the second Arunachali film to be made and the first by a local. The first, the 2006 film Sonam by Assamese filmmaker Ahsan Raju Mazid, dealt with polyandry among the Yak-shepherd nomadic tribals and was in the Monpa language.
CB narrates the story of Tashi, a web designer in Mumbai, forced to come back to his village in remote northeastern India after eight years, when he loses his job. At home he realises that while his family and friends consider Mumbai a foreign land, he has himself begun finding his own village foreign. As he awaits news on a new job, he begins to experience the life and culture of his native place and people. His ageing parents want him to stay back and look after the farms. He gradually rediscovers his roots. This begins to change him and his outlook to his homeland.
"When he gets a new job offer in Mumbai he has to decide. Will the lure of the city call him back, or will he settle for his roots in his village?" says Thongdok, whose film is the first Arunachali film to be made in the Sherdukpen language of the state.
"Arunachal is one of the linguistically richest and most diverse regions in all of Asia, being home to at least 50 distinct languages in addition to innumerable dialects and sub-dialects from the Tibeto-Burman language family," he says. "Though considered Tibeto-Burman, Sherdukpen, like the Bugun, Aka/Hruso, Koro, Miji, Bangru and Puroik/Sulung languages, exhibits many unique structural and lexical properties that probably reflect both a long history in the region and a complex history of language contact with neighbouring populations," he adds.
Thongdok admits to resonances with his own life and Tashi's in the film. "This is the story of the place I come from. The northeast is hardly spoken of, and in our country too, not much is known about the people of the region or their ways. CB is an attempt to bridge this gap," he says. Winning the National Award, he adds, was incredible. "But I'm more elated CB released on Friday across Mumbai, Delhi, Pune and Bangalore." The state government too was all praise for its first filmmaker.
This son of bureaucrat, who went to Satyajit Ray Film and Television Institute, is smitten with the Bollywood of the '60s, which he calls his "comfort cinema" but has little patience for "the assembly line fare that Bollywood mainstream dishes out".
He likens it to fast food. "If you keep giving people only such unhealthy fast food, they will only come to expect that. The onus for cultivating good taste in cinema is with the fraternity," says Thongdok. He would like his films to engage with issues like identity, alienation, environment development and displacement.
He expresses shock and anger at what he calls "the use of the colonial paradigm of development in Arunachal Pradesh". According to him, "The government wants to build so many huge dams which will destroy forests and displace communities. Even when locals protest, they're so far and the mainland's engagement with their concerns so poor that they go unheard. This has to change."
In fact his next film on which he has begun work deals with the issue of displacement. Wonder if the government will be as impressed with his latest venture?