A series of paintings of children captures their many emotions.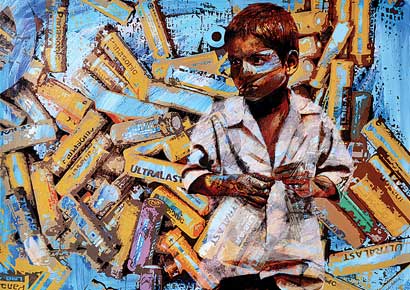 Artist Rakesh Patel's journey with portraits began after a child was born in his family after many years — his uncle's son. It is while capturing images of the little one that he found a new direction. The current exhibition — Traveling Emotions — is showing in the city from today, a series reflecting children in their myriad of emotions. "Emotions are the feelings that connect us and bring us close to each other. I have captured a range of emotions in children. Their innocence and purity in their emotions appeals to me the most," Rakesh says.
The series is named so because for his art Rakesh had to travel to find his subjects. "Every character of the child in my work has a story that somewhere reveals their life especially their surroundings. I had to understand their mood and surroundings before I started painting," he says. Some paintings show slum kids in their work environment, while others are portraits of children as behrupiyas (pretending to be the Gods Shiva, Laxmi or Hanuman), he adds. "Children are a great subject because childlike innocence reflects in them without the need for material things," he says.
Rakesh has amalgamated several elements into each piece — interesting backgrounds focusing on their environment, their interactions in daily life, and vibrant colours — making the process interesting and interactive. "I feel I have succeeded in penetrating the mind and personality of the characters, giving psychological depth in them," Rakesh explains. "I have given special importance to human postures and emotions — anger, innocence, fear, joy, curiosity, eagerness and naughtiness effortlessly on the faces of these children," he says.

When & Where: On till March 10, PL Deshpande Art Gallery, Prabhadevi