Platinum Day of Love is the day when a couple discovers true love that begins and never ends. Mark this day with an equally eternal metal, platinum.
With each and every breath slipping past you, why wait for a special occasion to express your love? When you find true love and you know it is for an eternity, you can mark this day with a precious and eternal metal that will speak for your love beyond just words. Quite the trend this year platinum love bands appear rather simple, but on a closer look, reveal deep meaning through their design and quality, making them the perfect medium for expression of love.
Infinity Symbols


To celebrate vows that will last a lifetime. The metal and the design motif will speak for your everlasting love.
The first meteorite that showered on earth two billion years ago is the way platinum entered our world. What better idea than gifting someone you love an ancient, rare, beguiling treasure from the heavens in the form of a beautiful piece of jewellery? Besides that, platinum and diamonds make a perfect match as nothing reflects the brilliance of diamonds better, than this precious white metal. Because of its eternal nature and innate strength, precious stones are held firmly and securely in platinum, for a lifetime.
Love Knots


Have been a unique symbol of love since the beginning of time, representative of a timless future in love.

This naturally white metal with its moonlike luminescence has symbolised love for the longest time. Is it any wonder then that couples, old or new, have taken to the idea of exchanging platinum love bands with each other to express limitless love? "I think for me it was love at first sight," says ace tennis player Rohan Bopanna about his wife Supriya, "From the day we met, every moment spent with Supriya, is for me, a moment to cherish. Today, we commemorate our day of love with these beautiful platinum love bands that symbolize the eternal love, trust and commitment that we aspire for in our relationship. Personally, the look and feel of platinum appeals to me, as do its attributes; if I were to choose one attribute of platinum that mirrors our relationship, I would say purity."
Duo Bands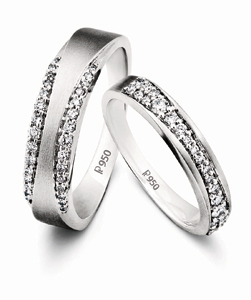 Are complementary rings - one for each of you. Think of them as a beautiful echo of a shared bond.

Supriya Bopanna shared her thoughts by adding, "Today, pledging our love takes me back to the day Rohan swept me off my feet and proposed to me. Exchanging these beautiful platinum emblems of eternal love, reinstates my faith that our relationship will grow from strength to strength and like these elegant and classic platinum love bands that will last forever." The design concept for platinum love bands is based on the Luxury Archaeology design theme provided by the WGSN research; a new design direction that uses ancient materials and amalgamates it with modern themes.