The recently-concluded Jaipur Literature festival saw a burst of publishing agents and writers keen to strike up mutually satisfying deals, finds Gargi Gupta.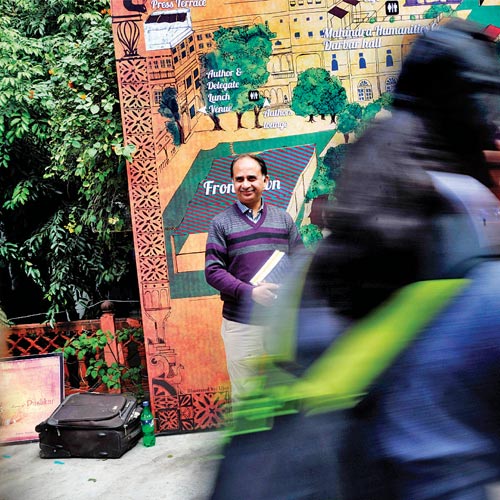 Vivek Pandit is an author of two books, By Mistake, a philosophical search of a young man for his homeland, and 21 New Beginnings, a set of short stories — like so many others at the Zee Jaipur Literary Festival (JLF). But he doesn't have hordes of fawning fans asking him to sign a copy, or journalists pursuing him for interviews. Both Pandit's books were self-published, and he doesn't have the PR might of a multinational publisher to advertise his book. But he's hoping to change things with his third manuscript. He came to Jaipur with a few dozen copies of his books in a suitcase, trying to attract the attention of agents and commissioning editors who throng the fest. He's already managed to get one Koel Mathur interested: "She has already asked for the manuscript and I have mailed it to her."
Pandit is not alone — commissioning editors, publishers and even agents admit that they are frequently approached at the festival by new writers about a book they have written or want to translate.
JLF, the "largest free literary festival on earth", may not be an important event for the book publishing trade like, say, the Frankfurt and London book fairs, where books are launched, deals are struck for the sale of rights and licences, and authors, publishers, agents, distributors, translators and booksellers descend in droves to network and negotiate. But the festival has always provided a space for agents, publishers, distributors, etc from the publishing trade to network with authors and scout for promising talent.
"The festival connects me with new writers and strengthens bonds which were made in the past," says Mita Kapur, of literary agency Siyahi.
"I meet new authors and other agents, publishers — it's fruitful because it gives a chance to work with more people from such diverse backgrounds who are doing work in so many languages. It also gives a platform for the authors represented by us to speak at the festival on various panels."
At Bookmark, the publishing professionals forum started at the Litfest this year, many such connections were made. The event attracted some big names from the world of Indian publishing — the Maheswaris of India's largest Hindi publisher Vani Prakashan, Urvashi Butalia of Zubaan, Arpita Das of Yoda Press, Atiya Zaidi of children's book publisher Ratna Sagar, Ravi Deecee of leading Malayalam publisher DC Books, and MA Sikander, director of the National Book Trust. The international representation too was significant — Alexandra Pringle, group editor-in-chief of Bloomsbury; John Makinson, chairman of Penguin Random House; Ameena Saiyid, managing director of OUP Pakistan; Jo Lusby, MD of Penguin China; Fiona McCrae, an independent publisher from Minneapolis; and Kelly Falconer of the Asia Literary Agency.
McCrae, for instance, says she is looking for Indian authors whom she can publish. Cyrus Mistry's DSC prize-winning Chronicle Of A Corpse Bearer, for instance, is one book that she is really keen to acquire the American rights for. So is Vaiju Naravane, foreign fiction editor of French publishing house Albin Michel, looking for books that can be translated into French. Kapur herself is hoping to sign on at least three of the authors she has met and start a work relationship with an agent from another country. Kelly Falconer, of Asia Literary Agency, too, has begun talking to an author — she doesn't want to name him but hopes to connect with a publisher. She's also happy to have finally met McCrae, whom she'd connected with over mail earlier.
Butalia, too, says that she has made important connections at Jaipur and will soon publish a set of crime stories written by an author whom she first met at Jaipur. "Such things are always happening. Just yesterday, someone came up to me with a manuscript for an interesting project, and I met with the San Francisco-based bookseller City Lights and Rick Simonson of the Elliot Bay Book company."
Kanishka Gupta, a Delhi-based literary agent, says: "It is useful for authors to meet their foreign agents. But often, these are connections that have been made months in advance over email. Jaipur is not yet like Frankfurt where manuscripts are submitted one day, read overnight, and then set off a bidding war the next day."
Bookmark is Jaipur's way of trying to claim that space. As JLF director Sanjoy Roy says, "I was always being approached by publishers and agents to make connections with authors. That, as you can see, is very difficult here. We hope Bookmark will become a forum for such interactions and help the trade."