Tao Porchon-Lynch, the world's oldest yoga teacher gives new meaning to the lyrics 'bigger than my body'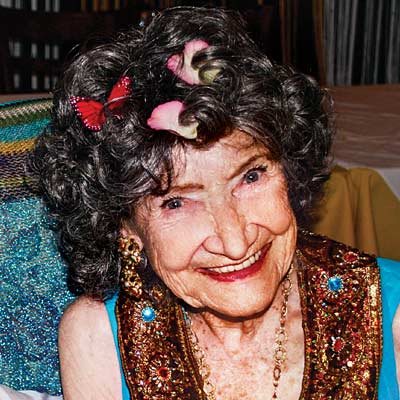 Her porcelain complexion has weathered into a pastiche of laugh lines and wrinkles. Her once statuesque frame is now rather diminutive. Veins push through the thinning epidermis on her arms and calves in graphic relief. If you're searching for the face and body that once modelled the exquisite creations of Coco Chanel, Jean Patou, Jean Dessès and the like, you'll be disappointed. Or perhaps you won't! With every vagary that time has inflicted on her flesh, she has become increasingly spirited.
At 95, Tao Porchon-Lynch is still jetting across the world to dance. Maybe she can't throw her shoulders as far back as she once could. Maybe the lines her body creates as she moves across the stage aren't as fluid or graceful as they used to be. But she couldn't care less. Once voted, "the girl with the longest legs in Europe", she still steps into stilettos (that would leave women half her age shuddering in fear) and keeps pace with her dancing partners, some even 70 years younger than her.
Born on August 13, 1918 in Pondicherry, India to a French father and an Indian mother, Tao, who has since lived on three continents, brings her yoga students back to the country of her birth, every year, to experience it's beauty. Sandip Soparrkar tells us that her recent performance at Phoenix Marketcity Kurla, "was packed to the point, where extra security had to be arranged for, before the show could start". Her tally of first place awards in dance competitions is rumoured to be 543, but it's not the awards that matter to her. "Awards just show me I'm on the right path of being a dancer," she explains.
"Dancing opens up the book of realisation," says the nonagenarian, who continues to learn more about her inner self every day. Her favourite dance is the tango, but truth be told, she "loves them all". She can't seem to resist drawing the other love of her life—yoga—into the conversation. "Yoga and dancing are the path of spirituality; they put us in touch with ourselves," says the woman who begins each day at 5 am with yoga, which she refers to as "the dance of life". Her afternoons feature three hours of dancing and her evenings are filled with yoga. "I'm never tired," says Tao, who studied yoga with Sri Aurobindo, Indra Devi and even BKS Iyengar before she set up the Westchester Institute of Yoga in New York in 1982. "My work is yoga and dancing. My fun is being a wine judge!" Images of her balancing her weight on wrists that look fragile enough to crack, will leave you in no doubt that her 2012 entry into the Guinness Book of World Records as "the world's oldest yoga teacher," is well deserved.
Acting in England, France and USA with an MGM-contract in the '40s and '50s, working with Unitel to introduce television in India in the '50s, writing screenplays and documentaries in the '60s and '70s (including, To Light a Candle, a documentary about 100-year-old philanthropist Welthy Fisher and her work on education and literacy in India)—Tao's past is intriguing, and somewhere in America, a book is being written about it. But let's get back to the present. Tao recently created a dvd with Tara Stiles, the "coolest yoga instructor ever", according to Vanity Fair and wrote a book titled Reflections: The Yogic Journey of Life. So, when did the yoga master take to dance?
Tao Porchon-Lynch studied Bharatnatyam as a child, learned to jitterbug during the war, and picked up the swing from the Americans, but her first rendezvous with formal dancing happened only in November 1987. It was a snowy day, and her yoga students didn't show up. In the Fred Astaire studio next door, the ballroom dance students didn't show up either. Jokingly, the instructors there asked her why she didn't dance. She retorted with full conviction that she would dance the Argentinian tango, before she died. "Why don't you start tonight?" they asked. She did.
She recounts how, in her very first dance competition, she secured the first place in every category she participated in. She's danced with a world mambo champion; left a hole in the ceiling when the champion of the Latin dances flung her into the air during an Argentinian tango; danced the paso doble, cha cha cha and samba to Bollywood music, and has no intention of stopping there. "Dancing is the joy of life. When I dance, I experience good health and a sense of oneness with everyone. Dancing has added beauty to all phases of my life," says Tao, who believes there is no such thing as "too old" or "too young" to dance. "I don't feel 95. I have every intention of dancing until my last breath. As long as the breath of life is within us, there is no such thing as age," says the woman, who believes, "Nothing is impossible. Don't procrastinate. Tomorrow never comes. One minute after midnight is already today."