The day marks the start of Lent, a period of fasting, penance and prayer for Christians.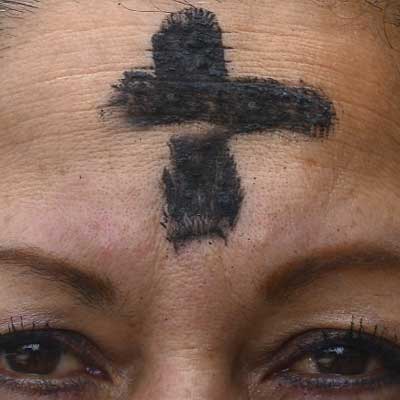 The billions of Christians around the world will be seen with ashes on their forehead in the form of a cross when they step out of church or religious service.
What is it?
Ash Wednesday which falls 46 days before Easter, including Sundays marks the beginning of Lent, a period of preparation for the Resurrection of Jesus.
What is done?
Lent is observed by fasting or abstaining from food that a person likes. This is seen as a way of repenting for sins. Jesus fasted in the desert for 40 days and 40 nights which is also commemorated during Lent.
Priest or religious person places a cross of ashes on the foreheads of the faithful as a symbols that reminds them of human mortality and repentance, the is a way to prepare for Holy Week and Easter.
One of these phrases is used, "Remember that you are dust and to dust you shall return" or "Turn away from your sins and believe in the Gospel."
From where do they get the ashes?
The ashes are made from the palms of the previous year's Palm Sunday, they are burned, blessed and then placed on foreheads. And while Ash Wednesday is often associated with Catholics, other churches also recognise it.
Why ashes?
Ashes are a way to remind people of their physical and spiritual weaknesses.
What's the date?
Like Easter, Ash Wednesday date keeps changing from year to year. The date is decided by the Julian calendar. It can come as early as February 4, or as late as March 10.
What happens?
Christians do a number of penances during Lent, like - bearing sickness and pain for God's love, more patience in accepting difficulties and inconveniences of daily life, doing their duties better, being kind and forgiving those they dislike, going to confession, donating blood, giving alms, etc.