Spouses cheating on their partners are approaching tarot card readers and fortune tellers to use their powers to indicate whether their lovers are faithful or not.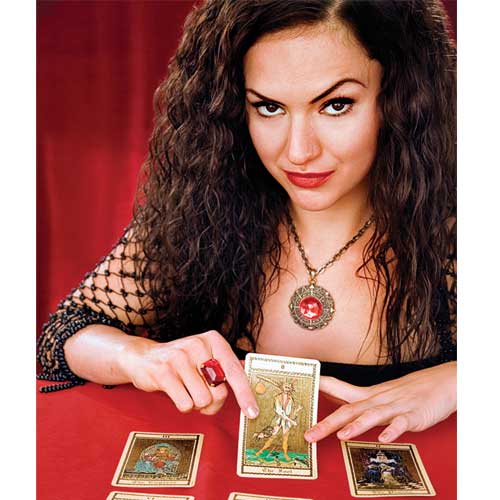 Mona, a financially successful, working woman had a bad marriage. She says, "My son is my only family. I was in my mid-forties when I found love with Sanjay, a married man. Sanjay too had been going through a rough marriage when he met me. He was working as a senior media executive and was always surrounded by PYTs working long hours. I was very insecure about Sanjay and this was driving me up the wall." She finally came in for a session with Kiran Gupta, a tarot card reader.
Kiran says, "While earlier people would approach a detective to clear their doubts about a cheating spouse or lover, now many of the cases that come to me are involving married partners who are cheating on their spouses but want to be sure that their lovers are not doing the same behind their backs. In Mona's case Sanjay came clean in the Tarot readings however, that's not always the case."
She adds, "People tend to approach fortune tellers/tarot card readers like me to investigate if their partner is being loyal or dishonest. Insecurity is driving people to spy on their lovers, and this is not restricted to any gender group. I have had both men and women approach me with such doubts." In fact, Kiran says that on an average she has received around 300 such queries in the last year.
Shradha A Salla, a tarot card reader and a numerologist, adds, "It's been eight years since I have been predicting, consulting and advising my clients on relationships, most of their queries used to be — Do our stars match?, Is this year good for marriage?, Are we compatible together? or then a strange one once in a while where there was a choice between two people and which one would be a better future prospect. However, in the last six to eight months there has been a radical change in the questions related to relationships. Firstly, all these queries are coming from married men and women who want advice on the parallel relationship in their marriage.
Of course, I don't judge, my job is to look at the energies and cards and give them my honest and true prediction. Recently, a handsome, successful happily married man in his early 40s, had come in three months ago. He looked content, positive, and happy, and that's exactly what he told me. He said he was happily married to a beautiful women whom he loves immensely, and has two beautiful children. His work is successful, but he is in love with another woman. He admitted he was having an affair, and it had nothing to do with his relationship with his wife. His question was to find out if this other woman in his life is being loyal to him or not. Generally, when people pose such questions to me I politely let them know that it's not right to use the cards to spy on someone. I gently refuse to play relationship investigator. However, that has not stopped people from approaching me with the same questions again and again."
So why did a fortune teller turn investigator?
Clinical psychologist Seema Hingorrany, says," Some men and women are very insecure and do not realise it's more of a psychological problem than a real one. In some cases their lover may not be actually having an affair but because of their insecurity and paranoia and their own guilt of cheating on their partner, they project their insecurities on their lover. They may not approach a detective for help because he/she may prove and present facts that they are not ready to deal with, and seek comfort and solace in a fortune telling session who probably acts like a counsellor to them."