Food experts are calling it the latest middle-class kitchen utensil must-have.
Guess what is making news as the latest on the must-have kitchen gadget — the hair dryer. Aside from dressing up your tresses, hair dryers apparently can enhance the flavour and texture of dishes like roast meats. Some of our city chefs tell us they more than agree, in fact they've put it to test and have been impressed.
"The hair dryer has been part of my kitchen for few years now," says chef Harpal Singh Sokhi of C'est la vie, Bandra. "I remember watching my mother using a hair dryer to melt chocolate slowly while preparing chocolate jaggery pancakes." Chef Sokhi says he uses the hair dryer to give a shiny and smooth finish to desserts, especially chocolate cakes. "On a low setting, the blow dryer helps melt the frosting on the cake, giving it a glossy finish," he shares.
And most recently, he used the hair dryer for sugar work, "I needed the pulled sugar to actually become more pliable so that I could stretch and pull it to make ribbons and shapes."
Chef Sandeep Pande of Renaissance recollects the practice of using hair dryers for chocolate works at a gastro pub from his days of training in London. "They'd use it to mould, stick and give sheen to chocolate," he tells us. "The hair dryer used to work beautifully with chocolates as these could be moulded into subtle shapes. It was also used to soften pieces of chocolate so that they could stick better."
Another chef who's found an aid in the blow dryer for desserts is Chef Gaurav Gidwani. The executive chef of Mocha likes to call his tryst with the hair dryer in the kitchen as an emergency "accident". "I happened to use the hair dryer to de-mould one of our classic desserts, the Vertigo, during the launch of one of our outlets. That was the only time I used it but it was definitely a great trick."
City chefs have also experimented with a blow dryer when roasting meats. Chef Gresham Fernandes, Group Executive Chef, Fine Dine Impresario Entertainment and Hospitality, says the hair dryer is a great gadget to dehydrate duck and chicken skin before roasting. He also recommends its use to dry up beetroot sauce on a white plate to give it texture and colour. "Once the meat is placed on the dried sauce, the juices of the meat hydrate the beetroot to make a very flavourful sauce," he says.
Chef Irfan Pabaney says that he tried it for the first time last year. According to The Sassy Spoon chef, it's best use is to work the pork belly skin. "It helps dry it out for the best crackling ever," he says.
A blow dryer is also a quick go-to gadget for breathing life into some ingredients, says chef Bakul Kodikal, Brand Chef, California Pizza Kitchen. "Use it to dehydrate brown sugar in humid conditions to save it from clumping together." In cold conditions, it can also be used to warm covered pizza dough for quicker proofing, he adds. What's more, you could revive your soggy cookies and biscuits too, with a blow dry.
70s trend
The technique, however, is not new. It first made news way back in 1978, and was pioneered by culinary guru Marcella Hazan, credited with making Italian cooking popular in America.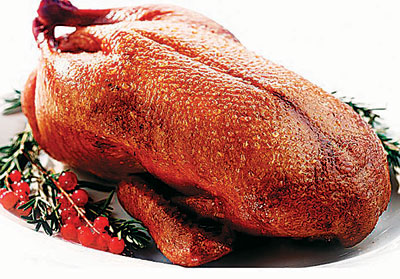 Using a hair dryer to dry out the skin on a roast duck could improve the end result. Hazan perfected a recipe for roast duck, where she dunked the bird in boiling water, then using a hairdryer, dried the skin. She said that it made the duck 'deliciously crisp'.
Guy Crosby, science editor at America's Test Kitchen and a lecturer in food chemistry at Harvard University, agrees. "So the bird's flesh has to go into the oven very, very dry. If there's any moisture in the skin all of the heat will go into boiling off the water, and the skin won't get above 212 °F."
Anything that you want to sear or crisp, get it in the pan as dry as possible, get rid of the moisture. For the duck, though, the blow dryer serves a second function: It removes some of the fat.
Blow dried pork belly as chef Pabaney likes it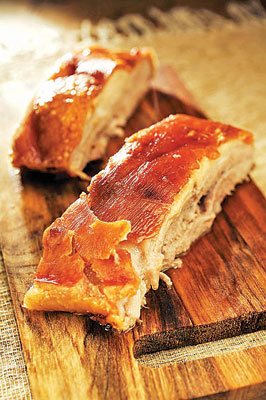 Dry the pork belly really well with kitchen towels and then score the skin, but not too deep, just enough for the fat below the skin to show. Massage into the skin with a lot of love some sea salt.
You have to enjoy this process else it won't turn out yum. Now, blow dry the skin till it looks very dry.
This takes some time and patience. Then wrap the pork belly in a muslin cloth and refrigerate overnight. This helps to get rid of more moisture from the skin. The next day, just before roasting, rub a little more salt into the skin. Then heat a couple of tablespoons of oil with a sprig of rosemary and pour the boiling hot oil on top of the skin. Roast in an oven at 220 °C for 15-20 minutes, and then bring the temp down to 180 °C, and roast for another 1 and 1/2 to 2 hours. Then crank up to 220 °C for another 15 minutes. And you'll have the world's best crackling.