Inspiring stories of lesser known amazing chefs and people who have a great relationship with food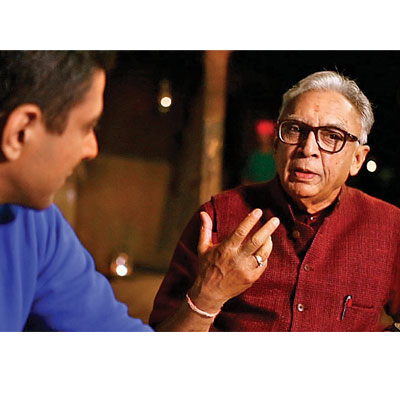 Food is a giver and I have never doubted this, because this keeps coming back to me like a universal truth. During my travels for a food show there was a lot I learned in Amdavad, but more than the learning, there were a lot of stories that touched, moved and inspired me. One such story is the story of Surendra Patel and his tryst with food. An architect by profession, he has been running a FnB operation for 35 years by the name of Vishala and has quite a tale to tell. Fed up of the city life he decided to make people feel the same way like he felt when he used to vacation in his paternal village. He named it 'Badri Vishala', after a place of meditation in the Himalayas, where many ascetics including Shri Swaminarayan have found nirvana. Patel being an ardent follower of the lord established an idol in the compound and thus started cooking prasad for the bhog. It's this prasad that is still served at the place after the evening pooja.
In 1981, another interesting story took shape when he went to buy some utensils for the restaurant in a nearby city only to find that people were selling old brass and copper utensils at metal value for money. He was moved by the loss of heritage and bought back a truck full of utensils. He didn't stop here though. After this he mortgaged all ornaments of his wife to buy more utensils, until he got a big architecture project and made enough money to get them back. But by this time he had become notorious for spending all his money to buy utensils so the company chose to give the money to his wife instead. Today in Vishala stands a museum called Vechaar, which has the largest collection of brass, copper and bronze utensils in this part of the world.
His restaurant has no design, design he says was created by man to understand things. Eventually we just get bored and move on to the next thing to understand. Nature just gives, he says, and we attach meanings and celebrations to it. He has over 150 employees and has served many a dignitaries, heads of states and celebrities. Employee perks include free haircuts and bonus on quitting smoking. He unassumingly and nonchalantly gives all the credit to his friends who helped him with money and his wife who stood by him when he sold everything he had to buy utensils and pile them up every where in Vishala yet after you talk to him and walk around, you see him everywhere in design and essence in its simplicity ,sincerity and honesty ..
Food has obviously given him enough. What started as prasad for the temple is now a feast for a humungous restaurant, which is always full. Yet Patel is not happy because he hasn't given back enough to food. An amazing relationship with food, "the relationship of giving."