Rejuvenating, stimulating and refreshing, the Jiva Spa at Taj Land's End has much to offer, discovers Avril-Ann Braganza
As I walk through the doors of Jiva Spa, Taj Land's End in Bandra, after a long day at work, an ebullient receptionist greets me with a namaste. Soon after, Archana Kadwadkar leads me to the waiting room, where she pours me a hot cup fo Vishudhi chai. I get a strong whiff of the jaggery as I sip the refreshing drink from the Yam cup. "It's made from indigenous clay by underprivileged people in Pondicherry," she adds as she sees me admiring my cup. Made from fresh organic jaggery, lemon and granished with a whole-leaf basil, the tea is meant to detoxify.
The philosophy of Jiva Spa is rooted in India's ancient approach to wellness and the treatments are drawn on this, the fabled lifestyle and culture of Indian royalty and the healing therapies, which embrace Indian spirituality. The names of the treatments–Pāda (foot) Mardanā (massage), Prishta Mardanā (back treatment), Sammardanā (Indian deep tissue massage) as well as the names of the treatment rooms–Sangam, Akash, Prithvi. Agni, Aakash and Ap–originate from Sanskrit. There are signature experiences, Indian therapies, Indian aromatherapy, body rituals and the spa indulgence to choose from.
"What is your plan for the evening after the spa? Do you plan to go home and relax?" she asks. Well, I planned to work. "Ōrja Dāyakā then. It's an energising massage which will lift your spirits and make you want to work," she advises. Their spa treatments are wholistic and meant to soothe the body, mind and soul. "We talk to our guests, try and understand their background and then help them choose a treatment that suits their lifestyle," she explains. Archana introduces me to my therapist Kimi who advices me to indulge in the steam or sauna before my therapy begins. "15 minutes of steam or sauna before the therapy is good for blood circulation and helps the blends used during the massage to penetrate into the skin after the massage. Avoid having a shower for two hours after the treatment to get the maximum benefits," she tells me before she leaves me in Kimi.'s care.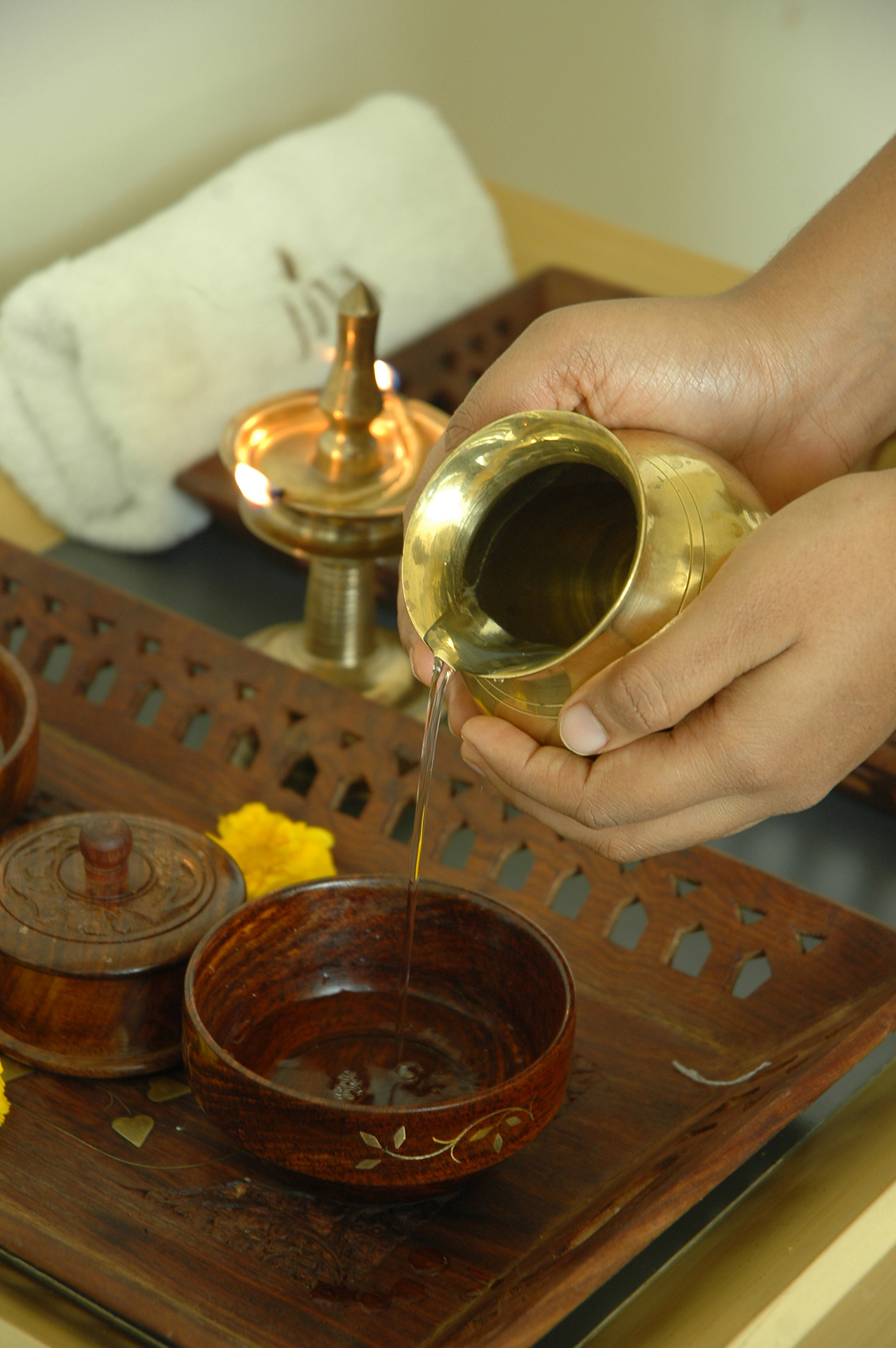 After the steam, Kimi is ready to guide me to my therapy room. I soak my feet in a vessel of cold water with rose petals. "This will detoxify and refresh you," says Kimi as she pours a mixture of tulasi, lime, ajwain and ashwangangha over my feet. And then begins the therapy. "The linen is herbally dyed and is eco-friendly. Henna, pomegranate leaf and other herbs are used for the motifs," Kimi informs me. She massages my feet from the heel to the toe, in a circular motion with an energising mixture of nagarmotha, which uplifts the senses; fennel, which is a stimulator; tulasi, which gives clarity of mind and has anti-bacterial properties; black seed sesame and ashwagangha, work as rejuvenating agents. She massages my ankles, slowly graduates to the calf and eventually the entire leg. The massage —a soothing experience which made me aware of the aches that I didn't know existed. The music is soothing—I can picture green forests as I listen to the music of birds chirping in the background and can visualise the ducks I hear quacking and splashing in a pond. She kneads away the aches in my back with, if I am not mistaken, her elbows; relieves the tension in my shoulders and soothes my face with a blend of palmarosa, mogra, ashwagandha and amla with those magical fingers. It's an hour of total bliss. After the therapy, Kimi garlands me with rajanīgandhā (tuberose) and offers me another glass of steaming Vishudhi chai. She shows me to the shower, but reminds me of Archana's advice to let the blends soak into the skin. I decide to follow her advice and step out into reality feeling energised enough to take on the world. The blends are light and thankfully, I don't look like an oil tank has emptied itself all over me. I ensure that I leave the blends on for two hours; Archana was right, I feel like working, I can think better and I feel happier. I even decide to wake up at 5 am to make a photography trip down to Sewri to capture the flamingoes.