You may like to play your jewellery classy and minimalistic throughout the year but there's no time like the festive season to let your hair down and go all out with festive bling. Luxurious fabrics such as silks and satin with trimmings of zari and lace can only be done justice with luscious jewellery. What's a Kanjeevaram silk saree without a gold payal or a dressy lehenga without a maang tikka? Baffled by the myriad options available in the festive, traditional space? We'll help you navigate the choppy waters; let's dive in, shall we?
1 The crowning beauty
The wonderful thing about Indian jewellery is that we leave no stone unturned; starting from the head to the toes, we've got everything covered. The maang tikka not only beautifies the forehead and the parting of hair but also acts as an instant 'glam up' button; one that you would not want to switch off. A typical maang tikka is made of a chain that has a hook on one end which can be fixed into the hair, with the opposite side ending in a jewelled pendant decorated with precious gemstones or pearls. Some ornate maang tikkas have chains branching out on either side of the centre chain. Tip: Save the heavy-duty ones for weddings!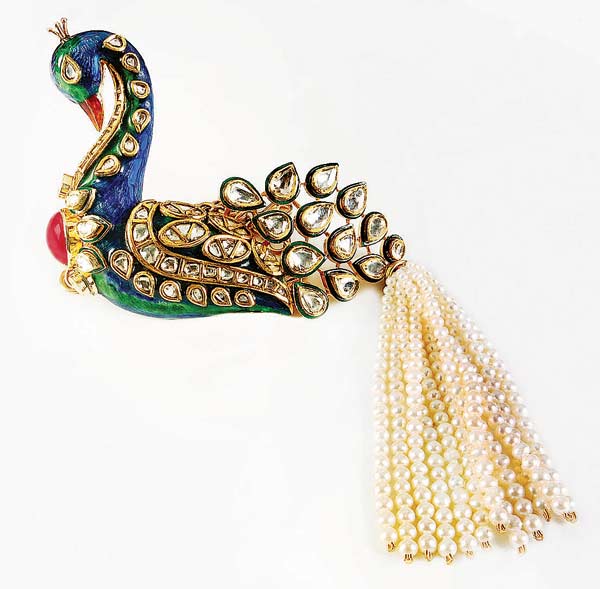 Exotic armband enamelled in blue, green and red, embellished with uncut diamonds, rubies and a pearl tassle (Anmol Jewellers)

2 A shot of arm candy
Bangles, be it the wide but slim ones or the chunky cuff, are the easiest way to add a festive hue to your festive wear. An armlet, popularly known as baju band is yet another option that can be explored with sleeveless short-sleeved outfits. Some classy designs in the armlet category are ones that have a slim chain going around the arm with a teardrop, jewelled pendant fixed at the centre. You can go all gold or opt for coloured gemstones in your armlets; Indian motifs like the peacock or elephant make the piece well suited to the occasion. If your outfit is heavy, it's best to wear a slim, almost-not-there armlet to tone down the heaviness.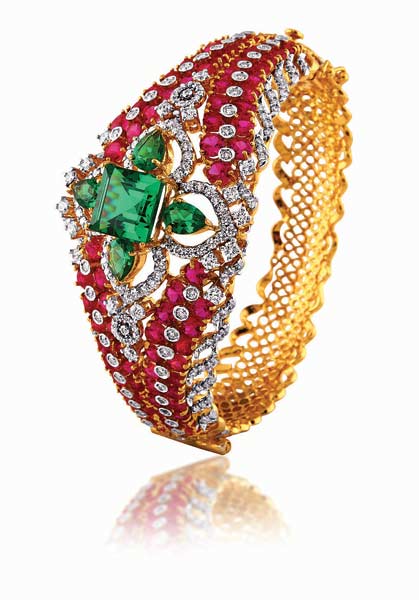 Bangle intricately carved in gold and studded with diamonds, emeralds and pink sapphires (Kundan Jewellers)

3 Highlight those curves
The waist belt, or as it's known in India, the kamarband, is not hugely popular with Indian women due to our generous waist sizes. But if you have a slim waist to brag about, go ahead and invest in a dainty looking kamarband. Remember, the idea is to highlight a beautiful waist and not give the impression that your body is divided into two halves. So where you position your kamarband goes a big way in deciding if you're getting the look right. Take cues from the gorgeous diva and actress, Shilpa Shetty, to learn how she shows off her curvaceous bod!
4 Put a tinkle on your feet
A payal or anklet, be it in gold or silver, has been a subject of fascination for women and men alike! Bollywood cinema has not stopped itself from singing praise of this pretty, little thing, right from the 60s. Small wonder then that women want a piece of this beauty to adorn their feet; an ideal accessory to have for festive occasions. Tip: Unless you want to announce your arrival to half the city, it's best to stick to a slim but pretty anklet.