Debutant author Amish Tripathi fell back on skills learned at IIM Kolkata to give the right launch to his new novel.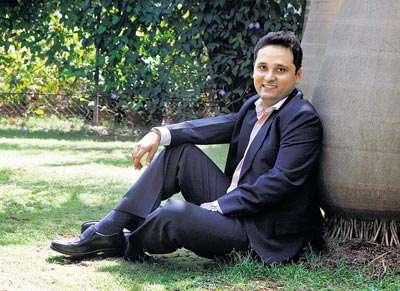 If you think that number crunching may be this IIM Kolkata graduate's favourite pastime, you will be mistaken. While Amish Tripathi, the author of The Immortals of Meluha wanted to be a historian, the dream of a plump salary cheque paved his way to the reputed business school. But the 35-year-old confesses, "I would be a historian if I had the money. I was interested in writing on philosophy but my family told me it didn't pay. So, it was
finance that I followed."
A first-time author, Amish was in no doubt that it would be difficult for him to bag a top-notch publication house. Instead, he decided to rely on his management and marketing skills to make sure that the market was ready to receive his book. He says, "I would be lying if I said that I was sure I would get a big publisher for my first novel. I was a finance guy and a staunch believer in digital marketing that has a better reach in the books market. It
actually puts up a conversation rather than a two-minute wire on the same."
This aggressive marketing on the web actually opened several doors for him, so much so that within one- and-a-half weeks of the book launch (mid-last month), it rose to number one in the bestseller list. The author explains, "I came up with interesting ways to popularise the book. I put up the entire first chapter as a free download option so that I could give the readers online a flavour of the book." The author didn't stop at that alone.
With the help of his friends (including musician Taufiq Qureshi), he launched a live-action trailor film on YouTube and built a community around it to tap in the readers' response. He also went ahead to launch a promo campaign in city bookstores that introduced the bound versions of the first chapter from his novel.
Keeping the flavour of history alive, Amish is now gearing up for the second part of his trilogy. "I will also be working on several historical characters like Akbar and also the Ramayana and the Mahabharata," he ends.