Falguni Mehta shares some of her favourite creations and inspirations.
Falguni Mehta
A former international table tennis player, Falguni Mehta has always strived for excellence. She loves transforming her old jewellery into wearable art.
Gold sequinned chain necklace created in 22 K gold with south sea pearls, emeralds and uncut diamonds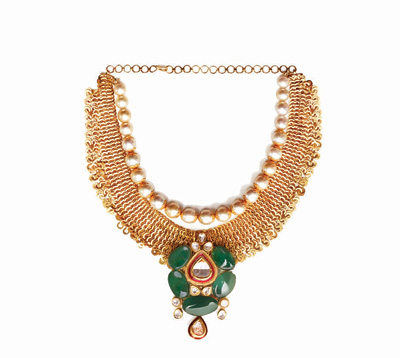 I have created the texture and flexibility of sequins in gold on this broad necklace, so malleable that it drapes around the neck like second skin. This is outlined by south sea pearls and embellished by an emerald and polki pendant. This is an extremely versatile ornament.
Necklace in 22 K gold, strung in Tanzanite beads with a pendant comprising large uncut diamonds, a Cambodian motif embossed in gold and decked with hand-carved emeralds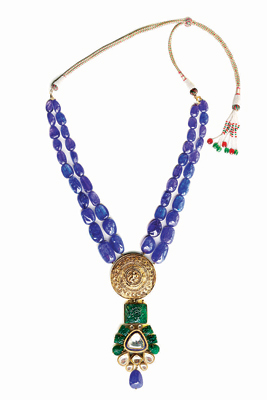 Inspired by the carvings of Angkor Vat, this unique necklace is a fusion of the past with the present. It can be worn with western outfits as well as subtle traditional outfits. I like the combination of blue and green, which is offset by burnished gold, blending easily with most colours.
Polki choker set in gold with an open setting similar to diamond jewellery with no wax backing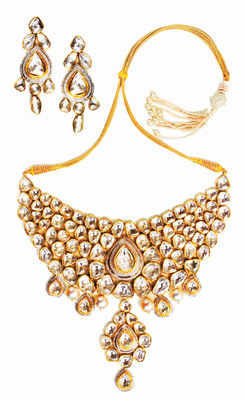 This set is quite universal in its design and appeal, a classic setting with simplicity as its USP. It can be matched with western or rich, solid traditional outfits as it is very neutral.
Haar (necklace) crafted in 22 K gold, embellished with ruby, emerald, coral, garnet, turquoise, sapphire, south sea pearls and uncut diamonds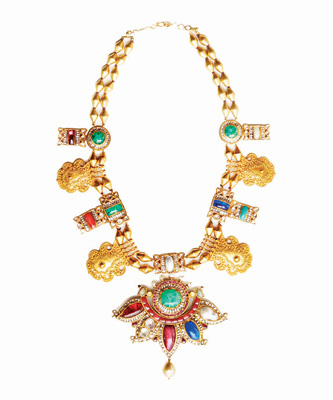 This is an eclectic version of the traditional navratna necklace. It is best combined with a traditional outfit that has solid colours, to be worn at weddings or similar functions. I feel it exudes a regal charm to the wearer, which is reminiscent of royalty of the past.
Gajra necklace crafted in 22 K gold and Basra pearls with a pendant made of uncut diamonds, corals and emeralds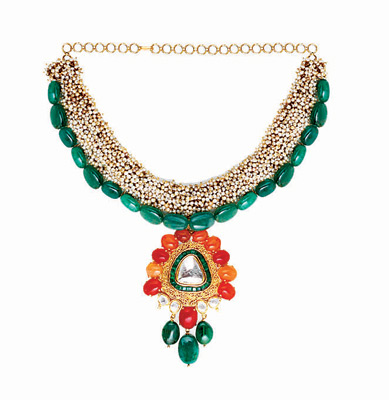 I was inspired by the traditional Gajra or the Veni, a traditional Maharastrian headgear made of flowers. A close-to-the-neck adornment makes quite a statement on long western dresses whilst adding a discreet charm when worn on saris and ghagras.