Menka Shivdasani introduces us to the newest star of Indian origin, Vijay Seshadri , Pulitzer Prize winner for poetry this year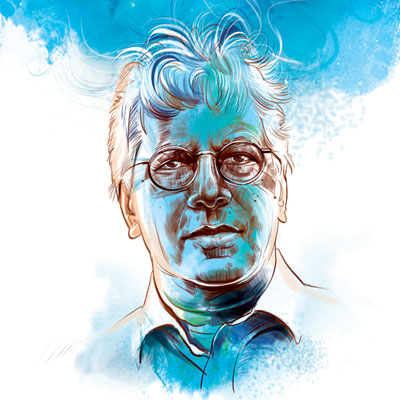 In the year 2007, HarperCollins Publishers India brought out a 100-page hardback collection of poetry, titled The Disappearances. The book was described as "grave and witty, classical and contemporary", bringing together the best of Vijay Seshadri's poetry, drawn from The Long Meadow (2004) and Wild Kingdom (1996). "The award-winning poet, described as 'a writer of subtle, elastic and unblinking intelligence', is being published in India for the first time," said Harper Collins.
As happens with many books of poetry, the volume — almost uncannily true to its name — disappeared without a trace. In the words of Anita Nair, Bangalore-based best-selling novelist and poet, "In 2007, that brilliant editor-publisher Karthika VK of HarperCollins India published him and the book was almost completely ignored by literary editors". Though Seshadri was building a formidable reputation in the United States, where he had lived since the age of five, back home in the country of his birth, few people seemed to know who he was, or care — even though his work had also been published in major anthologies such as Jeet Thayil's The Bloodaxe Book of Contemporary Indian Poets (2008) and Sudeep Sen's The HarperCollins Book of English Poetry (2012).
All that changed last Monday, when Vijay Seshadri won the prestigious 2014 Pulitzer Prize for poetry. Suddenly, it wasn't just the literary circles that were abuzz; his victory was seen as a matter of pride for Indians everywhere. "Of all the winners of the Pulitzer Prizes announced on Monday, perhaps the most unexpected was the poetry collection 3 Sections by Vijay Seshadri, which largely passed under the critical radar," said one April 15 report.
While many people were asking fundamental questions — 'Who is Vijay Seshadri? Where did he come from out of the blue?' — veteran poet Keki Daruwalla, who has ten collections of poetry and a novel to his name, immediately rang up Karthika VK, chief editor of HarperCollins Publishers India, to congratulate her for being among the first to recognise his talent. "This is turning out to be a very good period for Indian poetry in English," Daruwalla said to this writer afterwards, adding that he had been following Seshadri's work in the best of American publications such as Poetry Chicago in recent times.
"It's a wonderful surprise to suddenly have a Pulitzer Prize-winning author on the list," says Karthika VK. "Nandita Agarwal, who was at that time my colleague at Harper, introduced me to his work and commissioned the book. We acquired the rights from Graywolf, Vijay's publishers in the USA, and it was only the second book we published in our fledgling poetry list. It did get reviewed well at the time but we have never met him or had direct interaction with him, it has been through Graywolf." Karthika believes that Seshadri's poetry, especially the poem
The Disappearances, which became the title of the Harper edition, "captures the urban ethos, the American experience of contemporaneity, with such evocative warmth that it gathers you into itself in that indefinably 'universal' way, even reading him here in India."
So who is Vijay Seshadri? By now, post the Pulitzer, the facts of his life are fairly well-known: Seshadri was born in 1954, in Bangalore, but moved to the United States at the age of five, where he grew up in Columbus, Ohio. Sen's anthology in 2012 describes him as teaching poetry and as director of the graduate non-fiction writing programme at Sarah Lawrence College. Among the many accolades Seshadri has garnered over a steady writing career, he was winner of the Guggenheim prize in 2004 and the James Laughlin Award in 2003 from the Academy of American Poets, and has been recognised as a significant voice in American poetry for nearly two decades (though not until now, as an Indian one, it must be said!). Seshadri's academic career may be an illustrious one, but other occupations have also enriched his writing — including, as Thayil tells us in The Bloodaxe Anthology, a stint as a commercial fisherman in Oregon, as a biologist with the National Marine Fish Service, and as a copy editor with The New Yorker.
In the year 2004, Alice Quinn, poetry editor of The New Yorker interviewed Seshadri. His poem, The Disappearances, had been published three years earlier, on the back page of The New Yorker, in the aftermath of the tragedy of September 11, 2001. He had actually written it two months before the attack, while recalling the Kennedy assassination, which had impacted him profoundly as a child; when 9/11 occurred, the poem seemed eerily appropriate.
The wheels of the upside-down tricycle are spinning.
The swings are empty but swinging.
And the shadow is still there, and there is the object that made it, riding the proximate atmosphere, oblong and illustrious above the dispeopled bedroom community, venting the memories of those it took,
their corrosive human element…
Your friend's mother is saying,
Hush, children! Don't you understand history is being made?
You do, and you still do. Made and made again…
Many would say that Seshadri made history too, when he won the Pulitzer Prize last Monday. But, while all of us collectively celebrate the success of a poet we now consider our own, it is worthwhile to spare a thought for a question that Anita Nair asks: "Does it take an American prize for us to appreciate and accept talent? Don't we have the acumen to judge for ourselves what constitutes literary merit?"
Ravi Shankar
Poet and founding editor of Drunken Boat
Well I first met Vijay in the late 90's when I was living in New York. I was put in touch with him when Tina Chang and I began editing a collection to celebrate the 10-year anniversary of the Asian American Writers Workshop. He was always kind, serious but with a spritely wit glimmering underneath, and he wrote me a blurb for my first book that I will always treasure.
A quintessential Vijay moment for me was just recently at the AWP panel where we were discussing the importance of global literature and the interconnectedness of the historical moment. He shared an anecdote about how his poem The Disappearances which he has become famously associated with because it was on the back page of The New Yorker after 9/11 was actually about the assassination of President Kennedy. As he wrote in an interview "the poem moves towards a historical cataclysm and then moves beyond it. It takes in loss and it makes the historical personal somehow." But he somehow managed to capture all our grief and loss during that tragic day.
But he wears his erudition so lightly than in disagreeing with a fellow panelist, he said, "well, I wouldn't be so rebarbative but..." That utterance of "rebarbative" has stuck with me as the perfect word that only he could utter without anyone blinking an eye.
Sudeep Sen
Poet and editor The HarperCollins Book of English Poetry
I first met Vijay Seshadri for a drink in the late 1980s/early 90s in a Manhattan hotel when I lived and worked there. I found him very gentle-natured and remember he took me to meet the then poetry editor of The New Yorker, Alice Quinn.
Vijay is wholly an American poet. His poems use a very contemporary idiom that is steeped in popular culture, using nature in an unsentimental but vivid way.
He had moved to the USA at age of five and his relationship with India is conveyed both in its sense of the geographical distance from the country, as well as in the couched unobvious display of it: "I said Rajasthan, she said Sahara, / but we knew beyond question / it was desert we were after" (The Lump); or obliquely "when Stalin's daughter / fled to Delhi" ('Visiting Russia').
I have published his work in various journals I have edited, as well as in the recent anthology, The HarperCollins Book of English Poetry.