Fast food and beverage chain imagery and logos have wormed their way into the rarefied runways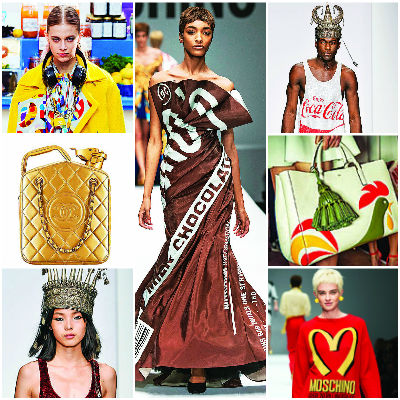 Ever imaged a McDonald's logo on your fave quilted chain bag or a gown draped in the form a candy wrapper? Designer Jeremy Scott totally upped the game at Moschino this season with McDonald's-inspired ensembles and accessories. Designer Ashish in his last collection had played with the Coca Cola imagery while this season Anya Hindmarch bag has become the talk of the chic corridors with her playful reinterpretation of Kellogg's.
At Dubai's Chanel resort show there was a quilted oil jerry can (in gold) that caused instant furore online as warped depiction of Middle East culture.
The Andy Warhol effect
Designer Yogesh Choudhary of label Surendri says, "I think the usage of FMCG logos could date back to Warhol's rendition of Campbell soup. I think it's in every creative stream whether it is art or even fashion. Personally, we love the play on these pop-culture motifs and how they have sort of trickled their way into these different creative streams. It's not only a fun satire on just commercialisation, capitalism and the globalisation of these organisations, it also reminds us that fashion doesn't always have to be so serious and theoretical."
Yogesh feels that it's a fun infusion of something ordinary in fashion and just something loud is always fun in this world of austere minimalism. "I think anything bold reflects the label and hence we are all for this kind of imagery," he adds.
A tongue-in-cheek representation
Designer Nachiket Barve says, "It's not everyone's cup of tea. It's for individuals who've enjoyed luxe goods and want to see things with a sense of humour."
Designer Archana Rao of Frou Frou says, "I think the whole idea of fashion has become more realistic in its approach. The everyday imagery we see in mainstream fashion today reminds us of how we forget the beauty that lies in monotony. It's a relief to see such interesting developments, as it's always fun to see a variation of our everyday life."
Making fashion feel at home
Designer Sanchita Ajjampur says, "It is an indication that designers are now looking at finding inspiration from small everyday things, things that are more real, in the here-and-now as opposed to more abstract, surreal concepts. A trend that started off with slogans, kitsch and graphic prints, trickled down to mass brands, has now taken a new form this season. Quoting Anya, it all does come down to the essence of treating the everyday ordinary in an extraordinary way. This Fall/Winter might just be about making fashion feel at home."
manish.mishra@dnaindia.net