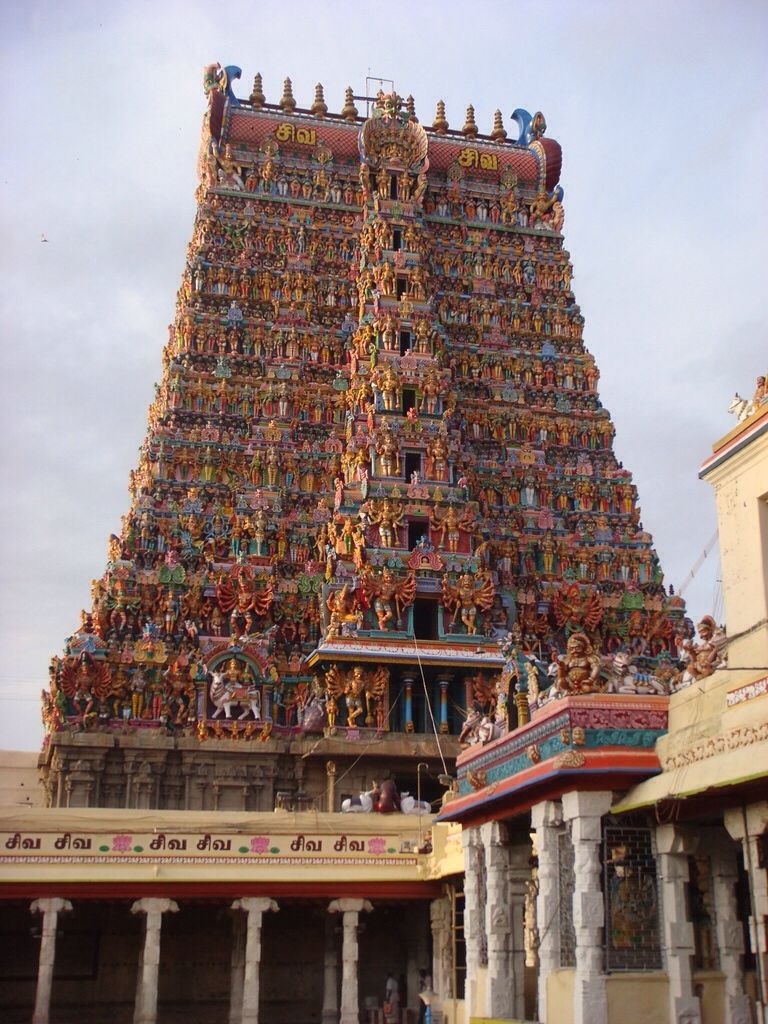 Art in Divinity
Visiting Madurai and not making a trip to the Meenakshi Temple is akin to going to Paris and not seeing the Eiffel Tower. It is the most exquisite piece of architecture. Dedicated to the Lord Shiva and Goddess Parvati, the temple is built on a total area of 17 acres; the entire city is built around the temple.The temple has 10 gopurams. Marvel at the Aayiram Kaal Mandapam or Thousand Pillar Hall which has 985 carved pillars, which depicts the Dravidian sculpture. Tap on one of the musical pillars located just outside the hall to hear different musical notes. As you walk around the sanctum sanctorum, stop by the Porthamarai Kulam, the holy temple pond, which is also known by other names Adhi Theertham, Sivaganga and Uthama Theertham. Legend goes that, it was promised by Shiva that no fish or other marine life would ever grow in this pond and surprisingly till date no marine life is found in the pond. Also as per Tamil legend, the lake is believed to be the judge of new literature. Any poorly written work would sink whereas scholarly work would float in the lake. Porthamarai Kulam is the same pond in which Golden Lotus had bloomed which was used by Indra to perform his pooja. It is believed that if devotees take a dip in the water especially on a new moon day (Amavasya), eclipse days, along with other auspicious days then they achieve great success. Ancient culture, paintings, music and dances are explained through the paintings in various parts of the temple. Sri Meenakshi Amman Temple also has the celestial wedding hall for solemnizing wedding of the Lord and Goddess.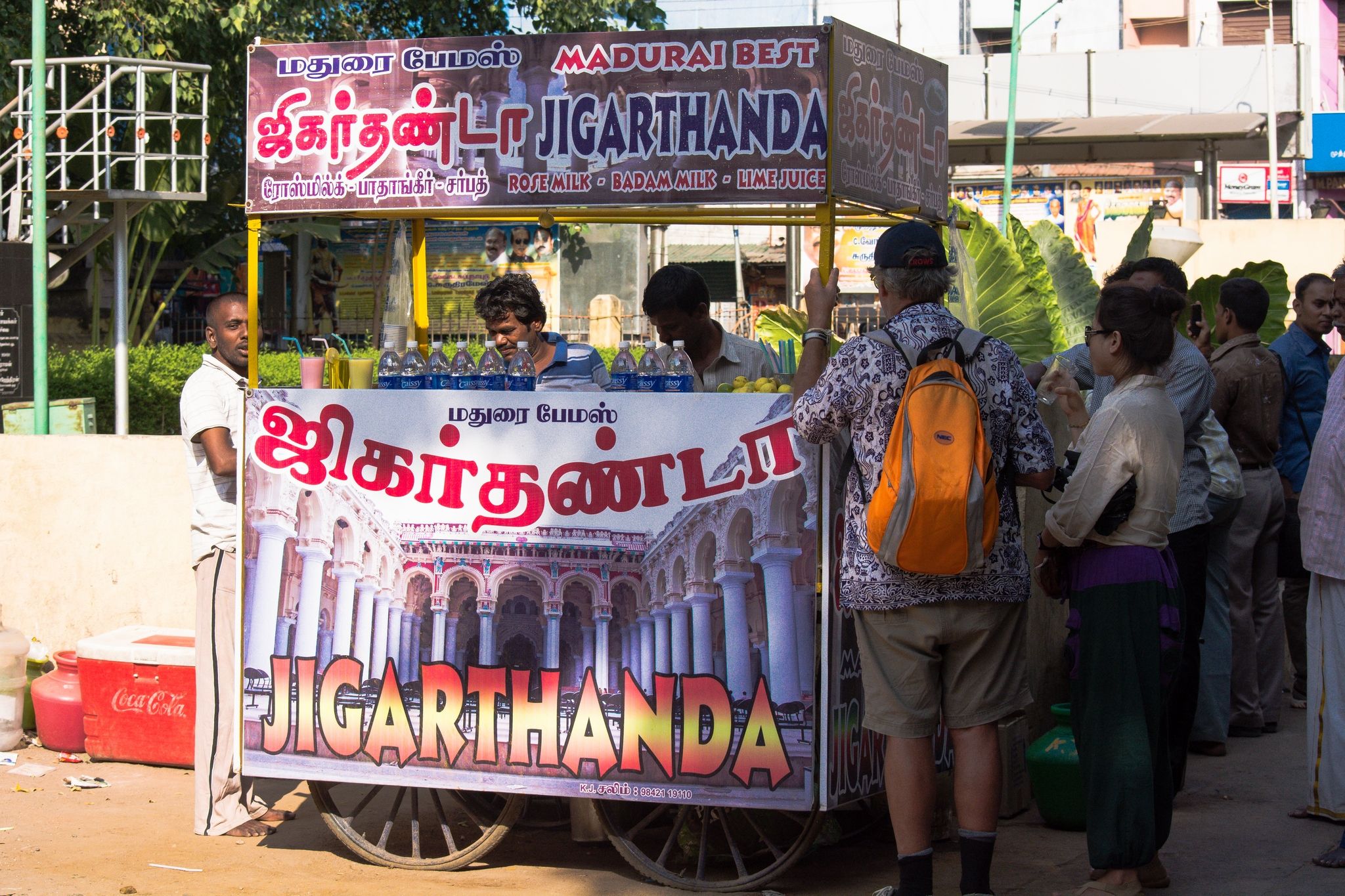 Have a cool drink!
Jil Jil Jigardanda is what it's called. A dessert unique to Madurai that's reputed to cool you down faster than an air con. Part falooda, part thandai, its a concoction of milk, khus, vermicelli, menthol and some strange seeds whisked together in a secret proportion to create the ultimate traditional cooler. Also called as Jigarthanda, you can find a Jigarthanda stal/push cart at every nook and corner of Madurai. While falooda has noodles in it, jigarthanda has badam gum/ pisin instead. Both have flavoured milk and served with icecream on top. But jigarthanda is plain without any garnishes. Badam pisin and nannari sharbat, both ingredients of jigarthanda, have cooling properties. If having a Jigarthanda from push carts is not your idea of fun, try it at Murugan Idli Shop near Meenakshi Amman Temple and also opposite Pothy's.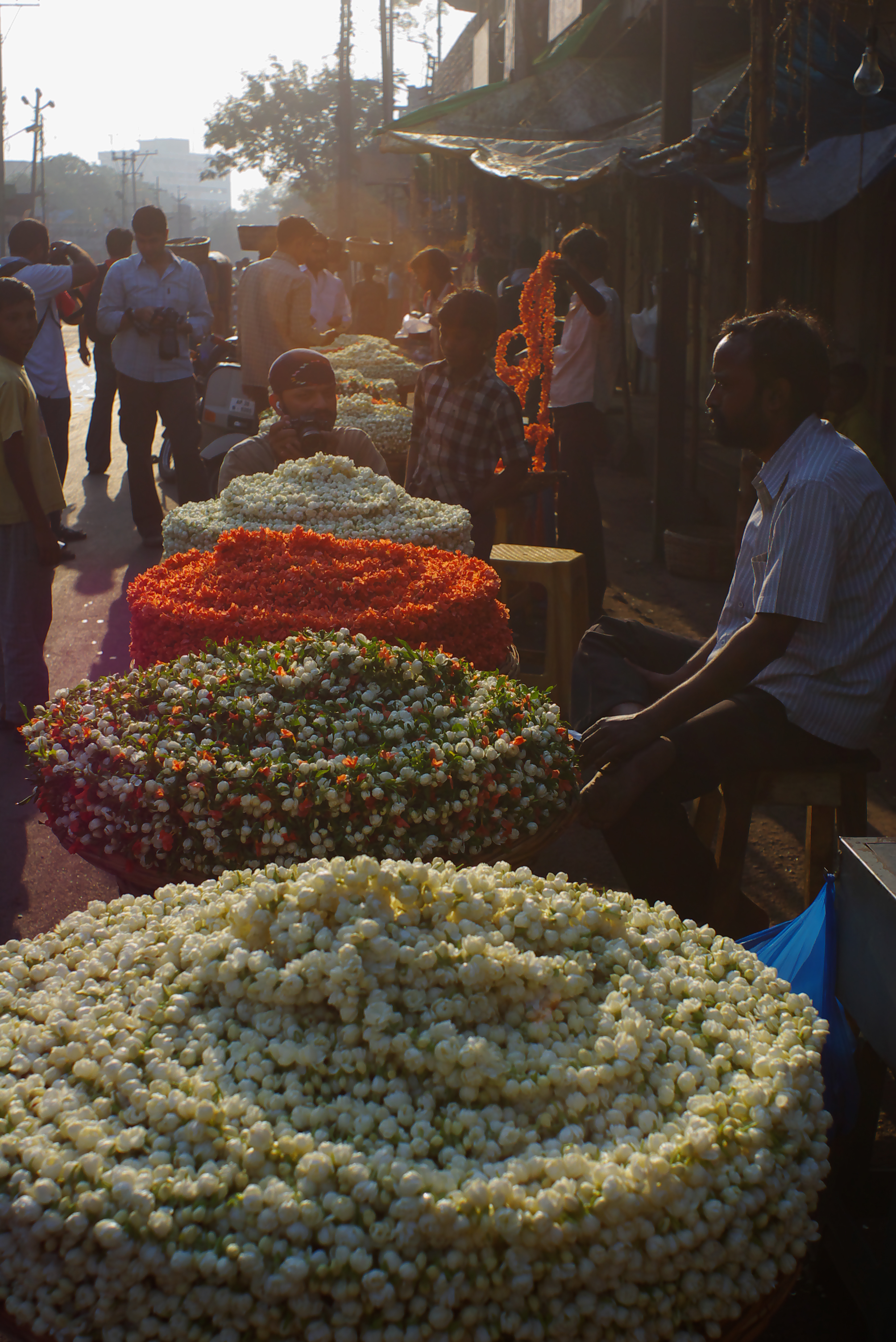 Malli Matters
"Malli poo, amma, Malli poo" is what I constantly heard in the city. When in Madurai, you cannot escape the heady fragrance of jasmine flowers that wafts from the numerous stalls that line either sides of its streets. Also called malliga, mogra, Arabian jasmine, kundumalligai, this oftly referred to as 'Moonshine in the Garden' is God's gift to the shimmering city. Stop by one of the malli poo vendors, watch the magic in their fingers that deftly transform the mounds of soft white fragrance into works of art, their joy and peace at stringing and selling flowers. Do not feel shy to wear one on your hair and soak in the tradition of the city. Malli is not just a flower but an intrinsic part of the city's ethos.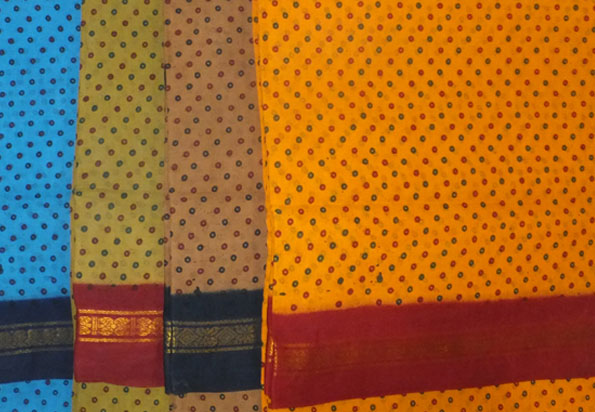 Sungudi Sarees
Buy this six-yard wonder, made from 100 % cotton. Sungudi sarees were mostly worn by grandmothers (mine still continues to). The Sungudi sarees are dyed through extracting natural colours from sources such as leaves. The designs and colors of the sari may vary, but the fabric is pure cotton. The main feature of Sungudi saris is that they have bright colours along with contrasting borders which are generally in gold. Sungudi is a type of Indian saree which is 100% cotton, dyed by way of extracting natural colours from leaves. It does not cause any allergy. It is a normal characteristic that there are many dots and different colours in the border and it is longer than the other sarees. Sungudi sarees measure 48 inches, whereas the normal sarees measure 44 inches. You can stop by Rangachari Cloth Store, one of the most popular for Sungudi sarees.
Chettinadu Mansion
No trip to Madurai is complete without a visit to the Chettinadu Mansion. About 90 minutes from Madurai, Chettinad is that little pocket of Tamil Nadu which conceals in its bosom a very rich package of heritage and culture. Famous for its fortress-like homes and temples that are architectural marvels, Chettinad consists of 75 villages and is the cultural home of the Chettiars. They are a business community and banking was their main business in the South-East Asian countries up to the middle of the last century.
Chettinadu Mansion, is one of these original mansions, the first to be opened as a hotel and it offers cool and comfortable accommodation for the discerning traveler. With wide spaces, about 80,000 sq feet to be precise, beautiful interiors and the peace of a quiet village, one can hear one's mind thinking. The mansion remains faithful to the original construction, preserving the total heritage value. Stop at Visalam for an authentic and sumptuous Chettinad lunch, which would typically include a small mound of steamed rice, crisp pappadams, cucumber salad, a dry preparation of raw bananas, a curry of bottle gourd, Chettinad chicken fry, sambhar, and a dessert of some heavenly halwa. If you are looking to recover from this food coma, try shopping Chettinad sarees.

Jigarthanda picture courtesy: R.K. Lakshmi
Jasmine flowers, Madurai Market: Sudhakar