Go right ahead and see your world with floral-hued glasses. Thrown on some matching jewellery to set the mood...
The New Year brings with itself a dewy freshness, which reflects not just in wardrobes but accessories as well. And if there's one source that all professionals look up to at the start of the year, it's Pantone. Renowned the world over, Pantone is the ultimate authority on colour and the provider of colour systems for the selection and accurate communication of colour across a variety of industries.
Design professionals, whether working in the products or services category, take cue from the trends set by Pantone each year. They use these trends for expressing creativity in their own area of work. As the New Year welcomes us, it also marks the arrival of radiant orchid—a marvellous purple colour that simply begs to be explored by creative individuals.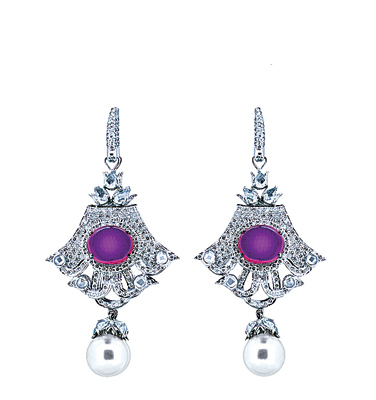 Eclectic earrings studded with ruby and vilandi diamonds (Zaveri & Co.)
COLOUR OF THE YEAR
"While the 2013 colour of the year, PANTONE 17-5641 Emerald, served as a symbol of growth, renewal and prosperity, radiant orchid reaches across the colour wheel to intrigue the eye and spark the imagination," said Leatrice Eiseman, executive director of the Pantone Color Institute®.
"An invitation to innovation, radiant orchid encourages expanded creativity and originality, which is increasingly valued in today's society." Is it any wonder then that jewellery designers across the world are also waking up to the gorgeous colour of radiant orchid?
Scientifically speaking
Pantone's choice of colour every year impacts everything from fashion to home décor. And while it's tempting to simply pick one colour randomly and declare it as the colour of the year, that's not how the decision is made. Pantone conducts heavy-duty research spending months trying to analyze market trends, consumer demographics, colour preferences and much more. For example, did you know that purple has emerged as a new favourite colour with women? With pink as its close cousin, we are not surprised!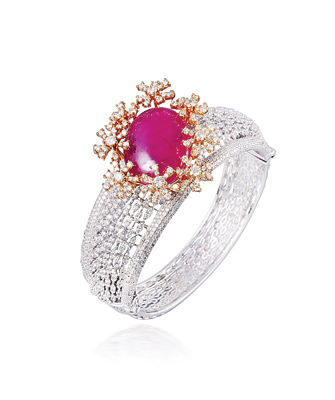 Bracelet in 18 K gold set with diamonds and ruby (Mahesh Notandass)
THE X FACTOR
What makes radiant orchid so special, you ask. The rosy undertones of this colour are supposed to bring out the radiance in skin, thereby producing a robust and healthy glow. And who wouldn't love something like that? The best part about this 'mid colour between red and blue' is that it tends to blend both cool and warm undertones of the skin, giving the wearer several options to experiment with their jewellery and outfits.
TOUCH OF ROYALTY
A colour most associated with royalty, radiant orchid when incorporated in the jewellery space seems like a perfect fit as premium jewellery tends to look more majestic with a flash of purple.
The colour also signifies wisdom, extravagance, creativity and wealth. While there isn't a
perfect hue that is radiant orchid, designers are exploring the whole gamut surrounding this colour.