The chief conductor of the Ulster Orchestra talks about his passion for music, his favourite symphony and his association with El Sistema, a publicly financed program to encourage music education in his home country of Venezuela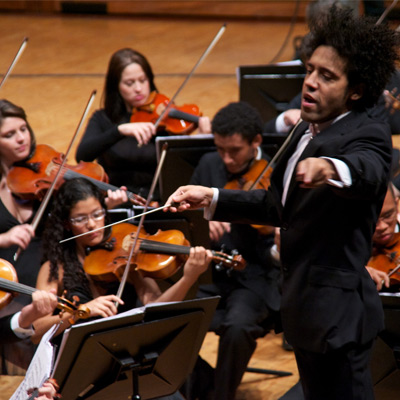 Rafael Payare, the 33-year-old chief conductor of the Ulster Orchestra, one of the United Kingdom's major orchestras, is in Mumbai to conduct two sessions in season 11 of The Symphony Orchestra of India. He won the prestigious Malko Competition for Young Conductors in Copenhagen in 2012, and within a short period of time, has become a globetrotting musician, leading the reputable Simón Bolívar Orchestra in Venezuela and Canada.

Before the opening of his first concert in India at the National Centre for the Performing Arts (NCPA), iamin.in correspondent Puneet Kaur has a free flowing conversation with him about his passion for music, his association with El Sistema, a publically funded program to encourage music in Venezuela, the thrill of performing across the world and giving his audiences a musical experience of their lifetime on February 16.

Can you tell us a little about El Sistema and the crucial role it played in your life?
El Sistema is a publicly financed program to encourage music education in Venezuela. The organisation gives you an instrument and trains you to play it, free of cost. You then start playing in an orchestra. My family did not have a musical background. Since there was an El Sistema centre in Puerto la Cruz, my hometown, my brother started learning to play the Basoon there. One day, I heard the sound of the instrument and my brother asked me if I liked it. I said I liked it very much. He took me to the local centre where I learned to play the French horn, and that changed my life. I realised I had flair and went on to make music my profession.
Has your association with them continued?
I stopped playing with the orchestra in 2012, but that is not where it stops. I am not only a part of El Sistema, I am a son of El Sistema. All my musical education came from El Sistema and I wouldn't be anywhere without them. When I go back to Venezuela, I conduct orchestras in small cities and with the youth orchestra there.
What is it about music that keeps you engaged and inspired?
Once you have the music in your system, you want to deliver the highest quality performance. You don't play music to be famous, it is really not that important. Music is the thing that happens in space and time. The moment you listen to a concert which is magical, you can't physically capture that moment. You can go record it, but it is not the same. So, as musicians, we look to create and recreate the same moment.
Can you tell us about the pieces you will be conducting at the concert in NCPA?
At the concert, I will be leading the orchestra, performing modern pieces by evergreen Russian composer Prokofiev, the intense Spanish composer Joaquín Rodrigo, the French composer Hector Berlioz, who through his symphony gives the audience an imagery of France by the seaside, Czech composer Antonín Leopold Dvořák and the Russian composer Shostakovich's triumphant and powerful "Tenth Symphony".
Which one is your personal favourite?
I am personally fond of all of them. But Shostakovich's "Tenth Symphony" is what I personally love conducting. Shostakovich wrote this symphony just after the death of Stalin. He was deeply moved by Stalin's death and you can see how the regime of Stalin had an impact on his work. It is fantastic. When you hear the symphony, you can feel the chaos and the haphazard system. Though towards the end, the entire orchestra plays that one tune of four beats which signifies what Shostakovich must have felt. It is more like a victory tune. It is just a statement that he came out of the chaos all by himself, victorious.
In one of your performances you are collaborating with the Chinese guitar soloist Xuefei Yang, on Rodrigo's famous piece 'Concierto de Aranjuez'. As a conductor your main obstacle is to make sure that the orchestra doesn't overpower the guitar. Can you tell us more about this laborious piece?
This is a fantastic collaboration. It is very fresh and new. It exposes the colour of the guitar. It makes you feel like you are sitting by the seaside in Spain – the cool breeze with wine, the smell and flavour of the spices in ham and the melody of Spanish guitar and drums. It gives you the flavour and colours of Spain in a refreshing manner. I plan to lead the orchestra into making a nice cushion or like a platform for her to open, so the rest of the orchestra will not overpower the solo instrument. I am personally very excited about this piece.
Being a conductor, you don't literally face the audience. How do you deal with an audience where individuals do not stop themselves from using cell phones or whispering in the middle of a performance?
You know, when I was an assistant conductor, I used to get really angry at the audience if they were noisy. I remember, I used to look at the conductor then, and such anger was not visible on his face. Now that I have started conducting the orchestra, I have realised why. It's because you can't hear it. You are in the moment, parallel with music. You become detached from the world. When there is a space between two moments is when you land back on this world; and that is when you realise if the audience is being fidgety. But then you jump back into the world of music, simply because it is so much better.
Is there any other genre of music that you listen to?
Yes I do, but I am bad with names. When I listen to a song, I just seem to block out the lyrics. It's just the rhythm that I listen to. I think it's terrible, because people come to me and tell me that a particular song has such a bad story, and often, I am like what story?

Payare will perform with Xuefei Yang at the Jamshed Bhabha Theatre, NCPA, on February 16 at 7.00 pm, and on February 21, at 7.00 pm.