The popular folk, rock band will be playing at the first edition of the Ragasthan festival that kickstarts in Jaisalmer today.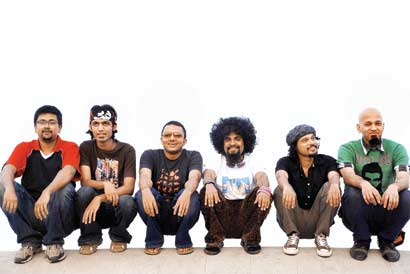 Bengaluru-based band Swarathma will play at the inaugural edition of the annual cultural/music festival, Ragasthan. They tell us about their EP of remixes from their album Topiwalleh, and what's coming up soon...
Tell us what's in store at Ragasthan?
Jishnu: I'm personally thrilled to be playing because I'm a huge fan of Satyajit Ray's Sonar Kella (The Golden Fortress), a cult film set there. We're going to be amongst sand dunes, under a starlit sky. What a beautiful thought! We'll be playing a refreshed set featuring songs from our new album as well as unreleased and older tracks. It's really fun to mix it up, and it keeps it fresh for us as well. We're also looking forward to jamming with other musicians.
The folksy venue gels with your style too, does that make it any more special?
Varun: Certainly! I am guessing the weather is gonna be pretty much extreme. However, spending time in a desert and playing music for the lovely people who would gather there travelling from far distances would definitely make it special and memorable.
You recently played at NH7 too. What is your take on the influx of music festivals on home turf?
Sanjeev: I think music festivals are great for bands to showcase their stuff. Music is being taken seriously by the bands and the festivals are being run more professionally. When these two things come together it can only get better for the music scene as a whole.
After Topiwalleh what's next?
Jishnu: We've just about started writing for the next album, but that's still at least a year away. In the meanwhile we've been working with different artists on special remixes of tracks from Topiwalleh. Bombay Bassment has worked on the title track Topiwalleh adding their flavour of hip-hop to it while Dualist Inquiry has done a killer electro-dubstep remix of the Kannada track Naane Daari. We may release an EP of remixes if this goes on! Our hearts are set on releasing an acoustic EP, stripping down and reworking songs that are usually played with a fuller, heavier arrangement, so that should be exciting. And when all of that is not happening, we're on the road, playing shows to new audiences.
Your music addresses a lot of causes — social and otherwise. Why so?
Sanjeev: We believe that the music we play should mean something. As artistes we are in a position to highlight the causes that we believe in. By not taking a stand or being preachy, we just would like to present our view point through our songs.
What sets you apart from other bands?
Sanjeev: We take our music seriously and work hard on all the aspects of the music — be it writing songs that we believe are relevant, reaching out to our fans in the online space, or working to take our performance to a higher level. I don't think there's a secret sauce to make a band. I think bands need to be honest about their music and find out what works for them.