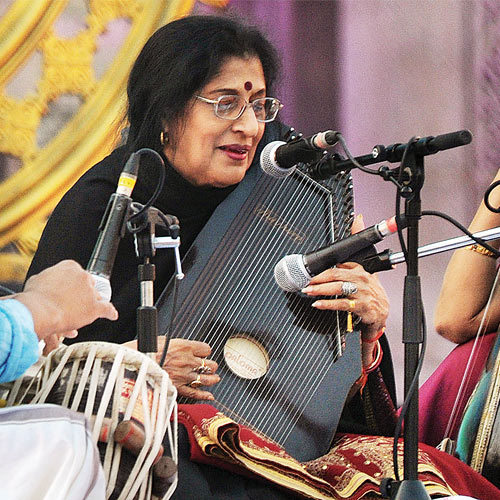 Kishori Amonkar is famously reclusive but Yogesh Pawar got lucky when the Hindustani classical music doyenne agreed to an interview ahead of her performance at the recent Saptarang concert in Mumbai. Below are excerpts from a rare interaction in which the legend, 82, reveals with characteristic candour her refusal to compromise on her principles and her disdain for those who "peddle cheap stuff".
You've been conferred several awards in your illustrious career. What are your thoughts on the latest award in the name of flautist Pt Hariprasad Chaurasia given to you?
Of course it's an honour to receive an award named after a stalwart like him. Having said that, I want to emphasise that an award by itself does not heighten one's stature or help in gaining knowledge. It shouldn't be something any artiste should hanker after.
You also performed at a packed 6 am concert. Didn't you pioneer this trend?
That's right. I'm very particular about following the regimen of ragas and timings prescribed in tradition. Because of evening concerts, I feel many of the beautiful ragas in our repertoire were simply not being heard by audiences. That's how I gave my first concert in the early 80s at the Dadar Matunga Cultural Centre. Now everyone has early morning concerts, especially during Diwali. But I shudder at the fact that they include lavnis and cheap numbers. This is a time of serenity.

You've expressed misgivings about the Maharashtra government clubbing genres like film music, Sufi music and ghazals along with classical music at its Saptarang festival?
Yes. Why should we mix up genres like that? The government can't equate what's a part of our living heritage, our great tradition of classical music, with other forms. If you want only rhythm and noise, then have only those people come and perform. Why dishonour the sanctity of classical music like this?

But haven't audiences' tastes changed?
That's an excuse people who want to peddle their cheap stuff use. In fact, at a time when there is chaos all over, people crave inner peace. Classical music can do that if you give it a chance. And here we are offering them music which only adds to the chaos.
Do you feel youngsters today have the patience to sit through pure classical concerts?
I can answer that only with a simile. If a child keeps eating street food and refuses to eat nutritious stuff cooked at home should the mother keep ignoring this? At some point she will have stop his pocket money for street food, won't she? People will appreciate and inculcate better taste when we offer them good music.

But efforts are being made through reality shows where singers who present classical songs find more appreciation.
Reality? Whose reality are we talking about? I've watched some of these shows. Little children are made to believe that vocal acrobatics is what music is about. This is far removed from holding on to a note. In the long term, they will find classical music repulsive. And these so-called judges and mahagurus are doing themselves and music a great disservice by celebrating mediocrity. Jasrajbhai (Pandit Jasraj) and others may have the goodness of heart to say nice things to these participants but I cannot do that. I get particularly upset when they call these competitions mahayudh and the likes. Music is meant to create peace, not war.
You've also been approached by some of these shows to be a part of them.
Yes. But they don't like it when I refuse to compromise on my principles… After that, they don't come back. I prefer such majestic isolation to squandering a way of life and sadhana for money.

People also complain that you're temperamental.
Most people who talk about these things are simply bad-mouthing me because I speak my mind. At a concert in Kashmir, a top industrialist's wife ordered paan while I was singing. I stopped and asked her if she thought I was singing at a kotha.
And recently, at a Delhi concert, I wanted to go to the washroom during the break, but the organisers had simply not thought of providing one. Obviously, I had to go to the hotel and come back. When I returned, I could hear, "The programme can't begin because Kishoriji has still not returned from her break." Now you tell me, who wouldn't get angry?
In 1964 you sang for Geet Gaya Patthharon Ne. Twenty six years later, you composed and sang for Drishti. Would you ever consider going back to singing/composing for films?
You know I defied my Mai and guru (Moghubai Kurdikar) to sing for Geet... She was furious and told me that if I wanted to sing for films I shouldn't ever touch her two tanpuras. I still remember how her words struck me. Drishti happened because the subject convinced me. Film music has now become only rhythmic noise. Amongst recent songs, I've only liked the qawwali Khwaja Mere Khwaja (Jodha Akbar). It's soul-stirring.

More than a decade after your devotional album Mharo Pranam's release, it still flies off the shelves.
That is the magic of Meerabai's poetry. I was simply reacting to it when I saw the words. It's an album very close to my heart. I remember asking Hariprasad (Chaurasia) to play the flute because it would invoke Krishna but he was acting pricey. I'm glad we got Vishwamohan (Bhatt, the first Indian Grammy winner). The way he's poured his heart out through the Mohan veena is amazing.

At a time when other musicians have got the Bharat Ratna, do you feel you've got your due as an artiste?
For me, any award given by the government will remain just that. The fact that the Shankaracharya himself conferred the title of Gaan-Saraswati on me is of far greater satisfaction. Why would I hanker for more?