Alka Yagnik, who ruled the charts for nearly three decades, has sung for Helen Miller-Om Puri starrer The Hundred Foot Journey. Yogesh Pawar catches up with her to discuss music, current trends and why she's not heard as much these days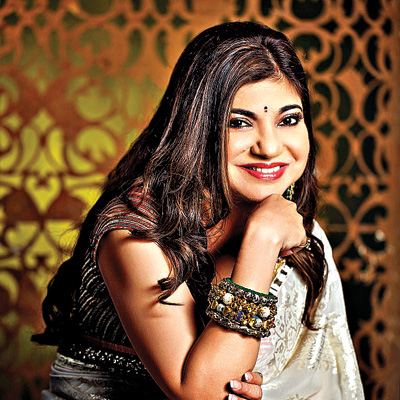 It's been six years since you sang Ringa Ringa for the internationally-acclaimed Slumdog Millionnaire, collaborating with the Mozart of Madras. What was it like singing for him for another international project?
It is always great to work with AR Rahman. I've sung for him in Taal, Lagaan, Zubeidaa, The Legend of Bhagat Singh, Swades, Yuvvraaj, Ada... A Way of Life and Slumdog Millionaire in the past. This track from The Hundred Foot Journey is a sweet number. Rahman's extreme humility, simplicity and purity of heart, inspite of being a world-famous makes it delightful to work with him. As for the 'international' label, I know a lot is being made of the fact that this is an Indo-French film. (Smiles) It is amazing how labels can get attention in India. I don't think like that.
Is that because you've already sung 20,000 plus songs in over a 1000 films which got you two National awards and hundreds of others?
My best work, I always believe, is ahead. Its great to be loved and see my songs become hits but recognition and awards only signal the need to do better. Allowing them to go to your head would be disastrous.
Why don't we hear you sing as much as we used to in Bollywood?
Why do you think? Tell me where are the songs, composers, song-situations and even films which inspire one's best. I don't want to be part of the noise. I've always sung melodious numbers etched in people's minds for years. When all one can hear is noise, repeated words and a beat; its tough to make sense of compositions masquerading as songs.
Is that why you are singing more in other languages?
The work in regional music is still not as beset with dirty politics and crass commercialisation. And the compositions try to use your voice to its best. Which is why you will find me singing in Bengali, Tamil, Gujarati, Kutchchi, Sindhi and Marathi
So is the problem with today's composers or singers in Hindi?
Today's music in films seems less melodious. Rhythm, tempo and beat seem to overwhelm instead of music. Its like everyone wants to just create a din instead of music. New singers come out every single day. Their songs have such a short shelf-life that sometimes you blink and they're gone. Rarely do you see a spark. Of course one sees sensation with suggestive and often scandalously offensive lyrics which leave little to the imagination.
You too had your share of your controversy...
Yeah. I know you're talking about my song in Khalnayak. When I look back I feel like it was a case of much ado over nothing. Look at some of the lyrics and videos of today. When you compare it with the songs of the like sof the Honey Singhs of today, choli ke peechey comes across as benign.
Many feel its better there are more voices around.
I know it was expected that the chaste, virtuous heroine would sing in a thin high-pitched voice and that's changing. Today you have the heroine too singing in husky and even gruff voices. If it works, it works. So that's fine. The problem is when the heroine sings three songs in three different voices. Today songs are being created for situations like an item song, a romantic song and so on. Singers are chosen accordingly without a thought to character. You know sometimes a song is recorded in 4-5 different voices and its then decided whose voice will be retained in the final version.
Its become common for one artiste to dub out another's voice? You too faced this...
Yes... its awful. I don't want to rake up the past. A singer used support of powerful people to do this. I had faith in my talent and God. Dirty tactics can only take you so far. Using her influence with a big music company, she dubbed my songs in *Dil* and *Itihaas*. If she enjoyed the supported of a company she could bring out more of her own albums, why mess with others' careers? Thankfully this is the only instance of underhand dealing that comes to mind. If there have been others, I wouldn't know.
Which are some of the voices around that you like?
I am a great fan of Lataji and Kishore Kumar since I was five. I'd sit next to my mother, a trained classical singer and sing along. But it wasn't classical music but Lataji's songs which influenced me even as a child in Kolkata. I like Shreya Ghoshal, Sunidhi Chauhan, Shaan, Sonu Nigam and several other voices. Each of them has their unique strength. But they've been around for long. I like some new voices but don't even know their names.
Many feel your youngsters are giving you a run for your money
In our times new singers were weighed against Lataji. When I read things like a Sunidhi Chauhan or Shreya Ghosal giving me competition, I laugh, just like Lataji must have when we were compared with her. Comparing newcomers with established artistes shows a lack of a sense of proportion. Who are these ignoramuses? If they knew anything about music, they wouldn't say these things.
Your contemporaries like Kavita Krishnamurthy are doing classical music concerts. Why haven't you done anything like this?
You know I'm quite laid-back. I always dreamt of getting married, having children, living in a nice little house and being a homemaker. Singing just came along. Even when mere angne mein became a hit, I didn't see stars. Only after Qayamat Se Qayamat Tak and Tezaab, did I become serious about a career. So there's a definite lack of drive. I have done albums like soulful compositions by Nida Fazli. I'm open to trying creative experiments like fusion or jamming with a band or something. But this can only happen if someone approaches me.
Kavita's marriage to the legend L Subramaniam has helped. She got exposed to a different genre and a different audience.
Over the past 30 years you've sung under composers with varied styles. Whose compositions have challenged you the most?
I will have to say L-P. They are such an institution to learn from. Each antara completely different in the long songs. We'd have a day of rehearsals, followed by live recordings with HUGE ensemble orchestras. When I began I'd sing softly and Laxmiji would shout at me to throw my voice. That cultivated what recordists now call a powerful voice. In fact I'm made to step back from the mike while singing.
And lyricists?
Javed Akhtar saab is a stickler with pronunciation and takes great pains to explain the stress and enunciation of every syllable. Its so reassuring to find him there at recordings.
You are doing many live shows these days...
Yes. I travel almost every month for concerts both across the country and aborad. This keeps me busy. Despite the gaggle of new voices it is always nice to know that there is still an audience out there which wants to go back to the melodious past and hear my songs.