In part two of our series, Unusual Jobs from in and around Mumbai, dna speaks to Saba Gaziyani, one of India's most popular food stylists, about what it takes to make something good enough to eat.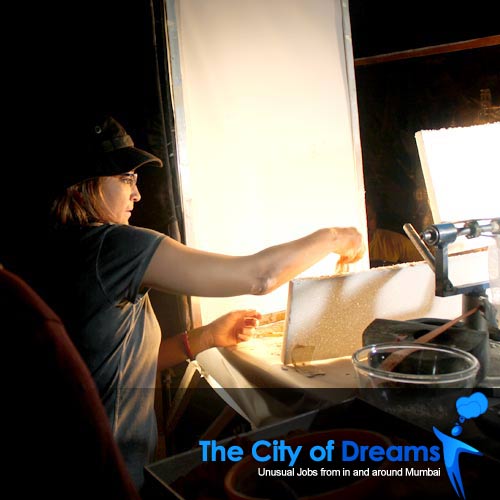 Saba Gaziyani entered the culinary industry two decades ago as a chef, and has worked her way up become one of India's premier food stylists and photographers. Despite this, in her black hat and boots, she does not look her age. She works more than 12 hours a day and, in her own words,"does not sit for even a minute". She balances this with raising her 17-year-old son, and running her own studio.
dna speaks to a truly inspiring woman, who has carved a niche for herself with a relatively unusual career and skill set.
How would you describe your job as a food stylist?
It's a very exciting job and a lot of fun. Nothing is ever constant— things keep changing; briefs keep changing. Its different kinds of work every single day and you meet so many different people every day. So it is a very creative, enjoyable job.
What course did you complete before you became a food stylist?
I had finished a degree in hotel management before I started working; I believed knowledge of food was extremely important when you're getting into food styling and photography. But there is no course that can teach you to style food. It is creativity. It is an art. Either you have it or you don't. And I am doing pretty well, so I believe that I do.
Do you work solely with advertisements and magazines? Can you name some of the ad films you have worked on?
Yes, I work mostly with ad films and packaging. Any food pack requires styling to make it look good. Besides that, I also do my own photography, but I do not shoot anything but food. I have worked on all the Dominos commercials, since the time they launched in India. In addition to that, every single Pizza Hut, KFC, Saffola Oats, Kelloggs Cornflakes, Kissan, Dawat rice, McDonalds commercial; amongst many more. I have been in the industry for 18 years, and I work extremely hard.
Is there a lot of scope for change in this business?
I don't know if there is scope for basic changes, but what you need in this industry, is a lot of patience. If you have the patience to work and improvise, and you have the skill set, then I believe any industry has scope. It is essential if you want to be at the top.
But do you have a lot of competition in this industry?
Sure, there are a lot of other food stylists, but I do not think there is anyone else who is a food stylist and a photographer. In India, I believe I am the only one who brings both to the table, which means it is conducive to the set up I work in. Because of my skills, I have even begun to work on international projects.
The job series is based on unusual jobs that do extremely well. Would you categorize your profession as one such job?
I will not say it is a thankless job — it is very well-paying job. It is also satisfying, in terms of the work I do. I believe it is like a perpetual vacation; something I love to do day in and day out. I forget about everything else when I am working. I run around and work for more than 12 hours a day; I cannot imagine myself sitting and working. It is far better than an old desk job.