The gorgeous Malaika Arora Khan dissects her personal style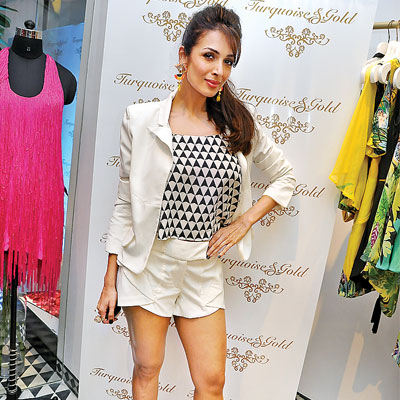 Fashion to you ..
It is very essential and it can sometimes define who you are.
Your Vanity case has ...
I'm obsessed with eye brows, so it will have my brow kit, mascara, tinted moisturiser, blusher for the day and bronzer for the night and a kohl pencil.
A grooming/beauty elixir you can't live without.
Mac Fix. It keeps your skin hydrated at all given time .
How often do you upgrade your closet? Do you go to designer boutiques or random shops where you can find off-the-wall pieces?
I upgrade my closet quite often, I keep adding pieces to it. It depends as I love my designers but I am not so stringent that I have to always go to designer shops. If I like something from a random shop and it fits well then I will be more than happy to pick it up.
Do you follow trends or like to break rules with your own take on them? How do you put together an ensemble?
I don't follow trends and I personally feel it is very expensive to always follow trends. It is just not practical. I follow some trends to which I add my own element and touch. I am not even one of those rule breakers.
Which city or cities according to you are the fashion capitals of the world and why?
Paris, Milan and New York. The best designers are from these cities and they forecast fashion. Even street style is so good in these cities. It is as if these cities live, eat and breathe fashion.
Which decade in the fashion history appeals to you the most and why and the one you detest the most?
I love the whole Audrey Hepburn era. I love vintage and subtle looks. The whole pearls and diamond necklaces, those dresses - I just love it all. I hate the era of bell bottoms. I have never understood it!
One designer label which has been an essential part of your closet over the years and why?
I love Wendell Rodricks, Cavalli and Monisha Jaising. These are some of the labels which form a very essential part of my wardrobe. I love their style and work. In fact, Wendell and Monisha are my good friends and I have been buying their for ages now.
Unforgivable fashion faux pas according to you..
Pedal pushers pants.
Do you share a penchant for accessories?
I love rings and watches. I am obsessed with them. Now only you can see me wear rings. I just love them
Who are your favourite style icons and why do they continue to inspire you?
Kate Moss and Victoria Beckham. They have changed the face of fashion according to me and I love their style.
What is it that you love about Turquoise & Gold and the brand?
In Bombay we don't have a store which caters to resort wear and this is an amazing resort wear shopping destination. I love their cuts and fits it's made for all body types and not just the skinny ones. The SS14 line has some really fun prints which are perfect for the summer. Even the swimwear I love how it fits and it is very hard to find the right fit when shopping for swimwear.