Designer Archana Rao, winner of Vogue India Fashion Fund talks about her upcoming collection at WIFW.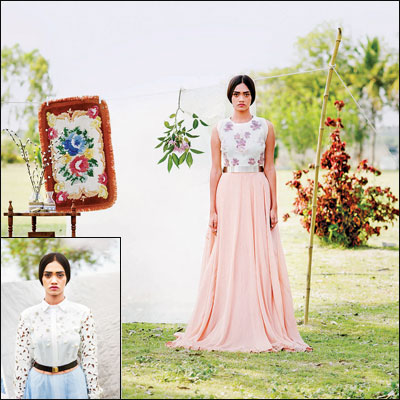 What's the theme of your WIFW collection?
It's inspired by how a typical family dresses — father, mother and daughter. The theme is family laundry. For instance, a father would wear a gingham shirt.
You are known for separates in your ensembles. Do we expect them in the new line?
I've tried to focus on one-piece looks and layered them. There are textured jackets, over-sized coats which can be worn as dresses. I have used digital prints in the form of illustrations like faces and botanical flowers.
Tell us about the textile story in this collection. Are there bridal pieces as well?
More than revival, it's about handcrafted, hand embroidered pieces presented with a contemporary twist. I have used the classic gingham checks. There are Indian pieces as well but they aren't necessarily bridal. They go with the theme but are very wearable and contemporary and easily blend into the collection. Women usually find it a hassle to wear a sari and I have tried to make it fun and easy. They are modern and lightweight. I haven't used too many accessories this time since I wanted the garments to be the focus.
After winning the Vogue Fashion Fund, how has been your association with Vogue India?
Vogue India has been extremely helpful. They taught me about the market and helped me understand it better. Later they gave me freedom to do my own things. So I look forward to seeing them enjoy the show.
Tell us about your line with Westside
It is a prêt line suiting the Westside customer and infused with my own sensibility. It's easy to wear.
How do you strike a balance between your design sensibility and demands of the market?
I'm not necessarily inspired by the European culture. I have a penchant for soft, romantic, vintage aesthetic which could be very Indian as well. So there's no tussle there to adapt my sensibilities to suit the Indian taste.
Who is the Frou Frou girl?
She is someone who's intelligent, who doesn't take fashion seriously and who dresses up to enjoy herself.
Who are your fave designers in India and internationally?
I really love and respect Rajesh Pratap and Sabyasachi. Internationally, I admire Stella McCartney and Comme des Garçons.