Designer Anju Modi talks about being a rebel and the evolution of the Indian bride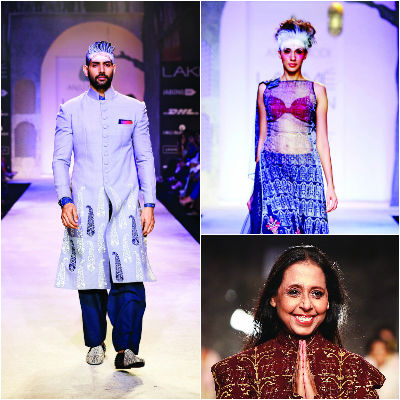 She was the key catalyst in elevating Ram Leela into a surreal visual spectacle. From the movement of the multi-layered gypsy-like lehengas to the sexy embellished cholis – she brought home the point that traditional and heritage-inspired pieces can be modern and sexy too. Her last outing at Lakme Fashion Week where she showcased a collection inspired by Alice in Wonderland – was a treat for the eyes – an interplay of indigo hues to the jharokha motifs to the ash-like models' foreheads – the collection emitted a powerful energy. Over to the soft-spoken, unassuming design genius…
The new-age bride
"As fashion moves forward, clichéd things go out. We are still doing midriff showing blouses but we are also doing halters, corsets, crop tops and lehengas. They don't want a bogged down bride but a fun, light and stylish bride."
The gypsy effect
"I am a lover of the old textile and heritage. That's our history and we are coming from there. I feel I should not just be replicating what our ancestors have done. I take inspiration from there but give my own twist like the Mughal butas and the way I embroider them, I keep the silhouette contemporary as today's design demands."
Mythology inspiration – the leitmotif
"I always relate with a personality. If I have taken Meera or Draupadi as inspiration then it is more on philosophical lines and the essence behind it – strong personalities and not conforming to the norms of the society. Mira was a rebel; Draupadi was a rebel – all of these I relate to. I am also a rebel – I also walked out of a marriage."
Design aesthetic
"Quietly strong, elegant but not shouting. My design sensibilities are little under toned. I will use corals and indigo blue but I'll subdue it with a powder blue."
The bird cage motif
"I took it as the royal symbol of expression from the royal period of Pandavas. They were playing the game of dice and they felt caged and they couldn't do anything. It is an expression of their frustration."
Movie character styling vs. fashion retail
"They are not really different but of course the execution is different. Execution wise, it has to be a little more dramatic. My practicality comes into play here. In day-to-day life too, garment comfort is a major thing. I allow myself to think like Leela – she's a naughty, boisterous, rebellious girl so I could see that this kind of personality will always be running around, dancing, and breaking rules of home."
The Kutch connect
"I source from Gujarati embroiderers – because you can't do these embroideries anywhere in Mumbai or Delhi. The old sooti dhaga they use and other elements – other karigars can't make. They are so beautiful, classic design."
Small budget bride
"I respect people's budget and as a designer I take it as challenge to fit into their budgets. It's not like someone's lehenga budget is just 3 lakh so I tell them 'no'. Because money should circulate. I believe in that theory that's why I keep my prices under check. Many years ago, I even did a bridal outfit for under a lakh and it looked spectacular – you have to style them beautifully. The literal meaning of design is you design the garment according to the need but it has gone to a different tangent."