Guinness world record holder and football juggler Victor Rubilar answers questions on the sport and why he always wanted to perform in India.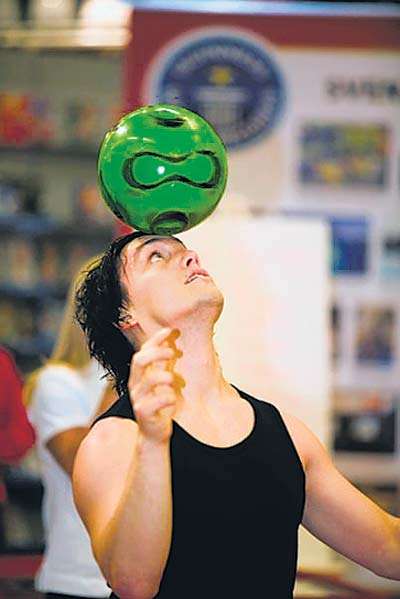 When did you start practicing?
I started performing as a football juggler at a little park in Argentina with a dream; I wanted to get to see places that I saw in books. I knew that to be able to do this I had to put in an extreme effort to make a good show.

I started working with my comedy show two years ago. I love doing this show because I get a very close relationship with the audience when I get to be on stage for 40 minutes not only doing tricks. I have fun and joke with them. I have also done shows in the biggest football arenas, for example Stade de France at the final of the Coupe de la Ligue in front of 60,000 people.
You have been featured in the Guinness Book of Records 2008 and 2009, what are your favourites among them?
The first time I broke the Guinness World Records, I broke three records in one day. "He is a Guinness World Records hero!" said Craig Glenday, editor in chief of the Guinness World Records book. The 3 records I broke were:
1. Most footballs juggled: 5
2. Longest time football spun of forehead by an individual: 19.96 sec
3. Most rolls of football across forehead: 42
The next year I broke one of my records again and a few months later I broke a new record, 'The greatest distance travelled balancing a ball on the head'. I did 278 meters.
Is it necessary to be a good football player to be a good football juggler?
Not necessarily, but it helps. One has to have the 'feeling' with the football. I am a big fan of the sport. I am not a professional player; but I play every time I can, only for fun.

How are you feeling about coming to India for the first time?
I am very excited. With my work I have managed to travel the world and the one thing I always find very interesting is to get to know different cultures. I always wished to come to India and I see this as a great opportunity to get to know your beautiful culture. I am looking forward to the shows and meeting people from India.
Your skills have been appreciated by the great Pele, how do you feel about it?
My whole life I have been a big football fan and to get to meet one of those stars that one usually sees on TV and just dreams about meeting her was just like a dream come true to me. When I finished the show, Pele came on stage and said to the crowd: 'He is really good! I should take him to play to Brazil'. When I heard those words I felt that all the training, all the effort I have put into this was more than worth it.
Your all-time favourite footballer?
Maradona! Nowadays, Lionel Messi.