The talented Namrata Joshipura talks about her unique aesthetic and design philosophy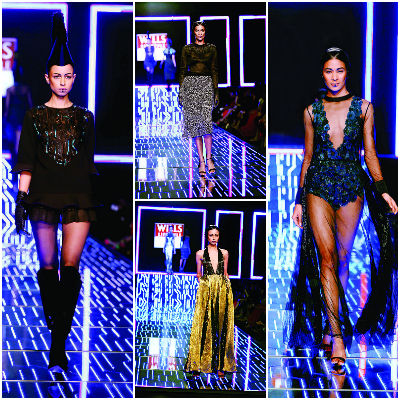 Metallic dresses, tunics and gowns bathed in glittering sequins cascading down the ramp - that's the first visual which strikes the mind when one says, Namrata Joshipura. Her city girl aesthetic has entrenched her brand in the fashion firmament over the years. She opens up on her brand strategy, contemporaries and the new, evolved buyers.
First you did the Lakme finale followed by Wills. How did you pull off the Wills finale collection?
Lakme was definitely a theme-based show but the Wills finale was an extension of my aesthetic and design identity, which is sporty chic. My clothes are a part of my DNA and I didn't want to change that. I put them together in a much more elaborate way - with sets, designs, the works. There were precious evening pieces too. This time I experimented with newer silhouettes and moved away from my signature lean look.
Who is the NJ girl?
She's a global woman who could exist in anywhere in the world - from Chennai to Paris to New York. She has a global mind and is interested in living life and admires all things beautiful. Also, fashion and beauty are also on her inside.
Your brand represents sporty chic and now globally there is a major trend of sporty chic. Please comment.
My last collection Wanderer was in collaboration with Adidas when I did the sporty look but for me it's not just a passing fad. It's who I am - I go on treks and run marathons.
What's the signature NJ look? You play a lot with sequins.
Embellishments are definitely my strengths. In fact, last two seasons, I didn't use much of sequins and kept them very limited. Different kinds of beads, texturing and patterns defined my look. Over a period of time, I created these long embellished gowns which covered one from head to toe. Lisa Haydon wore one of them at an award show. They are not in-your-face sexy but stylishly sexy. With a lot of celeb following, the pieces have got their own life now.
How important is Bollywood and social media for your brand?
Cricket and Bollywood are a religion in this country. If celebrities wear your clothes stylishly, it is a celebration of your brand. I'm not on Instagram currently but I do enjoy posts on Facebook. I'm amazed how the time frame has been reduced. I can easily see what Anna Dello Russo is wearing on a Paris afternoon on a blog. It's fascinating.
What inspires you?
I travel a lot. I have lived in New York for a long time and looked at New Yorkers' personal style very closely. I don't watch fashion shows but have subscribed to a few blogs, so this osmosis kind of percolates into my work in some way.
Your friend and batch mate Rajesh Pratap did the Lakme finale and you did Wills. How does it feel?
Rajesh's finale was stunning. He is not just a class mate but one of my closest friends. Honestly, that thought never crossed my mind. But I'm happy for both of us.
Over the years, how have you struck a balance between commercial constraints and creative process?
The brand has evolved over the years and so has the market. Today there are many buyers who's want to buy things off the ramp the way they are. India is a very typical market. You have to tweak a certain things for the requirements. Having said that, it's not been a struggle but a process. The gap is reducing now.
Your fave designers
I have said it on more than 10 occasions - Anamika Khanna is very stylish herself. I love Sabya's old world charm, Gudda's beautiful clothes, Rajesh Pratap's line of saris. I wear a lot of Abraham and Thakore's clothes and they have been my constant favourites. Internationally, I like Riccardo Tisci for Givenchy, Raf Simons and Marc Jacobs.