Story of the deft and the experienced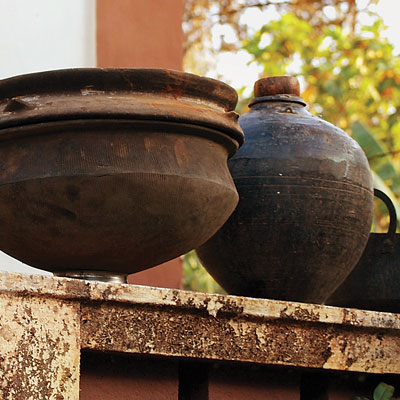 Visiting Sri Lanka, Kerala and Goa in a single trip makes you aware of the culinary common threads that cut across political boundaries. Binding them is a natural resource that has been sacredly utilised for centuries - coconut palm. Of the many bounties that it has to offer, one can write a book; for today we will just talk about toddy.
Unfortunately, outside of the regions where it is consumed, toddy is a very misunderstood drink, associated with village drunkards and incidents of methanol poisoning. Seeing it up close and personal, one realises that its just a case of us humans overdrawing and misutilising what nature has has given us.
The legend of toddy starts very early in the morning with toddy tappers deftly climbing trees to collect the sap that has been drawn overnight from the flower buds into earthen pots tied to these trees. Th tappers empty the collected sap into the makta they carry, shave off the bud and seal it with black clay. All this is achieved in a minute-and-a-half per tree, deftness and experience at it's best. A toddy tapper tends to between 60 and a 100 trees every morning. Neera or the sap that's collected if drunk immediately has no alcohol. It stays well in the refrigerator for a day if lemon juice is added to prevent fermentation. From the trees it goes to the toddy shops or the place where I am taking you, the kitchen!
Actually let's take the toddy to Goa and into the kitchen of Jack Pilerne, a 74-year-old Portuguese Goan and yet another deft and experienced culinary artist. Jack has an amazing sense of precision and perfection when it comes to cooking and all things food. From making toddy fermented jaggery cakes to sannas, the Goan morning bread, Jack shows a keen dedication towards following the recipes to the T.
The reason? It's the only way to make food "smile at you" he says. We cooked a lot of happy food together but what I really loved came last, the art of making toddy vinegar. In the typical suraahi-like vessel toddy is left to ferment for a day and then two "one inch" pieces of red hot brick tiles (not 1 mm bigger or smaller as per Jack) are dropped into the vessel and it's sealed and left for six months to get premium Goan toddy vinegar that is the base for almost all Goan Portuguese masalas.
Toddy was the wine of ancient India and has been used in cooking forever. It means a lot of things to a lot of people, but after this trip, to me it means deftness, precision and love. After all treating people nicely and the way they should be treated makes them smile at you, so why not treat food the same way. Thanks Jack.
Recipe
Next time you go to Kerala, grab the non alcoholic morning nectar and try this drink Neer Orangine.
Ingredients
Toddy nectar (non alcoholic): 100 ml
Orange juice (pulpy): 70 ml
Orange pulp: ½ cup
Sunza seeds, soaked: 1 tsp (optional)
Method
Mix all ingredients and serve chilled. You could try this with watermelon juice and muddled watermelon for a perfect summer cooler.