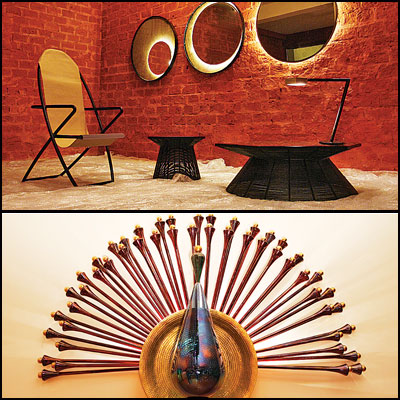 Art and design foundations until recently have been a bit of a mystery; their operations being appreciated and recognised by a limited audience. Lately however, they seem to have taken the industry by storm, expanding into fields like art, fashion, design, museums, education, research and even non-cultural causes. One such organisation is BE OPEN, a global philanthropic foundation that's coming to India with a unique program, right in time for the India Design Week. Created by Yelena Baturia, a dedicated Russian philanthropist, the organisation has already funded several projects in London, Milan and Miami.
Last year, I was blown away by the BE Open project, House of Senses in Milan. The installation interpreted the five senses through spectacular videos and effects. At the time, I learnt that it was in its initial phase. But despite the many obstacles, BE Open is finally in India.
Their latest project, 'Made in… India: Samskara' opens in Delhi next weekend and showcases works by 20 contemporary designers. "We have chosen designers to represent all of the craft skills for which India is best known, yet will be showing them in a light that will dramatically change the way that people might think about Indian goods" says Sunil Sethi, President of India's Fashion Design Council. Pieces in the exhibition include textiles by Rasa and Aneeth Arora, fashion by Gaurav Gupta, furniture by Bombay Atelier and products by Thukral and Tagra, lights by Klove among others who have attempted to imaginatively reinterpret the traditional crafts of India.
Mumbai-based art consultant, Farah Siddiqui, who is associated with the BE OPEN Foundation says, "This exhibition will be a confluence of design, art and luxury, celebrating contemporary Indian designers."
The exhibition will be held at the Indira Gandhi National Centre for the Arts in a bespoke space designed by Anupama Kundoo. Anupama has created in dynamic space that enhances the experimental nature of the exhibition and helps position the work between the creative and commercial realms. Interestingly enough none of the work is for sale, instead the items will be put on auction at the Milan World Expo 2015, where proceeds will go to a new generation of emerging artists through the Young Talent Award fund.
But apart from engaging with established designers, Be Open will also be launching a series of programs and awards for young design students throughout the country. "'Made in ... India' is not only about making a strong statement for Indian craft; it has global application," the organisation explains, "BE OPEN's mission for this project will be to encourage makers around the world to explore alternative ways of using traditional skills and keeping them alive."
Among the several works I was given the opportunity to preview, Klove's products really caught my eye. Founded by Gautum Seth and Prateek Jain, the luxury boutique specialises in decorative lighting. They've created innovative designs that play with materials ranging from metal, fabrics, glass and mirrors. Here's a sneak peek of what they have in store at the exhibition...
My picks at the Art fair
So as buyers and dealers haggled over prices and artists this Friday during the opening of the India Art Fair, I had a silent stroll around and looked works worth buying. An added challenge, I decided to scout out five works that were available for under Rs 3 lakhs. So here are my picks…

Madan Mahatta at Photoink (top), Prabhakar Pachpute at Experimenter (above)

Image courtesy: The artist and GALLERYSKE
Photo credit: Avinash Veeraraghavan