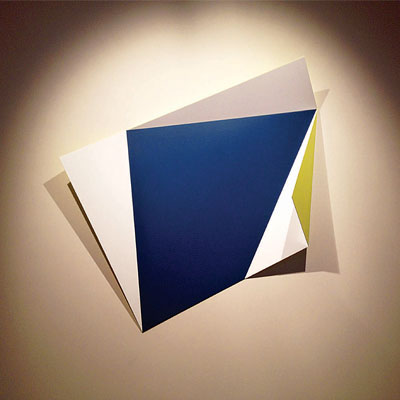 The Elle Décor awards brought me back to Delhi this weekend; it feels great to have won the EDIDA for best lighting. I'm also hoping to catch India Design ID 2014 and BE OPEN while I'm here. Today is your last chance to catch India Design ID at NSIC grounds. Sponsored by Asian paints and supported by Elle Decor, India Design ID celebrates fields ranging from product, interior and lighting design to architecture and installation. But let me tell you about the Dhaka Art Summit (DAS) first.
My Dhaka Art Summit experience began moments after leaving the airport. I spotted one of the 160 billboards in the city dedicated to the Bangla version of Raqs Media Collective's Meanwhile Elsewhere, a series of clock faces whose hands point to words not numbers.
On arriving at the summit, I was greeted by what felt like a majority of the international art community, with representatives from the Tate Modern, Guggenheim, British Museum, Centre Pompidou, international galleries and all of Mumbai and Delhi's artists, gallerists and collectors.
Once inside the Bangladesh Shilpakala Academy, looking at the artworks and organisation of the space, I had to quickly admit that the Samdani's had achieved something that few others in South Asia could claim. "We built so many walls and almost restructured the entire interior," explained Diana Campbell Betancourt, Artistic director of the Samdani Art Foundation who had brought together a stunning selection of solo projects for DAS. With the amount of time, money and people involved in the summit, there was an unsaid yet incontrovertible pressure to perform. And perform they did; the Samdani's pulled off nothing short of a miracle.
The non-commercial nature of the summit radically transformed the quality of work on display. Of the 33 galleries that were allotted booths, several galleries showed experimental and critical practices. Galleries like Experimenter, Project 88 and Jhaveri Contemporary decided to show solo artists, challenging videos and a selection of works that was well thought through and skilfully showcased. The three day programme at DAS exhibited works by South Asian artists from India, Pakistan, Sri Lanka, Afghanistan, Nepal, Bangladesh and an interesting selection of international artists with roots in South Asia. The works were divided between solo projects, specially curated exhibitions and gallery stands. In addition to the curated exhibitions and galleries there were several experimental film screenings, panel discussions (which it was a pleasure to be part of), performances and public art projects.
DAS was a wonderful experience, and practically impossible to fit into a single article. Here are some highlights.
Ranshid Rana, A Room from TATE Modern
Curated by Diana Campbell Betancourt
Rashid Rana walked me through his monumental installation, A Room from Tate Modern. We started with outside section of the work, Rashid carefully narrated every detail of the massive construction process. Every part of the work seemed thought through, even the outside grid like scaffolding that held the room in place.
"The scaffolding was incidental, but I work closely with architecture and grids, as the work took form, it became an integral part of the idea," explained Rashid. The inside is equally impressive. The public seemed to agree; there wasn't a single viewer inside not taking a photo. Manipulating digital images of a room in the Tate, Rashid created a pixilated and distorted version of the room to scale. Everything in the space, from the skylight, walls, wall texts and labels and security cameras was rendered as a distorted version of the original. Rashid's pixilated space traces the line between the digital and real. When asked about the choice of room Rashid explains, "I had collected images of the Rothko and Richter room at the Tate, but decided that it was the white cube space that interested me." I couldn't agree more with Rashid, in the words of the architect Mies van der Rohe, 'less is more.'
Shahzia Sikander, Parallax
Curated by Diana Campbell Betancourt
It was impossible to find this dark video space empty, brimming with people, Parallax was without doubt a DAS highlight, and the Samdani's have already commissioned another one of Shahzia's works. Parallax explores ideas of control, conflict and migration. The artist uses a powerful visual language constructed from drawings, paintings and animation. The three channel video is accompanied by audible voices, Arabic poetry and static environmental sounds. It subtly examines the liminal space between abstraction and representation. Undulating colours and forms begin to construct an abstracted narrative. The scale of the work combined with the intense audiovisuals creates an immersive experience.
Words don't do the work enough justice and neither does documentation, but if you're curious, it's definitely worth a view. You can find a 14 second video edit on my Facebook page.
B/Desh, Emerging Bangladeshi Contemporary Art
Curated by Deepak Ananth
Indian born and Paris based curator Deepak Ananth brought together a compelling group of young Bangladeshi artists for B/Desh; a combination of established artists like Naeem Mohaiemen and Rana Begum and younger artists like Shumon Ahmed and Ayesha Sultana (both nominated for the Samdani Art Award). Ananth explores ideas of nationhood and diaspora with an introspective approach. The works in the show range from videos, sculptures, paintings, photographs and drawings, but despite their material difference they share a homogenous energy unique to Dhaka and Bangladesh. As a collector I was taken by Ayesha Sultana's lustrous graphite drawings, that I wanted to acquire almost instantly on viewing, hours before she won the Samdani's artist of the year award. I'm looking forward to seeing her solo project at Experimenter gallery in Kolkata.
Unbelong
After a stunning opening of Mumbai based artist Suruchi Choksi at the Afghan Church, her debut solo Unbelong will move to What About Art's video space in Bandra. The four short videos on view play with the idea of the impermanence of desire and the transition between the traditional and modern.