Galleries, collectors and designers from across the world made their way to Dubai for the 8th edition of the Dubai Art Fair and 3rd edition of Design Days late last week. With works of more than 500 artists from 35 countries, Art Dubai demonstrated the thriving demand for art in the UAE. Showcasing both emerging and established artists the fair provided an engaging platform for Middle Eastern and South Asian artists to exhibit their work to a global audience, and proved to be an excellent opportunity for collectors and artists alike.
India was well represented at the fair with six India based galleries in the contemporary section of the fair in addition to a number of international galleries like Continua exhibiting works by Subodh Gupta and Shilpa Gupta and Gallerie Daniel Templon showing Jitish Kallat. Solo booths seemed to be the trend this year with most Indian galleries; Kolkata based experimenter presented an audacious black booth with works by Hajra Waheed. Chemould Prescott Road and Chatterjee and Lal teamed up and showed a solo booth of Rashid Rana. Tasveer presented an elegant display of works by Maïmouna Guerresi and Jhaveri Contemporary exhibited the works of critically acclaimed Pakistani artist Anwar Jalal Shemza in the new modern art section of the fair.
Breaking the trend was Delhi/Banglore based Gallery SKE who presented a group show featuring artists like Bharti Kher, Sudarshan Shetty, Mariam Suhail, Navin Thomas, Avinash Veeraraghavan and Abraaj Group Art Prize winner Anup Mathew Thomas.
This year Art Dubai inaugurated Dubai's annual art season with exhibitions and events across the city; from Design Days on Mohammad Bin Rashid Boulevard in Downtown Dubai to the gallery districts like Al Serkal Avenue. Here are some highlights from both in the fair and out.
Modern Terrace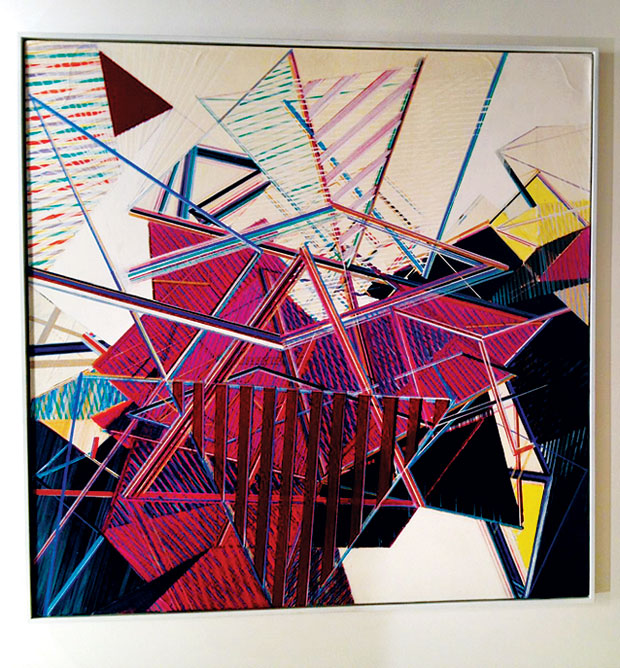 The latest addition to Art Dubai, Art Dubai Modern was devoted to Middle Eastern and South Asian art from the twentieth century. Of the 11 galleries presenting predominately solo booths 6 artists on view really caught my attention. The playful paintings of Baya at El Marsa gallery, the geometric structures of Rasheed Araeen at Grosvenor Gallery, the late Iranian illustrator Ardeshir Mohassess at Shirin Gallery, the Lebanese painter Huguette Caland at Galerie Janine Rubeiz, Nabil Nahas's geometric paintings at Lawrie Shabibi and Anwar Jalal Shemza at Jhaveri Contemporary.
Fahd Burki at Grey Noise
Winner of the John Jones Art on Paper Award at Art Dubai 2013, Fahd Burki's new solo Yield at Grey Noise is definitely worth a visit. The gallery is located in the seemingly gritty neighbourhood of Al Quoz. But don't let the stark industrial complex fool you, inside these warehouses you'll find some of Dubai's most interesting art and design galleries.
Mona Hatoum's Hair Necklace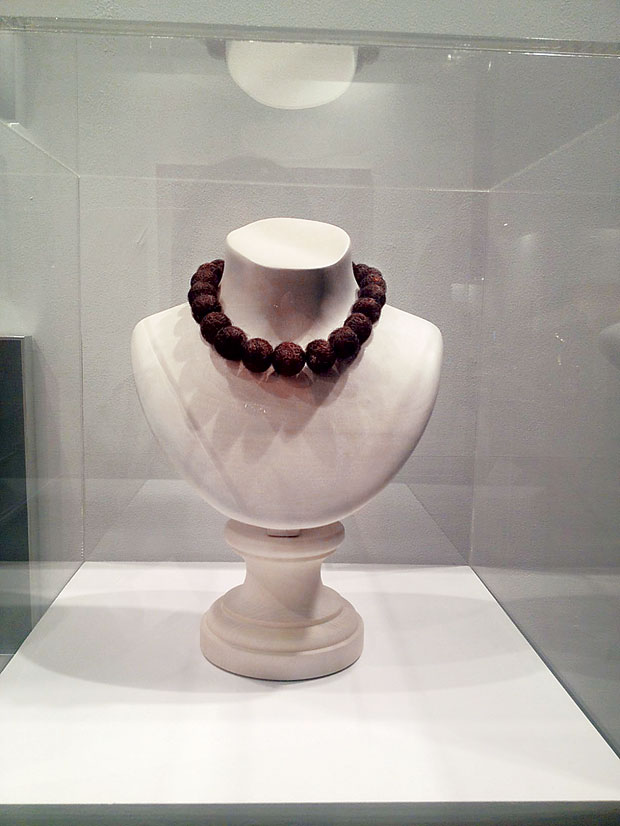 Snatched up by a private collector early in the fair for a price ranging between $130,000 - $150,000, Hatoum's necklace was the second edition of the work. The original necklace, made from the artists hair is a part of the permanent collection at the Centre Pompidou in Paris.
Best of Design Days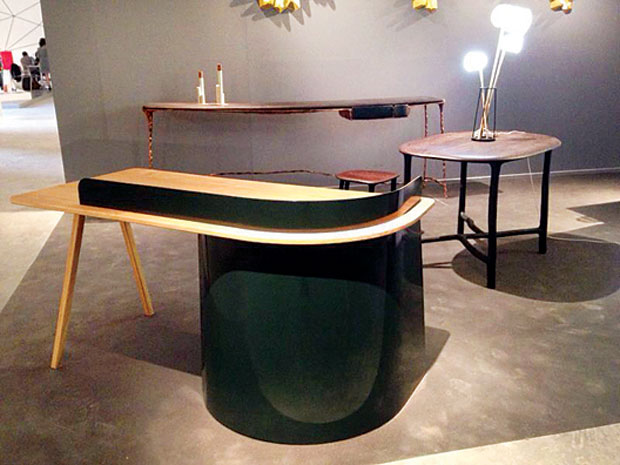 Valentin Loellmann at Design Days
German designer and winner of the Moet Hennessy PAD award for 'best piece of contemporary design' created a standout selection of pieces for Galeri Gosserez for Design Days. Loellmann plays with different metals and woods to create complex designs all made by hand. The designer has only recently started working with assistants to cope with the increasing demand for his pieces. He's definitely one to watch out for and my current favourite.