If you thought Singapore is only about shopping and visiting its famous rainforest zoo, here's news for you. From driving the Ferrari F430 Spider on an F1 circuit to zipping down a hill at 50kmph on a rope, Geetanjali Jhala shows you how to get your adrenaline pumping in this city-state.

Ferrari rush
My itinerary mysteriously said 'Ultimate Drive' so I assumed I was getting a guided tour of Singapore. But when I finally reached the famous Marina Bay Sands hotel for what I thought was going to be the starting point of my tour, I couldn't help but gawk at a red Ferrari and a black Lamborghini parked outside. And when the manager at the Ultimate Drive store asked me which of the two cars I'd like to drive, my mouth fell open. What?! I was going to drive? I stared at him dumbly as I did a mental eenie-meenie-miney-moh and picked the Ferrari F430 F1 Spider over the Lamborghini Gallardo Spyder. What followed was the shortest half hour of my life.
I watched the instructor, an experienced professional driver, slide effortlessly into the passenger seat of the convertible even as I plopped onto the ultra-low leather-upholstered bucket seat gracelessly. I'm not comfortable driving an automatic, so when I noticed there was no stick, I panicked. The professional explained that the gears were these levers behind the steering, like in an F1 car. For the first ten minutes, as I tried to get used to the gears, the instructor looked on warily, worried that I was going to crash the million-dollar car.
As most F1 fans know, Singapore is the only circuit with a 'night race', where streets are cordoned off and converted into an F1 track. I started my drive on this track before getting on to the freeway. Exciting as it was to be driving a 'supercar' on the F1 track, the freeway was where I really tested the 480 HP and revved up to 6,000 RPM. While doing this, I kept reminding myself that this was really happening.
Suddenly, I understood why one customer had written in the comment book: "The worst part of this experience is having to hide your erection while leaving the car".
When the instructor directed me back to the parking lot at Marina Bay Sands, I thought he was conning me. How could my half-hour be up so soon?
Started in 2011 by two French expats in Singapore, the Ultimate Drive has three supercars that customers can drive on three routes, for a price, of course.
Slip & Slide away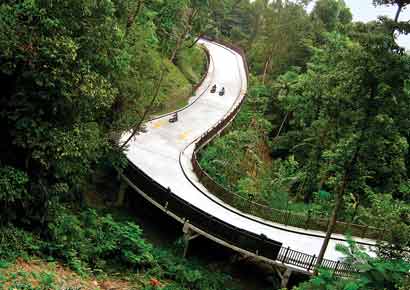 Then it was time to ride the Luge, a kind of a sled. The ride opens only at 11am. But enthusiastic kids — and some adults — start lining up an hour earlier. I watched as an Australian tried to pacify his two pre-teens who wanted to ride the Luge at least three times each.
The part-sled, part-go-kart looked innocent enough before I sat down in it. To move ahead, I had to push the bicycle-like handlebars forward, and pull the handlebars to brake. The instructions seemed basic, but when I started downhill, I realised the slope was steep enough to propel me forward really fast. The narrow road had a number of bends, and for the first 200metres, I panicked and pushed the handlebars instead of pulling it to slow down. I then understood why those kids wanted at least three rides on the Luge. The ride, unfortunately, is only about 500metres long and gets over rather quickly. Though not as thrilling as going at 140kmph on a freeway, this Luge ride has its own charm.
ZIP zap Zoom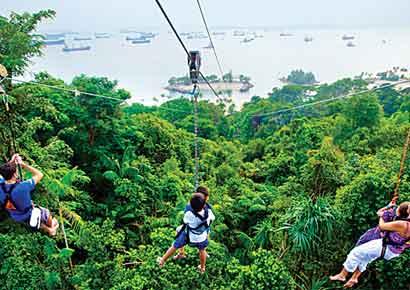 Started by ex-British armyman Alex Blyth, MegaZip has four extremely daunting activities. The 'ClimbMax' is a series of obstacles "designed like the obstacle training course in the army". But the most exciting attraction is the MegaZip itself.
Safety harness in place, I climbed up the three-storey 'tower' to get to what felt like the highest point on Sentosa island. Here, a crew member (or Blue Monkeys, as they are called) hooked me to a wire trolley (like a cable car for people). An eight or nine-year-old American boy, who refused to share a rope with his equally enthusiastic mother, warned me that he might use profanities. I held my breath and waited.
There was a loud 'snap' and we were off. From a height of about 75 metres, I zipped 500 metres to the beach below at a speed of 50-60 kmph, hanging upside down from a single rope screaming obscenities at the top of my lungs. I think I may have scared the American kid.
The kid went back for another round of zipping. But after two days of living on the edge, I had had enough. I was happy to go for what I thought was an equally adventurous lunch of stingray and chilly crab.