The vibrant red colour of the red velvet cake dates back to the 1920s, when a reduction of beets, strawberries or pomegranates was used as a natural alternative to food colouring. It has always been hugely popular in the West, and now this delicious dessert is fast gaining popularity in India. In the last two years, it has become a hit amongst the youngsters due to its light and creamy flavour.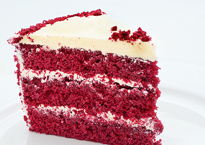 Pooja Dhingra, Owner and Executive Chef, Le15 Patisserie, says the red velvet cake is a perfect balance of a sweet cake and a slightly tart frosting. "The flavours balance each other beautifully which makes it so delicious, while the colour attracts a lot of people, especially children." The recipe uses cider vinegar which gives it the slightly acidic flavour she says, and they team the cake with a dark chocolate ganache and top it with strawberries to make a fabulous Red Love cake. "Nobody had heard of red velvet when I first put it on the menu at Tart, shares Aashiyana Shroff, owner. People were skeptical about trying a red cake, but I loved the flavour and wanted to share it with everyone. I gave out a lot of samples and people loved it."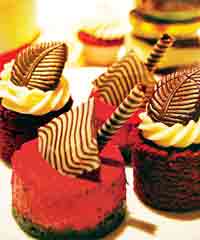 While cake will always be a classic favourite, increasingly there has been a surge in the popularity of cupcakes, for parties and social gatherings. "The cupcake craze in the last few years has brought bakers creativity to the fore allowing them to show off exotic and elaborate skills," say Sachin Sabharwal and Rahul Leekha of Di Bella Coffee. Pooja agrees that the red velvet cupcakes are bestsellers! "Once people tried the red velvet, they seem to forget about chocolate cake and sales of red velvet cupcakes are higher than any of our other cupcakes!" Red velvet cupcakes have a rich and deep flavour — not too sweet with a rich ruby-coloured base — and they compel you to grab them all, they add.
Vardhaman Choksi, owner Cuppa Joe says their Ultimate Red Velvet is "our knight in shining armour and has garnered a loyal customer base." Usually prepared as a layer cake topped with cream cheese icing, more often than not the reddish colour is achieved by adding food colouring. A resurgence in the popularity of this cake is partly attributed to the 1989 film Steel Magnolias in which the groom's cake (a southern tradition) is a red velvet cake made in the shape of an armadillo.