Lunch time on Sundays at Manasi Narendra's Chembur house has a few characteristics that are its own. There is the unmistakable smell of hot oil and puris hanging in the room, fresh and appetising. The koshimbir makes its weekend appearance, accompanied by crisp alu vadi. There is also white rice topped with simple, no- frills yellow dal or varan bhaat, ready to be served as starters to a Maharashtrian Brahmin meal of aloo sabzi (a dry potato side dish), stuffed brinjal and shrikhand. On an auspicious day, a banana leaf adds a dash of green to the brown-black settings of Manasi's kitchen.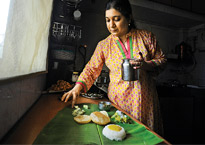 Sweet food!
Maharashtrian Brahmins have a notoriously sweet tooth. If there wasn't that matter of good health, they would have a sweet dish – even something like shrikhand would work – at lunchtime, everyday. Heavily influenced by the Konkan coast, coconut, sugar, jaggery and peanuts are indispensible ingredients of the food and hence, set it apart. Sample this: Panch pakwana (or 'five sweets') is an integral part of any Maharashtrian Brahmin festival. "The five sweets include chiroti, shrikhand, gulab jamun and kheer, which we like a lot," explains Manasi.
But as I sit cross legged on the floor for lunch, I realise that if anyone deserves to celebrate a festival that sounds like one big sugar rush, it is them. For on all other days, Maharashtrian Brahmin food is simple and nutritious: How often does one comes across Indian food where salads are an important component, without trying too hard? The salad, or koshimbir, which is either tomato-based, beetroot-based or made of shredded cucumbers, onions and curd, is given prime status in the thali partly because it is deceptively easy to make. "You can't make koshimbir on a daily basis," explains Narendra. "There is a special method to cut the cucumbers. For this, you have to use the sharp edges of a coconut scraper."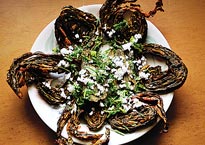 A traditional Maharashtrian Brahmin lunch usually includes puris, sabzi, curry, koshimbirs, alu vadi and varan bhaat. Alu vadi is a side dish made out of colocasia leaves arranged in a shape that resembles a hypnotic spiral. One bite of this fried dish, however, has the potential to leave you mesmerised for real – its crunchy exterior and soft insides made out of bengal gram flour, spices and coconut, make for a delicious combination.
During the course of our luncheon, interesting facts about the Brahmin community and their food tumble out. For instance, the degree of sweetness in food varies from one Brahmin sect to another. Also, they are accomplished secret keepers. Many a Brahmin has successfully managed to take his family's secret goda masala recipe to his grave. "We make our own masala at home. Luckily my mother-in-law gave me her recipe," smiles Manasi. "If friends ask for the masala, we can make and give it to them but we can't give out the recipe."
Pune-based former dietician Subha Mayekar adds to the list of coconut-based dishes. "We have narali bhaat, which is rice cooked with coconut and sugar or jaggery. Chutneys like coconut and green chutney are also an important part of our food."
Eating healthy
At the Maharashtrian restaurant Diva Maharashtracha's Mahim branch, I plunge into exquisite dishes like kala watana amti (black gram cooked in coconut, tamarind and jaggery based gravy), dalimbi usal (pulses cooked with onion, coconut and flavoured with goda masala) and pineapple amti (cubes of pineapple cooked in cashew nut gravy and tempered with cumin seeds and green chillies). The mingled taste of tamarind, jaggery, coconut and spices help the dishes strike a fine balance between being overly sweet and sour.
"Jaggery is not unhealthy," says Deepa Awchat, CEO and masterchef of Diva Maharashtracha, when I cast my doubt over the food's health quotient, considering the unabashed use of the ingredient in almost all dishes. "The dishes do not have refined sugar and have only healthy ingredients," she explains.
Vegetables like cauliflower, cabbage, French beans, green leafy vegetables like spinach and raw fruits like tender papaya and pumpkin are rarely cooked in a lot of oil. "Tempering is done with only one or two tablespoons of oil. While cooking, these vegetables are covered with a flat lid and then, water is added on top of the lid to keep the food's taste and nutritional value intact."
The vegetables release their own juices which, according to Awchat, are more than enough for cooking. "There is no butter, no dried fruits apart from peanuts, no maida and definitely no cream."
Instead of the customary chapatti, Maharashtrian Brahmins have the highly nutritious and high-on-fibre bhakri, made out of either rice flour or jowar (sorghum). Mayekar agrees that the food is extremely healthy, citing usal as an example, which is made out of sprouted beans — one of the best sources of protein. The sprouted beans are cooked in very little oil with onions, coconut paste or flakes (depending on the desired consistency), garam masala powder or goda masala, tamarind pulp and jaggery. "Besides, you have the koshimbir with is rich in vegetables." But what about the potato sabzi? "Well, if one is not happy with potato subzi, they can substitute it with stuffed brinjal," she points out.

Yellow oumpkin shaak (Dudhi bhoplyachi Bhaji)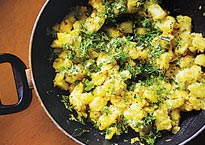 Ingredients:
Pumpkin, peeled and chopped into ½ inch squares, 4 cups l Oil, 3 tablespoonsl Mustard seeds, 1/2 teaspoonl Fenugreek seeds (optional), 1/4 teaspoon l Asafoetida, 2 pinches lOnion, chopped, 1 large l Green chillies, slit, 2 l Grated coconut, 1/2 cup
Sugar, 1/2 teaspoon l Salt to taste
Method
Heat the oil in a pan. Add mustard seeds, fenugreek seeds and asafoetida. When the seeds begin to splutter, add green chilies and onion and sauté till the onion changes colour
Add pumpkin pieces and sauté for two minutes. Close the lid and add 1/4th cup of water
Cook till water from the lid evaporates and the pumpkin is soft for 5 minutes
Add grated coconut, sugar and salt. Mix well. Serve hot with chapatti.