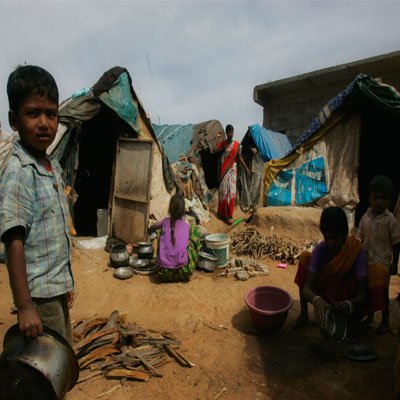 Children living in urban poverty are not only deprived of affordable housing but also basic services such as electricity, safe water, paved roads, public space as well as schools and healthcare facilities. These children are exposed to multiple risks in cities: polluted air, dirty water, traffic accidents, lack of sanitation, inadequate nutritional intake and garbage dumps surrounding their living areas that are unfortunately also their playgrounds.
To include and address the issues of children and their needs in the mainstream urban agenda, UNICEF and the UN Habitat launched the Child Friendly Cities Initiative in 1996. The initiative has now evolved into a worldwide movement with municipalities in different countries promoting and implementing initiatives to realise the rights of a child. In all these countries, authorities are working to ensure that children's rights are reflected in policies, laws, programmes and budgets at the local level.
The phrase "child-friendly" is multi-dimensional and comprehensive. It includes sensitisation to child-friendly issues, behaviour that is child-friendly and planning infrastructure as well as publications that are child-friendly. A tripartite bond can only help to create a child-friendly environment. It is a city, or more generally a system of local governance, committed to fulfilling children's rights, which include influencing decisions about the city, expressing their opinion, participating in family, community and social life, receiving basic services, walking and playing safely, living in an unpolluted environment and being an equal citizen of the city, which are all indicators of their quality of life. In a child-friendly city, children are active agents, their voices and opinions are considered and influence the decision-making process.
Following these guidelines, Nepal with support from the UNICEF, has taken a key initiative in Child-Friendly Local Governance (CFLG), which seeks to put children at the core of the development agenda in local bodies, line agencies and civil society. CFLG provides a framework or an overall guidance to the government in realising and bringing the rights of children into the mainstream, which includes their survival, development, protection and participation in local government systems, structures, policies and processes. It facilities and coordinates the realisation of child rights at and between the national and sub-national level. UNICEF has been working closely with the Ministry of Federal Affairs and Local Development (MoFALD) to develop the CFLG strategy that promotes all stakeholders at the local level to plan together to achieve the results for children as outlined in the strategy. The strategy is also being supported by various NGOs to adopt a bottom-up approach for promoting planning for children and ensuring the participation of children in these processes. A child-friendly governance system is a stepping stone to ensure that cities also become child-friendly.
Another key initiative taken by the government of Nepal​ is the establishment of the Center Child Welfare Board (CCWB) and District Child Welfare Boards (DCWBs) in 75 districts of Nepal which carry out massive programs to sensitise children and the community on child rights; protect children from abuse and violations as well as legal support. Other initiatives made by the government of Nepal include development and implementation of the 10-year child development plan (2004-2014) and declaring the National Child Policy (2012).
At the policy level, the MoFALD convinced the government of Nepal to officially endorse CFLG as an integral part of its Local Governance and Community Development Program (LGCDP) which is a multi-stakeholder governance programme between the government of Nepal and thirteen development partners. Secondly, CFLG also got reflected in the GoN's Three Year Interim Plan. In terms of budgetary provision, MoFALD ensure a mandatory provision of 10% for women, 10% for children and 15% for CFLG initiatives specified in the Village Development Committee (VDC) and District Development Committee (DDC) block grant guidelines endorsed by the Cabinet. CFLG national framework also includes provision for 15% of the overall local body resources to be allocated for CFLG initiatives. Further, Municipal authorities have committed NRs 23 million (US$ 3.1 million) for CFLG initiatives over the next five years. These efforts are commendable and should act as an eye opener for other countries including India. Though, monetary provisions alone do not guarantee progress, Nepal has made tremendous effort to ensure effective implementation of the CFLG.
At the local level, the CFLG has been rolled out in 39 districts, 15 municipalities and 300 VDCs. Children are making their voices heard through 13,291 active child clubs in over 52 districts, and as members of 40,000 Ward Citizens Forums, as well as in the VDC, DDC and Municipal planning committees. With 27 sectoral and 12 institutional indicators centred on child rights, municipalities and VDCs implementing CFLG are taking steps to ensure that their cities/towns are child-friendly.
Municipalities have started looking at the process of development through the lens of a child wherein children's voices and their participation in decision-making bodies is encouraged. In Dang district for example, the municipality has made arrangements to allocate open spaces for parks. Child clubs in Biratnagar, which is the second largest city after Kathmandu have helped the municipality identify children missing out on education and immunization. These child club members also helped increase the enrollment of Muslim girls who had not been attending school due to the schools' restriction on school uniforms. As soon as the children managed to convince Biratnagar and the District Education Office to allow girls to wear salwar kameez instead of skirts, the girls started going to school. The Biratnagar Municipality in partnership with Biratnagar child clubs ensured that their voices were reflected in key local level policy documents and program interventions.
Real change can only be achieved through a long-term commitment towards child-friendly policies and the political will for the implementation of child rights by the concerned duty bearers. Unplanned urban sprawl, inaccessible housing, non-existence of basic services and the loss of open green spaces has not only decreased the living standards of the people but it has also increased its vulnerability to disasters. Despite these developmental challenges, Nepal is encouraging the CFLG, making it a national strategy and laying the foundation for building child-friendly cities. Our neighbouring country is taking strong initiatives to look at the world through children's eyes, encouraging child participation, listening to their voices and respecting children as human beings with their rights and responsibilities. This should act as an eye opener to policy makers, bureaucrats, municipalities and civil society organisations in India to initiate child-friendly policies at the local governance level and ensure coordination and collaboration among various agencies to lead the way towards child-friendly cities.
The author is a Policy and Advocacy Officer at Humara Bachpan Campaign