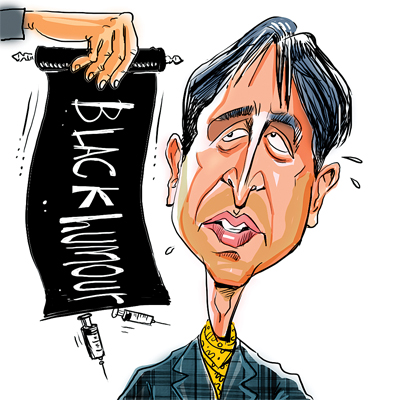 Very recently, AAP member and comedian Kumar Vishwas apologized to Muslims for cracking jokes about their practices but didn't do so for insulting Hindu deities. Either one ought to take a stand in favour of good humour, irrespective of the religious sentiments of people in any and every community, or one should apologize to all, but this one-sidedness reflects a travesty. The same is also reflected in the extensive media coverage given to the attack on the AAP office in Ghaziabad by people from a Hindu rightist outfit (and some have already started alluding to BJP involvement without any evidence), but not the attacks on AAP members by Congress workers in Amethi.
On the surface, the idea of being politically correct about an issue as raging as the rights of India's religious minorities seems very appealing. While I would clearly not want to advocate a stand which is insensitive or hurtful, the mish-mash manner in which many armchair intellectuals react in the wake of certain communally tinged events compels one to scratch the surface and peer beneath it. At the very outset, I may clarify that I am against communal violence and communal hate-mongering under any banner, and a community at large cannot be blamed for some people trying to appease it or for its extremists not getting the requisite media attention.
Secularism is one of our cherished constitutional values and is indeed a pillar of a truly modern nation. It is supposed to mean the State having a minimal, if any, role in the affairs of the state. However, in India, the undoubtedly noble and sacrosanct cause of secularism has been appropriated by opportunistic politicians on one hand and self-styled left-liberal intellectuals on the other (including the likes of Romila Thapar, who asks whether Hindus are actually "by nature more given to killing" than other religious communities - replace the word 'Hindus' with 'Muslims' and such a person would be called communal!), and unfortunately, the dissenting voice against the same has come primarily only from the Hindu right (which has relatively moderate and humanistic people in its fold as well, but more on that in another article), which has meant that the discourse around secularism in India has been extremely polarized between those labeling each other as fascists and pseudo-secularists.
Consider, for instance, the events that have played out in the last few months. We have all heard of the alleged hate speech delivered by Varun Gandhi which was indeed disgustingly vitriolic to say the least, but are we even so much as aware of the hate speech allegedly delivered by Christian political leader Sebastian Seeman, in which he has publicly denigrated Hinduism, like suggesting the possibility of King Dashrath dying of AIDS?!
Indeed, the brutal murder of Christian missionary Graham Staines and his two sons by a Hindu extremist in the remote town of Baripada in Odisha must be condemned in the strongest terms, but how much emphasis did the media relatively give to an incident which occurred on the Diwali of 2013 in which Christian terrorists from the Garo hills of Meghalaya crossed the Meghalaya-Assam border and killed seven innocent Hindus celebrating Diwali?
And then, who is a religious minority in India? Aren't the Hindus a minority too, in Kashmir and Christian-majority areas in the north-east, where many of them have been killed or forcibly displaced from and many of their places of worship destroyed, while the media goes on and on only about one Babri Masjid for decades together (I am obviously not condoning its demolition)?
While the Kashmiri Hindus have been living in relief camps for more than two decades now, our national media has little time for them, nor do our 'liberal' intellectuals, with Bipan Chandra's famous book India Since Independence giving their plight only a sentence of space, while discussing the Gujarat riots in several pages. And speaking of the Gujarat riots, how often do our left-liberals even talk of the Hindus who were burnt alive in the Sabarmati Express at Godhara by Muslim extremists in 2002 (and the perpetrators were convicted as late as in 2011, just like the Hindu perpetrators of the Naroda Patiya massacre were), or equally, many of them who were killed or had to settle in relief camps during the riots that followed? The impression created is as though in the riots that erupted in Gujarat in 2002, Muslims were the only victims, and one would have to study reports of international human rights organizations or visit Gujarat to know that Gujarati Hindus also considerably suffered.
To talk of the plight of the displaced Kashmiri Hindus is not fashionable, but while they are still heard of, possibly, one is not even so much as aware of the plight of the pro-India Chakma refugees from East Pakistan who were not awarded Indian citizenship for decades! Contrast this with hundreds of Bangladeshi Muslims entering Assam as illegal immigrants and being awarded citizens' rights. And when a communal Muslim mob in Mumbai violently protests against the killings of Muslims (but not Bodos) in Assam, social activist Teesta Setalvad praises the police for not acting against the mob!
To conclude, I must state that I cannot but endorse a model of secularism, which advocates a uniform civil code cutting across religious lines (as mandated by Article 44 of our constitution), an end to pilgrimage subsidies, a definition of communal violence that includes killings of members of the majority community in a state by members of a minority community and not only vice versa (unlike the Communal Violence Bill being pushed by the UPA) and no question of religion-based reservations. But no, what I am advocating is communal and fascist, right?
Devaditya is a 24. You can follow him on Twitter @DevadityaC.