The recent statements made by Mulayam Singh Yadav and Abu Azmi are not isolated incidents of sexist remarks against women.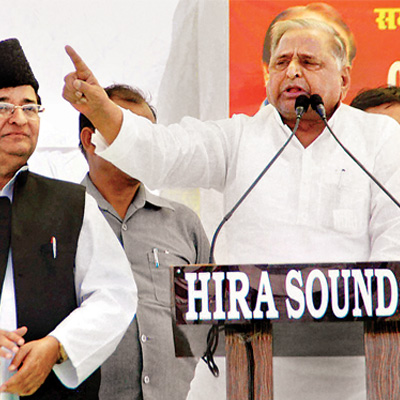 A senior politician and party head honcho, from a state that sends the maximum amount of representatives to the Lok Sabha, has the gall to proclaim that rapes are simply 'mistakes' made by boys; they do not need to be punished by the death penalty. This statement was made at a rally on a day where several electorates in India went into voting. And just a day later, the Maharashtra state president of the same party stated women who have pre-maritial sex should be hanged.
With Mulayam Singh Yadav and Abu Azmi joining the likes of Sanjay Nirupam and Abhijit Mukherjee, it has become increasing clear that Indian male politicians are not anxious about making misogynistic statements in public anymore.
Yadav went further to cheerfully announce that if his party was voted into power, they would persevere to change such legislation, while Azmi was under fire earlier for stating women should not venture out at night with men who are not family; and should wear 'enough' clothes.
Following incidents such as the Nirbhaya case and the Shakti Mills gang-rape, changing anti-rape laws in India, according to the opinions of politicians such as the above, could be detrimental to the status and security of women.
Such sexist remarks are made because there was no action against the preceding one. When the President of India's own son refuses to apologize, and makes his sister do the needful; how can we expect an allegedly corrupt politician such as Yadav to care?
In 2012, when the nation was in an uproar over the Delhi gang-rape case, Abhijit Mukherjee labeled women protestors as 'dented and painted'; and declined apologizing for his statement. His sister was then left with the job of asking for forgiveness on his behalf.
On the same issue, Asaram Bapu, the 'spiritual' leader, went a step ahead, saying the victim was equally responsible for the rape — she should have termed her rapists as brothers and begged them to stop.
If all men saw women as their sisters, such cases of rape and assault would possibly decrease; but evidently this is not the case. Incidentally, Asaram Bapu and his son was charged with rape themselves later that year.
Statements on rape are not the only kind of sexist remarks made. In 2012, Congress spokesperson Sanjay Nirupam courted controversy by calling current National Secretary of the Bharatiya Janata Party and former television star, Smriti Irani, a 'thumke-wali'. It was a cheap endeavor to undermine Irani, and it backfired in a major way when he was reprimanded and asked to apologize.
One of the worst, however, is the statement made by former Haryana Chief Minister and Indian National Lok Dal leader, Om Prakash Chautala. He backed the authoritarian 'Khap' panchayat, who are known for their dictatorial control of society in villages and especially honour killing incidents.
Chautala, in 2012, agreed with the panchayats, saying marrying girls off early or child marriage, was a solution to rape and other atrocities against women. He is currently behind bars under a sentencing by the New Delhi High Court.
We live in the 21st century, but when we vote politicians, such as the above, into power; our country's development regresses. Legislation and society cannot transform for the better, if our elected representatives do not represent our needs and opinion; especially if their opinion is deleterious to the status of 48.27 % of the Indian population.