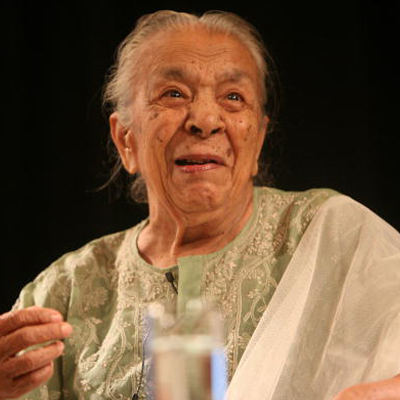 Legendary theatre personality and Bollywood actress Zohra Sehgal's last rites were performed at Delhi's Lodhi Crematorium today, a day after she had passed away in a hospital.
Her actress granddaughter, Sujata Sehgal and great granddaughter Madhyama Sehgal were present at the funeral along with others like Javed Akhtar and activist Sohail Hashmi, who lined up to pay their last respects to the centenarian.
Akhtar remembered Sehgal as a person full of life till her last day, and said that she loved living every moment of her 102 years.
Sheila Dikshit, Amitabh Bachchan and Madhur Bhandrakar were amongst those who paid glowing tributes to the much loved actress.
Dikshit said, "She was the symbol of culture and harmony. She has been our inspiration and now she has gone away. This is a sad and unfortunate thing."
Amitabh Bachchan, her co-star in the 2007 film Cheeni Kum, also expressed his feelings on Twitter.
He wrote, "Zohra Sehgal passes away at 102 yrs ..what a journey and what an immensely loveable co star ! Prayers for her blessed soul !!"
National award-winning filmmaker Madhur Bhandarkar also condoled her death saying, "It is a big loss. She started her career in 1935 and has made a huge contribution in the film industry."
"She was a very dynamic and vibrant personality. She lived her life the way she wanted to and has led a rocking life. Indian film industry will never forget her," he added.
Prime Minister Narendra Modi, too, condoled the passing away of the veteran actress.
"Prolific and full of life, Zohra Sehgal made a mark through her acting, which is admired across generations. Saddened on her demise," Modi tweeted.