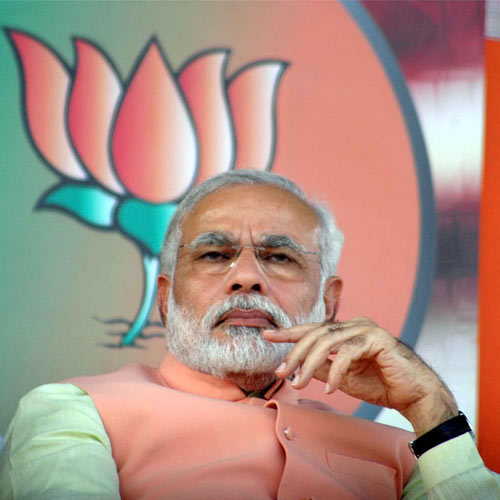 An operation by Delhi Police's special cell leading to the arrest of suspected Indian Mujahideen (IM) head Zia-ur-Rahman alias Waqas gives credence to the oft repeated claims of lengthening shadows of a terror attack on the BJP prime ministerial candidate Narendra Modi.
On Friday, a BJP delegation led by Ravi Shankar Prasad had asked home minister Sushilkumar Shinde to make adequate security arrangements for its top leaders including Modi, Rajnath Singh, Arun Jaitley and Sushma Swaraj for the election period.
Waqas, a Pakistani citizen, was nabbed on specific inputs by the special cell from Rajasthan on Saturday along with three other IM terrorists ­ - Mohammed Mahrruf (21), Mohammed Waqar Azhar (21) and Saquib Ansari – claimed Delhi Police on Sunday.
The involvement of three youth, however, is still not clear. As alleged by residents of Abul Fazal Enclave, a south west Delhi colony, and president of All Indian Muslim Council, Dr Zafar Al-Salam Khan, highly placed sources also said that the youth were picked up from Delhi.
Sources also said that the youths have been detained for questioning because of some inputs and would be set free if found innocent. However, they described Waqas as a prized catch.
According to the Delhi police, after entering India in September 2010, Waqas was instrumental in various terrorist operations, including Jama Masjid shootout of September 2010, Varanasi bomb blast in December 2010, Zaveri Bazar serial blasts in Mumbai in July 2011, Pune blasts in August, 2012 and Hyderabad twin blasts in February last year.
Serial blasts at BJP's Patna rally have also been linked to Waqas who, according to sources, was planning big strikes during Lok Sabha elections with the help of local IM modules.
"Modi could have also been on Waqas's target. But a definite lead will come only after sustained interrogation," sources in the intelligence bureau said.
Describing arrests as a big success, Union home minister Sushilkumar Shinde in Mumbai said it would help in getting more links to nab other terrorists.
"We were tracking Waqas for the last 8-10 days," Shinde said.
Shinde, however, sidestepped questions on possible targets of Waqas, thereby raising doubts about Modi's security.
"We had said that when the time comes we will disclose about it. It is a big success for us. We have got him. His arrest is most important. We are in the process of nabbing 2-3 more terrorists. If I mention any case in which he is involved, it will not be good on account of evidence," Shinde said.
Police have claimed recovering explosive material – detonators, timers in heavy amount from the suspected terrorists and is edgy about module's plans to target political rallies.
On his way to Ajmer from Mumbai, Waqas, police said, was nabbed at the railway station. He has been sent to 10 day police custody. Delhi police's claim that Waqas stayed in Mumbai for almost a week raises a big question mark on the intelligence network of Mumbai police.
"Since the arrested of IM co-founder Yasin Bhatkal and his aide Asadullah Haddi, in August last year we have been spreading our network in states like Orissa, Maharashtra, Karnataka, West Bengal, Bihar etc.
We received information that Waqas is coming to Ajmer from Mumbai. On this specific input we nabbed him on the station on Saturday morning," said SN Srivastava, head of Special Cell.
Agreeing that political rallies could have been on the target of arrested terrorists, Srivastava said, "The quantity of explosives we have recovered indicates their nefarious plans. Since our investigation is in early stage, it's hard to say whether Modi was a possible target."
Police described Waqas as a youth born in Mustafabad town of Pakistan's Punjab in 1989. He did his diploma in food technology from Faisalabad and got introduced to the audio tapes of Masood Azhar spreading venom against India. In 2009, Waqas came in contact with one Taj Mohammed who used to collect donations on behalf of Jamat-ud-Dawa, the frontal organization of Lashkar-e-Toiba. Later, he received 21-day training at an LeT camp in Waziristan's Federally Administered Tribal Area (FATA).