Bookworms, shake a leg


The JLF Music Stage will on Saturday feature the jazz and punk-infused rhythms of the Ska Vengers, a Delhi-based rock band. Gods Robots, a global collaboration between Mumbai-based vocalist ShriiK (Shridevi Keshavan) and San Francisco-based electronic music producer Janaka Selekta (Janaka Atugoda) will share the stage with Sarangi virtuoso Suhail.
Ved Mehta on NaMo
BJP's prime ministerial candidate Narendra Modi "will be a great danger to India" if he rules the country, celebrated author Ved Mehta said during a session at the JLF on Friday. This, the 80-year-old said, is "because of his (Modi's) thinking differentiating between Hindus and Muslims." Mehta went on to add that a secular country like India needs someone with "greater tolerance" helming it.
Vanishing voices
Along with widely spoken languages, the festival will also celebrate those in our own backyard. On Day Two, for instance, Anvita Abbi, a linguistics professor who has worked extensively on tribal and minority languages of South Asia, will address a session on the great Andamanese languages with translator Arshia Sattar at 3.30pm at the Baithak venue.
Governor's plea
In her address at the festival's opening session, Rajasthan governor Margaret Alva noted that there were undercurrents of unrest among the youth who desired change, good governance and jobs. She appealed to governments and decision makers to respond in a meaningfully to prevent a spillover of anger.
All in a De's work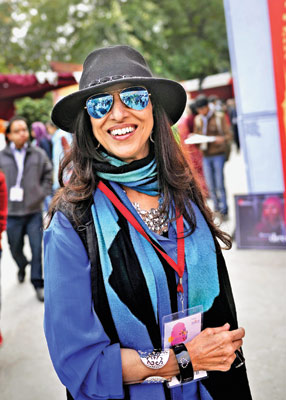 Shobhaa De is seen in the Pink city. The fest's last edition had a session 'Celebrating Shobhaa' where she aired her views.
From Kerala to Gulf
Malayalam novelist Benyamin Daniel raised concerns abut the Indian diaspora in Saudi Arabia on Friday. Goat Days, Joseph Koyippalli's English translation of Daniel's Aadujeevitham, highlights the hardships faced by emigrants to Gulf countries. In conversation with Joseph, Daniel said it is hard to find an English account of the plight of emigrants.
Poetic justice
For the benefit of festival-goers struck by sudden inspiration, the JLF has partnered with HaikuJAM, a free poetry app which allows users to write a line of a haiku that other users can complete. The initiative is the brainchild of London-based tech firm, HaikuJAM, co-founded by three students of University College London. "Whether you are having your breakfast in New York or dinner in Jaipur, the app will allow people to write poems together and I am sure we will see our authors getting involved," said festival co-founder Namita Gokhale.
No politics now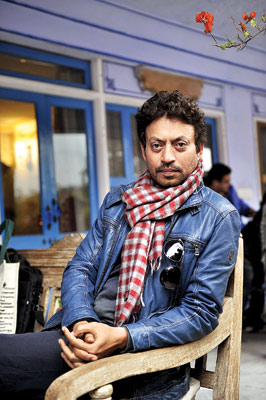 On the sidelines of the festival, actor Irrfan Khan said that the Aam Aadmi Party is being well-received because people want change and there is angst all over the world. Stating that he couldn't juggle two professions, the actor said he has no inclination to join politics. The Lunchbox actor also stated that there are many distractions in the country, which is becoming westernised and losing its cultural roots.