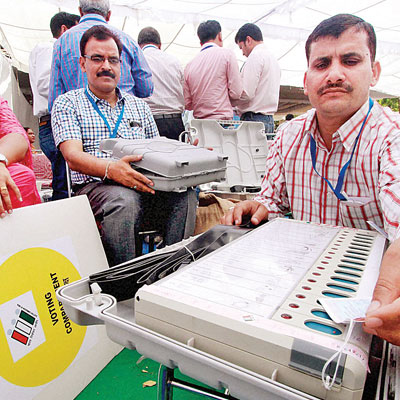 The planned city of Chandigarh is a little frayed at the edges. The streets and walkways are littered with dead leaves though the winter chill is a daily morning thrill. Will people throng out to vote, is the question everybody's asking.
But there are also those who are telling people to turn out and vote. The deputy commissioner of the UT, for instance. Mohamed Shaheen is on a mission, to get people out to vote. He's the chief electoral officer of the constituency and he has dotted the city with posters and banners asking people to vote, because "your vote is your voice".
Has it had an effect? Seems so. Vanit Sethi of Mani Majra, a suburb of Chandigarh that falls in the constituency, was one of those who thought of taking advantage of the election commission's "one last offer" to sign up to vote. The EC gave a date: March 10, 2014.
Sethi, who is a senior editor in the Times of India in Chandigarh, took the opportunity to fill in the proper papers. "To date, I haven't received my electoral card. So haven't four other families in my block in Mani Marja," Sethi told dna. "I went to my electoral booth officer and sought to know why the delay. He told me all the paperwork is over but there were some delays. I don't think I will be able to vote this time."
Sethi is disappointed, naturally. This time would have been the first time he would have voted. There are many first time voters in Chandigarh. Not all of them are without an electoral card. And it ;s to encourage such people that Shaheen has mounted his drive to vote.
To make the most of the chance, Shaheen has worked out a system in tandem with corporate and business entities, offering discounts to people who vote. Hotels, restaurants, pharmacies, hospitals and entertainment outfits have been included in the plan. Prove that you have voted and you stand to get a discount from these joints.
"It's a sort of bribe, but like good cholesterol, it's a good bribe," said a representative of the Restaurants & Hotels Association of Chandigarh, who did not want to be named because he doesn't want to a "hero".
Along side Shaheen's, there is another initiative that's been working to pull in voters to polling booths, the Systematic Voters' Education and Electoral Practices, a programme of the election commission.
SVEEP has littered Amritsar, Gurdaspur and Chandigarh and other constituencies in Punjab with posters and hoardings urging people to cast their votes, exercise their fundamental right.
Chandigarh goes to polls on Thursday, and a huge turnout is expected, not just by parties in the fray but also by the election authorities. A turnout larger than usual will work to everybody's good, is the consensus. Also, it will throw up the most representative winner.