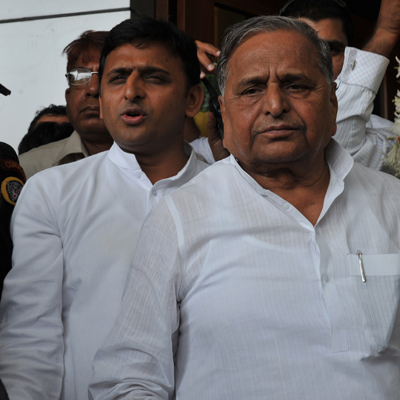 Violent crimes against women, especially rape and sexual violence, in Uttar Pradesh are dramatically increasing, with several cases coming to light since the horrific gang-rape and murder of two Dalit teenagers in Badaun district last week.
With rising anger at the lack of law and order in the state, fingers are being pointed at the ruling Yadav family. Akhilesh Yadav, the chief minister of Uttar Pradesh, is being criticised for his lack of action.
And when confronted by the media regarding the lawless UP, his father, Samajwadi Party chief Mulayam Singh Yadav said on Wednesday, "You do your job, I'll do mine."
The row of insensitive comments started with Akhilesh. On Friday, when asked by a reporter what his view on the law and order situation in UP in the wake of the Badaun gang-rape was, he retorted, "I hope you have not faced any danger!" When the journalist replied a stark, "No", the chief minister said, "Thank you. You should propagate this." (Read More: You are safe, aren't you: Akhilesh Yadav's response to questions on women's safety in Uttar Pradesh)
As if this statement was not enough to outrage the masses, Akhilesh made another statement on Tuesday, accusing the media highlighting cases of violence against women only occurring in UP while ignoring those in other states​. "I have said this several times that incidents of the state are publicised more. Such incidents do not happen in UP alone," he said.
This is not the first time both father and son have been in the news for making insensitive comments. Previously, in April 2014, while campaigning for the Lok Sabha elections, Mulayam Singh had said, "Handing death sentence for rape is not fair... boys make mistakes... there will be changes in the law if we come to power." While this comment sparked outrage across the country, his promise of law and order has been proved futile, especially with the reports of multiple rape and murder cases that have followed the Badaun gang-rape.
Also Read: #Badaun gang-rape: When Mulayam Singh Yadav says 'ladke to ladke hain' about rapists, how serious is his son Akhilesh Yadav?
The focus on the absence of law and order in Uttar Pradesh began after the Badaun gang-rape case. Two minors were found hanged from a tree in the state's Badaun district after being gang-raped. The irony is that out of the seven accused, two were policemen, responsible for maintaining law and order. Post this, several other cases of heinous crime have come to light. On Wednesday morning, in yet another horrifying incident, a minor girl was found hanging dead from a tree in Sitapur. In Aligarh, on the same day, a woman judge was sexually assaulted inside her official bungalow.