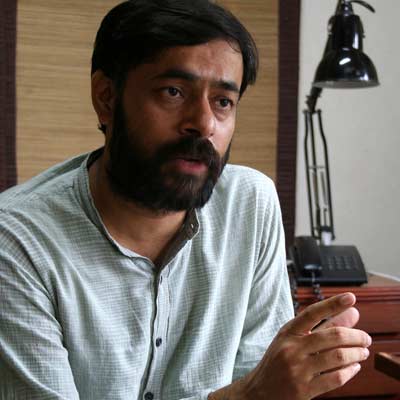 Senior Aam Aadmi Party leader Yogendra Yadav today filed his nomination papers from Gurgaon Lok Sabha constituency for the April 10 elections.
Yadav and three other candidates -- Dharampal Yadav of Congress, INLD's Zakir Hussain and Dharampal Rathi of BSP -- filed their nominations at the Gurgaon deputy commissioner's office here today.
Sitting MP Rao Inderjit Singh, who recently quit Congress to fight the elections on a BJP ticket, is yet to file his nomination.
Talking to reporters after filing his papers, the AAP candidate who declared total assets worth about Rs 3 crore including farm land, commercial booth and deposits in bank and provident fund (PF) accounts, said he was not fighting elections against anybody but against corruption, nepotism and criminality prevailing in the entire country.
He alleged builders and liquor mafia rule the state while a lay man keeps crying for basic amenities.
The AAP nominee said caste politics which is prevalent in the country since Independence would "soon disappear" as AAP candidates fighting elections in most of the Lok Sabha seats across the country are seeking votes for development and equality.
"Gurgaon parliamentary constituency is very diverse in many aspects as on one side there are hundreds of high-rise buildings with latest modern and world-level facilities and on the other side is Mewat, the area which has no infrastructure and is full of poor people," Yadav said.