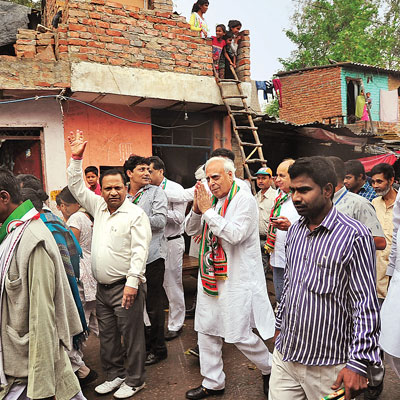 He gracefully accepted every garlandthat the residents offered him. He swallowed all the sweets that camehis way. He didn't miss a single opportunity to wave out to women andchildren, who lined up in their balconies to take a look at him.
But despite being on a campaign trail,it looks increasingly unlikely that 65-year-old Kapil Sibal, atwo-term MP from Chandni Chowk constituency in Delhi, will bethird-time lucky. When dna tagged along with the Union minister onhis poll trail, many passersby simply shrugged him off.
"I have been running to get my rationcard made for years and have applied four times. However, my card hasbeen denied every time for some reason or the other. We will vote foranyone but for the Congress this time," a disgruntled Ram Sanehi, ataxi driver and resident of the constituency's Haiderpur village,told dna.
Not only does Sibal faceanti-incumbency, but he also has a tough contest ahead; on theChandni Chowk battlefield are BJP's Dr Harshvardhan, Aam Aadmi Party's Ashutosh and the JD(U)'s Shoaib Iqbal, who is likely togarner Muslim votes.
Sibal hits the road at 6am every day.He started this week's campaign from Chandni Chowk's C and D blocksand all the way to Haiderpur village. Dressed in a crisp whitekurta-payjama, Sibal expressed no discomfort while navigatingChandni Chowk's filthy streets, lined by clogged drains. As hewalked, Congress party workers played drums and chanted: "AayiAayi, Congress Aayi" — a slogan that is perhaps as old as theCongress party's hold on Indian politics post-independence.
As Sibal and his caravan made their waythrough the dense lanes, there was little or no support andabsolutely no enthusiasm from the other end. His constituency'svoters are miffed with him because he has not been regularly visitingthe area. "He (Sibal) should lose, and he will," said Mangat RamSinghal, a businessman and a resident of Shalimar Bagh told dna. "Askhim where he has been in all these years? How many times did he visitour place after winning the election?" When asked who he would votefor, Mangat Ram hinted at the "NaMo" wave.
Sibal, however, dismissed the Modiwave. "Where is the Modi wave if half of India is not covered? Isthe Modi wave in Kerala, or in Tamil Nadu, Karnataka, Andhra, WestBengal or North East? Similarly, in Punjab there is no Modi wave noris it in Haryana or Himachal. Where is the Modi wave I want to know?"Sibal told dna. "In Bihar, he (Modi) wants to get the support ofPaswan. Why is he trying an alliance with chut put party likeVaiko (MDMK) in Tamil Nadu. If there is a Modi wave, I want to knowwhy is he trying to tie up with people in Andhra Pradesh."
Sibal also brushed off any threat fromAAP candidate Ashutosh; AAP had decimated the Congress in theDecember 2013 Delhi assembly election. "In the Assembly elections,there was a certain factor that worked then. The AAP sold a dream tothe people of Delhi and when the time came to realise the dream, theyran away. The people of Delhi have realised that and therefore theAAP factor is not going to work now," said Sibal.
That Sibal is putting up a brave face,especially in the face of AAP's candidate is soon apparent. "AlthoughI am disheartened by AAP's decision to dissolve its government, wecannot judge them completely in such a short span of time," saidresident Sumit Kumar, who voted for the first time in the last 10years in December 2013 after hearing Arvind Kejriwal's speeches. "Iwill give them yet another chance."
A property dealer in Shalimar Bagh, VedPrakash, told dna: "We do not want to commit the same mistakeagain. This time my vote will go to the BJP solely because of theGujarat model. I don't bother about what growth data shows and whatstatistics reveal. My relatives, who stay there, tell me that womencan walk on the streets wearing heavy gold jewelery. Think of whatwould happen if you were to do so in Delhi?"