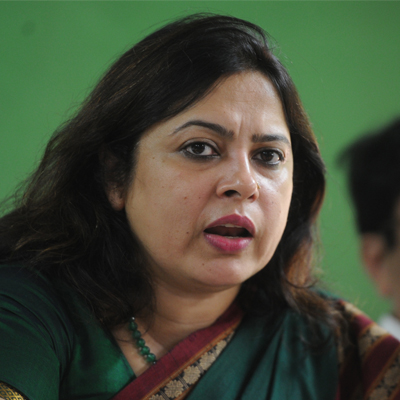 Seeking to quell the row over alleged hate speeches, BJP on tuesday asserted that it will stick to issues of development and progress in the election campaign and not allow anybody including Congress to divert the agenda, while asking its well-wishers to "exercise utmost restraint".
"People of this country have already decided what this elections are all about and we will not allow anybody to divert the agenda specially the Congress which have failed on the promises made and today is seeking to divert the agenda for its own benefit," BJP spokesperson Meenakshi Lekhi told reporters at New Delhi.
BJP's Prime Ministerial candidate Narendra Modi also disapproved of "petty" statements by those claiming to be BJP's well-wishers saying they are deviating the campaign.
"Petty statements by those claiming to be BJP's well- wishers are deviating the campaign from the issues of development and good governance," he said in his tweets after the controversial statements made by VHP leader Pravin Togadia and Bihar BJP leader Giriraj Singh.
Lekhi said, "the top most leadership of BJP has clarified repeatedly and we are making a further clarification that BJP will focus on the agenda of good governance and development." In his campaign diary, senior party leader Arun Jaitley also appealed for exercising restraint during the electioneering.
"Every sensible well-wisher of the BJP is expected to exercise utmost restraint and concentrate on issue of governance, which is the theme of our campaign. Any statement to the contrary will only help our rivals." Attacking Congress, BJP spokesperson said the ruling party was trying to divert the voters' attention from the real issues as part of its strategy.
She said "people who have been in government for the last 10 years have failed to deliver on promises of development and progress and thus as its strategy they have chosen to diversify the agenda of development and progress into sometime communal, sometime rioting and various other issues".