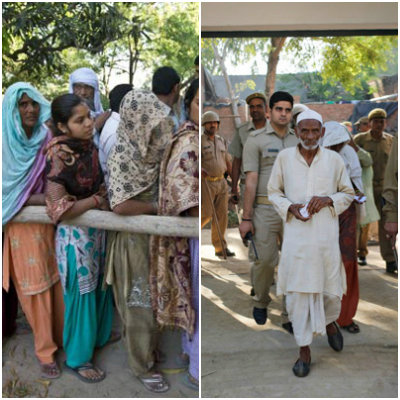 Women have outnumbered men in casting votes in five of the 13 states and Union Territories which went to polls in first four phases of Lok Sabha elections and an increase in the aggregate voter turnout was also witnessed as compared to the last general elections.
According to data complied by the Election Commission, women voters outnumbered men in Chandigarh, Arunachal Pradesh, Goa, Sikkim and Lakshadweep.
The poll panel considered data of 111 Lok Sabha constituencies spread across 13 States and Union Territories while coming out with figures as election has been completed in these places.
A total of 25 states and UTs have gone to poll since April 7. In 13 states and UTs, polling is taking place in different phases.
In the 111 Lok Sabha constituencies, the aggregate voter turnout was 68.29%, 8% more than last elections' 60.39%.
According to Director General in the EC Akshay Raut, the analysis also threw up an interesting fact.
While Nagaland and Tripura witnessed lower turnout in these polls as compared to 2009, the two states recorded an impressive voter turnout among the 13 states and UTs which went for polls in four phases beginning April 7.
All the other states witnessed a higher turnout this time as compared to 2009 general elections, Raut said.
Nagaland recorded the highest turnout of 88.57%.
The turnout in the northeastern state was 90.22% in 2009 polls.
Lakshdweep recorded a turnout of 86.79%, followed by Tripura with 84.90 %. In 2009, Tripura recorded a turnout of 86.25%.
Sikkim also recorded an impressive voter turnout of 80.96%. Arunachal Pradesh and Goa had voter turnout of 76.9% and 76.83% respectively.
In Kerala, 74.02 % of the voters came to vote, while in Haryana the percentage was 71.86%.
Meghalaya recorded a turnout of 69.03%, Delhi 65.09%, Andaman and Nicobar 70.77%, Chandigarh 73.57 % and Mizoram 61.70%.
Tomorrow, a maximum of 12 seats in 12 states will go for polls in the fifth phase of Lok Sabha elections.